Health professionals say value-based model provides better patient outcomes and savings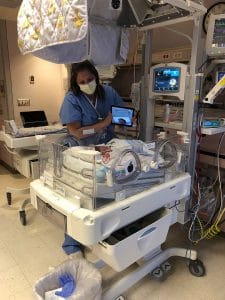 Another force, which has impacted how providers operate, is value-based care, a concept based on improving quality and outcomes for patients.
Ultimately, care delivery today is proactive instead of reactive, preventing problems before they start and helping to increase lifespan and improve overall patient health, according to experts.
Dr. Alan Kumar, senior vice president of medical affairs and chief medical officer for Munster-based Community Healthcare System, has been practicing medicine for more than 20 years and is no stranger to industry changes. However, he said to understand the premise behind the proposition of value-based care, it's necessary to go back a few decades.
Analytics meets health care
"In the 1990s, Health Maintenance Organizations tried a similar approach," Kumar said. "However, the HMOs did not have the proper data analytics supporting the decisions in the background, and it resulted in restricting care to save money."
He said consumers and patients rebelled against this loss of access to care, and HMOs faded away.
"Fast forward 25 to 30 years, and the software platforms supporting data analytics at health care systems are much more robust and allow quality to drive decisions towards better overall care," Kumar said. "Standardizing health care processes through best practices leads to improved patient outcomes and lower costs of care, when applied properly."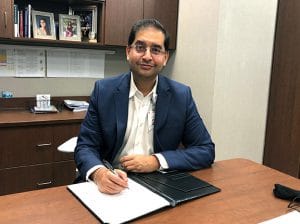 The Centers for Medicare and Medicaid Services reported in 2020 that care providers who have implemented a value-based care model saved Medicare $4.1 billion that year.
Franciscan Health, which operates Northwest Indiana hospitals in Crown Point, Dyer, Hammond, Michigan City, Munster and Rensselaer, has participated in a value-based system since 2014, beginning with the Pioneer Accountable Care Organization through the Centers for Medicare and Medicaid Services, said Dr. Al Tomchaney, chief medical officer at Franciscan Health.
"Success is dependent on real-time data, so our biggest ongoing effort is focused on understanding conditions around the patients and closing any open gaps in care, which improves the health and well-being for our patients," he said. "To execute on these opportunities, we need significant coordination between teams of caregivers and facilitators to realize the benefits to patients."
Kumar said technology has a critical place in care. Community Healthcare System has an analytics team gathering data for clinicians at the point of care.
This step is necessary to truly influence the care being delivered, he said. However, adopting technology for technology's sake isn't sustainable in a clinical environment.
"There is an enormous amount of patient data collected and organized," Kumar said. "Technology also must be easy to use for busy clinicians and must be adaptable to their workflows, so it does not create impediments to care."
On the other hand, better data can lead to better collaboration and communication between providers. It also calls for a more holistic approach, which means, regardless of the context or setting, the patient's individual needs are front and center.
Kumar said this means value-based care helps clinicians coordinate care at all levels — whether it be at hospitals, extended care facilities or at home — so patients get better care for whatever their needs are.
Tomchaney said near-term goals for Franciscan are to give providers as close to real-time data to better understand the health care status and activities of the patients attributed to Franciscan in the value-based ACO contracts.
"This is about providing the right care in a timely, patient-centered fashion that provides cost-effective and highly effective outcomes," Tomchaney said. "(Our) new facilities (and renovations to others) are in part a solution to having those cost-effective solutions for the level of care that requires either inpatient facilities or new, more efficient ambulatory care solutions for the less acute patient needs."
A slow, steady shift
Matthew Doyle, president and CEO of Methodist Hospitals, with operations in Gary and Merrillville, said while the concept of value-based care isn't new, it's becoming more popular and more widely embraced by providers.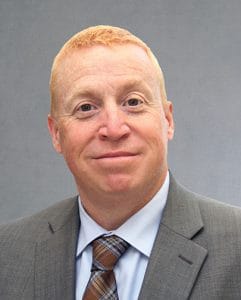 "I think it's been a slow, steady shift," he said. "Value-based care has been certainly discussed for a number of years, and we're in that process where we're seeing that change is occurring now."
Doyle believes providers are welcome to the change.
"They're adapting, and I think, they feel like it's in the best interest of the patient, which is certainly their main goal — to ensure the patient is at the center of the decisions made around their health care," he said.
What that means and looks like depends on the context — the physician and their specialty, Doyle said.
Doyle offers a real-world example in primary care, what he refers to as the start of the foundation of patient care.
"It's really introducing wellness into aspects of preventative and wellness care," he said. "And that's what we're really making a push on now."
Providers are working to get patients to think beyond a regular checkup. Instead, providers want patients to think of themselves as partners in their own care, as opposed to only going to the doctor when they feel sick.
Doyle said this is the crux of value-based care. If patients change their mindsets, they might have better outcomes.
The onus is on the provider to change that mindset of the patient, he said. But that doesn't mean the patient doesn't have agency.
"In fact, value-based care works best when all stakeholders are engaged," Doyle said.
He said the idea is that, when patients have a treatment plan and follow it, they can be proactive in preventing illness.
Patient-centered interventions
On the part of the hospital and providers, Doyle said there are interventions that can make a meaningful difference in this context.
"We're doing a lot of things like remote monitoring for patients who may have chronic conditions so that they're a partner in reading their vitals and in some of their key statistics," he said.
Check-ins with patients also serve a similar purpose. Doyle said they encourage patients to take responsibility for their care by being an active party and living healthier and richer lives.
Interacting with patients through patient portals, including MyChart, means more touch points, which is never a bad thing, he said.
"We've got an outpatient pharmacy located on our campus," Doyle said. "So, I'm able to communicate electronically (through MyChart) with my physician, get my prescription refilled, and then instantly go pick it up at the pharmacy."
He said that's a way for a patient to continue receiving the medicine they need in a very efficient manner, which will lead to a better outcome.
"Plus, I think it's just a more efficient model," Doyle said.
Implementing change begins at the top, he said.
"To think differently requires a new approach," Doyle said. "I call it transformation … it's making sure that we have that mindset of transformation."
Challenging norms
Dr. Joseen Bryant is challenging the status quo with her practice's business model, known as "direct care." JAB Sports Medicine & Direct Primary Care is a cash-based and membership-based clinic in Northwest Indiana. Her focus is on sports medicine or nonsurgical orthopedic care.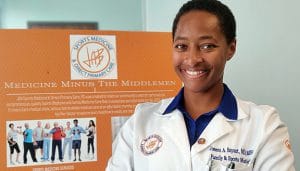 Direct primary care offers patients the full range of primary care services — including acute and urgent care, regular checkups, preventive care, chronic disease management, care coordination, and in this clinic's case, specialty sports medicine services — in exchange for a flat, recurring membership fee that typically is billed to patients monthly. This payment structure allows her more autonomy and the ability to effect greater change.
"What I've experienced is the patients appreciate the fact that they get more time with me," she said. "That's probably the biggest component that's lacking in your traditional insurance-based fee for service."
The reality is that in most traditional clinical settings, providers are rushed, and they don't get to make as much of an impact on patients as they could if they had more quality time.
Bryant said she sees fewer patients a day, which allows her to give patients her undivided attention. There are other factors at play, too.
"I'm able to collect a greater amount of history," she said. "I'm able to do a few more things in terms of the physical exam."
She has equipment to perform ultrasounds, and there are instances where she can even do a procedure on the same day of a patient's initial consultation based on the conversation.
"You would not see this in an insurance-based clinic," Bryant said.
Bryant knows the hurdles insurance places on providers and practices. She started out in an insurance-based setting and was strongly urged and incentivized to see as many patients as possible each day.
As a result, Bryant was seeing one person every 10 to 15 minutes. That didn't sit well with her, which promoted her to go into private practice via a monthly membership model.
It's important to Bryant that she keeps her patient load manageable for herself and for those she provides care.
"A physician can have a patient panel in the thousands," she said. "But for direct primary care, I know a lot of folks will cap it at sometimes 300 or 600, so that there is limited space."
Healthier communities
Experts say everyone wins when providers aren't stretched thin and can be fully present with their patients.
"I think that really being able to have the time and having that trust between that established physician-patient relationships means there's the potential for even better health outcomes overall," Bryant said. "I think that the sky's the limit at this point for direct primary care and for patients being able to get connected with a provider for much less (money) than what they would expect for the type of care that they would receive."
Bryant's perspective on health care delivery is consistent with consumer sentiment. The Deloitte Center for Health Solutions' biennial survey in 2020 revealed that the top factors for "an ideal health care experience" include: "doctors who listen to/care about them, doctors who don't rush, and clear communication."
In another Deloitte report, "Equipping physicians for value-based care," the authors make the case that organizations should implement initiatives such as changing compensation from one based on volume to value. The report also noted providers should have access to tools for decision-making and improvements.
The Deloitte report said value-based care challenges the industry as a whole to "elevate physicians' role as stewards of physical, financial and population health."
— Managing Editor Larry Avila contributed to this story.
Click here to read more from the October-November 2022 issue of Northwest Indiana Business Magazine.