Companies should develop plan to keep employees and clients safe during next phase of pandemic

When businesses reopened in late spring, employers were concerned about keeping their workforces safe while protecting themselves from COVID-19-related litigation.
Now that some time has passed since daily life activities resumed in the new normal, it is important for businesses to establish policies and procedures to address COVID-19 concerns with a preparedness plan.

Both the Occupational Safety and Health Administration and its Indiana counterpart require employers to provide their employees "… with a workplace free from recognized hazards that are causing or likely to cause death or serious physical harm to employees." COVID-19 is arguably a "recognized hazard," especially for high-risk individuals. Additionally, OSHA gives employees a limited right to refuse to perform a job when job conditions are hazardous. Therefore, it is important that employers develop a plan, which complies with OSHA and all other federal, state and local laws, regulations and guidance applicable to worksite and employee safety, during the pandemic.
Creating a plan might be perceived as a daunting task, especially for smaller employers; however, the benefits include:
Ensuring that all employees have received notice of workplace pandemic safety practices and procedures
Reducing the time spent by the employer making individual employee-related pandemic safety decisions
Decreasing the possibility of inconsistent or illegal employment-related decisions
Providing employees with reassurance that their worksite is safe
A preparedness plan should notify employees of their employer's policies and procedures regarding:
Employee and visitor COVID-19 worksite screening
Cleaning and sanitizing the worksite
Social distancing and personal protective equipment use
An employee or visitor who exhibits COVID-19-related symptoms while at the worksite
An employee who is diagnosed with COVID-19
Identifying, notifying and quarantining employees who have been exposed to COVID-19 in the course of their work
Requests for emergency paid sick leave and/or emergency family sick leave benefits
An employee's return to work after recovering from COVID-19
Investigations of COVID-19-related safety complaints
Employee travel during the pandemic
Employers who are developing a plan might want to delegate its writing and enforcement to a small group of employees who can focus on these tasks.
A trusted legal adviser should review the plan to ensure it follows all relevant federal, state and local laws, regulations and guidance that pertain to the employer's particular industry, workforce and business practices.
A legal adviser also can be enlisted to notify the employer of any changes to the law that may require the plan to be modified, and to train those administering and enforcing it on how to perform these tasks while keeping confidential employee health information protected.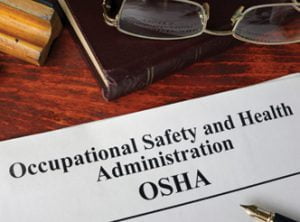 OSHA's publication, "Guidance on Preparing Workplaces for COVID-19," is available on the agency's website. This guide offers advice on appropriate safety measures for protecting employees and third parties from COVID-19. It includes descriptions of industry-specific personal protective equipment, as well as policy and physical modifications for effective social distancing.
OSHA and the Centers for Disease Control and Prevention have numerous COVID-19 resources on their websites to reference when developing a plan.
Most employers by now likely have policies and procedures in place to address employee Americans with Disabilities Act claims. Employees with underlying health conditions that place them at high risk for contracting or experiencing severe COVID-19 symptoms may ask for accommodations. Accordingly, employers should familiarize themselves with the Equal Employment Opportunity Commission's guidance titled, "What you Should Know About COVID-19, The ADA, The Rehabilitation Act and Other EEO Laws," available on the agency's website.
This document also contains important instructions regarding how employers should safeguard confidential employee medical information while effectively protecting employees from the COVID-19 virus.
Finally, although the Emergency Paid Sick Leave Act and the Emergency Family and Medical Leave Expansion Act have been in effect since April 1, employers might not be comfortable administering benefits.
"Families First Coronavirus Response Act: Questions and Answers," developed by The Department of Labor and regularly updated, can be a useful online resource to reference when faced with a COVID-19-related sick leave or FMLA request.
By investing time and resources into a plan, employers will have sound policies and procedures in place to keep its workforce safe and productive during the pandemic. Employees also will appreciate knowing their employers invested in their safety and well-being through these protective efforts.
Click here to read more from the August-September 2020 issue of Northwest Indiana Business Magazine.