Former bank executive's campaign memorabilia feature election items from 1840 to modern era
Calvin Bellamy will strike up a conversation with anyone, but when politics come up, a long chat most likely will ensue.
"I grew up in a political family, so politics always was of interest in my home, and it was a regular topic around the dinner table," said Bellamy, former CEO and chairman of Bank Calumet and Bank Calumet Inc. These days he's a partner with the law firm of Krieg DeVault, which has offices in Merrillville and Chicago.
Bellamy's profession might have changed, but the Hammond native with a law degree from the University of Michigan never lost interest in politics. That's what has fueled his hobby of collecting presidential nominee campaign pins and other memorabilia since the 1950s.
Bellamy said he obtained his first presidential election items in 1956 when the campaign for Dwight D. Eisenhower, the 34th president, stopped in Hammond. The oldest item in his collection is a campaign button from William Henry Harrison, the ninth president. It was given to him when he was in high school by an American government teacher, whose family owned it since 1840.
Every presidential election year since 1956, Bellamy made a point to gather campaign items from the presidential nominees. He either asked campaigns directly or received donations or gifts from people aware of his hobby. He focused on presidential nominees to keep his collection manageable.
Not until years later did he organize his collection and place it into cases, which he displays on a wall in his home office.
"When an election would come up, I'd get a few buttons and put them in a drawer, but after a while, I began to think about how interesting (displaying the collection) would be to visualize American history," he said.
Other fans of the hobby share a similar sentiment, said Tony Lee of Titusville, N.J., president of the Big Apple Chapter of the American Political Item Collectors. The group has been around since the 1940s. The international organization has about 5,000 members worldwide, but most are in the U.S.
Lee said club members are a mix of historians, political junkies, antique lovers and collectors. During organization events or conventions, collectors come together, set aside their political ideologies and simply talk politics or collecting.
During club gatherings, it's not unusual for an ardent President Donald Trump supporter to have lunch with a Bernie Sanders backer, he said.
"They may be talking because they may both be collectors of Teddy Roosevelt and both admire him, and they'll talk about him," Lee said.
Bellamy considers some of the items in his collection special because they were personalized for him. One is an autographed photo from Harry Truman, the 33rd president. The other is an autographed photo from longtime Minnesota senator and former Vice President Hubert Humphry. Bellamy's wife surprised him with it as a birthday gift years ago.
"I worked on Humphry's (presidential) campaign in '68, and my wife years later wrote to him and asked for a photo and got it," Bellamy said.
Bellamy, 77, said his collection will span 46 presidential campaigns by the 2020 election. He will keep collecting but recognizes he will be 82 by the 2024 election. He is open to donating his collection to an organization or an individual on the promise they will maintain it and appreciate its historical significance.
Bellamy has no one in his family to pass his collection to. He's been in touch with the Lake County Historical Museum and Hammond Public Library, which has a history room, but neither have the room to display it.
"The trouble with a collection like this is that it takes up so much space," he said. "I would love to see this collection go to someone who could display it, but for now, I'll continue to enjoy it."
Click here to read more from the Aug-Sep 2019 issue of Northwest Indiana Business Magazine.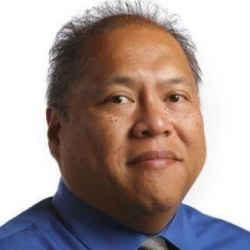 Latest posts by Larry Avila
(see all)