Wild Things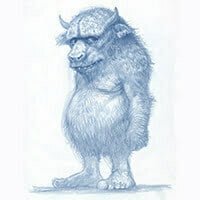 "Where the Wild Things Are," the beloved 1963 children's book illustrated and written by Maurice Sendak, will inspire a two-part exhibit series at South Shore Arts from November 2019 through April 2020. Exploring both adult and childlike perceptions of life and worlds created outside of reality, "Wild Things" will be comprised of "Things That Go Bump in the Night," the first part of the series featuring the nightmarish subject matter and mysterious creatures from the imaginations of several ghoulish artists, and "Maurice Sendak: The Memorial Exhibition," commemorating the beloved illustrator and author, who became famous for his children's book about a boy's amusing imagination.
"Things That Go Bump in the Night" runs Nov. 19 through Feb. 2. An artist reception will take place from 6 to 9 p.m. Nov. 22 at the Center for Visual and Performing Arts in Munster. Performance artist Joe Rauen, a self-described "builder and performer of experimental musical objects," will entertain during the opening reception. Rauen is one of eight Northwest Indiana artists who is receiving career development assistance from the Indiana Arts Commission through its Individual Advancement Program. (219) 836-1839 or southshoreartsonline.org.
White Christmas
Theatre at the Center celebrates the holidays with a heartwarming stage adaptation of the classic film "White Christmas" Nov. 14 through Dec. 22. The original movie starred Bing Crosby, Danny Kaye, Rosemary Clooney and Vera-Ellen. Song-and-dance duo Bob and Phil follow singing sisters Betty and Judy to their Christmas show at a quaint Vermont lodge in this family favorite packed with Irving Berlin standouts, including "Blue Skies," "I Love a Piano," "Count Your Blessings," "Sisters" and, of course, "White Christmas." Phil becomes enamored with the beautiful Judy, while Bob is more reserved about his feelings for Betty. General Waverley, the duo's former World War II commander, owns the inn, but he is struggling to keep it from going under. Unbeknownst to the general, the foursome decide to put on a big show to draw in business. With the help of Martha, the concierge, the general's granddaughter Susan, and Bob's brief appearance on "The Ed Sullivan Show," where he reaches out to hundreds of his former comrades from the war, the show is a huge success. (219) 836-3255 or TheatreAtTheCenter.com.
Last of the Red Hot Lovers
Here's your chance to see a Neil Simon play. "Last of the Red Hot Lovers" will be performed Nov. 1 through 10 at Footlight Players in Michigan City. Waking up beside his wife and bored with his life, seafood restaurant owner Barney Cashman flirts with the idea of finding excitement in the arms of another woman. Barney doesn't smoke, drink or gamble but wants to have a meaningful fling. Unfortunately, his scruples drive the women he pursues to distraction. They mock and leave him every time. In the end, Barney realizes he was never meant to be a red-hot lover. (219) 874-4035 or www.footlightplayers.org.
Santaland Diaries
Get ready for a quirky, fun holiday tradition Nov. 22 through Dec. 14 at Chicago Street Theatre. David Sedaris' "The Santaland Diaries" is a brilliant evocation of what a slacker's Christmas is like. Out of work, our slacker decides to become a Macy's elf during the holidays. At first, the job is simply humiliating, but once the thousands of visitors start pouring through Santa's workshop, he becomes battle weary and bitter. He finds consolation in that some of the other elves were television extras on "One Life to Live." Thus, he grins and bears it, occasionally taking out his frustration on the kids and their parents. The piece ends as another Santa finds his way into the workshop, but this one is different from the lecherous drunks with whom he has worked. This Santa actually seems to care about and love the children who come to see him, startling our hero into an uncharacteristic moment of goodwill. (219) 464-1636 or www.chicagostreet.org.
Visit the South Shore Arts Regional Calendar for more information on current exhibits, concerts, plays and other arts events at SouthShoreArtsOnline.org.
Click here to read more from the Oct-Nov 2019 issue of Northwest Indiana Business Magazine.