Symphony's free summer concerts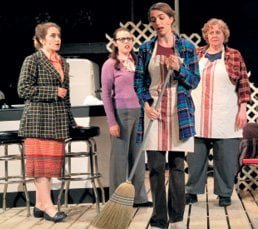 The 13th annual South Shore Summer Music Festival will feature free concerts by the Northwest Indiana Symphony Orchestra during July and August in six communities across the Region. The series opens July 20 at the Town Complex Grounds in Cedar Lake. On July 27, the symphony heads to Crown Point for a concert on the lawn at Franciscan Communities. Other concert locations include the Indiana Dunes National Park at West Beach on Aug. 2, Griffith's Central Park on Aug. 3, Hammond's Wolf Lake Pavilion on Aug. 9 and Schererville's Redar Park on Aug. 10. The Porter County Community Foundation will present another concert Aug. 7 at Central Park Plaza in Valparaiso. Concerts start at 7:30 p.m. (219) 836-0525 or www.nisorchestra.org.
Dunes Summer Theatre lineup
Kick off your summer June 28 through 30 and July 5 through 14 with "Other Desert Cities," a drama by Jon Robin Baitz and directed by Susan Padveen at the Dunes Summer Theatre in Michiana Shores. This smart, entertaining play explores family dynamics when prodigal daughter, Brooke, returns home to share her imminent book release. It chronicles events surrounding her late brother's act of rebellion, which shattered more than lives. Desperate to keep her book shelved forever, Brooke's high-profile, conservative parents (best friends of Ronald and Nancy Reagan) agonize before unfolding the true details of a tragic wound they don't want reopened. Brooke's often inebriated aunt and sarcastic younger brother add a healthy dose of family discord to this play. Next up is the perennial favorite, Rodgers & Hammerstein's "South Pacific" for one weekend only, July 26 through 28. Bring the kids out Aug. 2 through 10 for "Hansel and Gretel Go Cajun." This twist on a fairy-tale favorite follows Hansel Jo and Gretel Lou as they journey into the Louisiana Bayou in search of a legendary long-lost pirate treasure. Don't miss this down-home, foot-stompin' romp through the swamp, featuring a dragon who roars, a princess who snores, a handsome brave knight and swashbuckling sword fights. (219) 869-7509 or www.dunesartsfoundation.org.
Shakespeare in Valparaiso
Chicago Street Theatre in Valparaiso never fails to enlighten us with its charm and talent. The magic returns July 12 and 13 for the company's annual Shakespeare in the Park production at Central Park Plaza. This year's offering is "The Tragedy of Macbeth," first performed circa 1606, which dramatizes the damaging physical and psychological effects of political ambition on those who seek power for its own sake. Of all the plays that Shakespeare wrote during the reign of James I, patron of Shakespeare's acting company, "Macbeth" most clearly reflects the playwright's relationship with his sovereign. The play tells the story of a brave Scottish general, Macbeth, who receives a prophecy from a trio of witches that he is destined to become King of Scotland. Consumed by ambition and spurred to action by his conniving wife, Macbeth murders King Duncan and takes the throne for himself. Wracked with guilt and paranoia, he commits more murders to protect himself from enmity and suspicion and soon becomes a tyrannical ruler. The bloodbath and consequent civil war swiftly take Macbeth and Lady Macbeth into the realms of madness and death. In the backstage world of theater, many believe that the play is cursed and will not speak its title aloud, referring to it only as "the Scottish play." Over the course of many centuries, "Macbeth" has attracted some of the most renowned actors of their time to the roles of the title character and that of murderous Lady Macbeth. "Out, out damn spot!" If you don't want to brave the elements, Chicago Street Theatre performs the play indoors at their theater, July 18 through 21. (219) 464-1636 or www.chicagostreet.org.
Visit the South Shore Arts Regional Calendar for more information on exhibits, concerts, plays and other arts events at SouthShoreArtsOnline.org.
Click here to read more from the June-July 2019 issue of Northwest Indiana Business Magazine.