One small step, one giant leap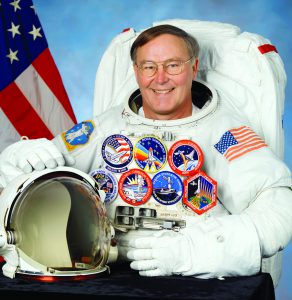 The Northwest Indiana Symphony Orchestra celebrates the 50th anniversary of the moon landing with a space-themed concert in May. It will feature the Symphony Chorus and retired astronaut and Crown Point-native Col. Jerry Ross. Cinema and symphony meet as videos and photos from the historic 1969 moon landing accompany two of Copland's most popular pieces, "Fanfare for the Common Man" and "Appalachian Spring." Popular space-themed music from "Star Wars" and "Star Trek," as well as Strauss' "Also Sprach Zarathustra" from Kubrick's "2001," and a selection from Holst's "Planets" will delight. Ross will be on hand to show his photos and memorabilia as he recollects his missions aboard the space shuttle. The concert will be presented Friday, May 17, at Monbeck Auditorium at Highland High School. (219) 836-0525 or www.nisorchestra.org.
Let the feather boas fly
"La Cage aux Folles" was the first musical to win the Tony Award for Best Revival of a Musical twice and a Best Musical Tony for each of its Broadway productions. "La Cage" tells the story of Georges, the owner of a swanky and sexy Saint-Tropez nightclub, and his partner Albin who moonlights as the glamorous drag queen songstress Zaza. When their son brings his fiancé (and her very conservative parents) home to meet the flashy pair, the bonds of family are put to the test. "La Cage" is a tuneful and touching tale of one family's struggle to stay together, stay fabulous, and above all else, stay true to themselves. "La Cage aux Folles" is a musical with a book by Harvey Fierstein and music and lyrics by Jerry Herman, the Tony Award-winning composer of "Hello Dolly!" and "Mame." Memorial Opera House, April 26 through May 12. (219) 548-9137 or www.memorialoperahouse.com.
Jammin' with Save the Dunes
It's time again for Jammin' with Save the Dunes! The family-friendly event brings hundreds of dunes-lovers to beautiful Washington Park in Michigan City on the Lake Michigan shoreline. There are also several popular bands with local ties. This year's headliner is Jon Langford and the Waco Brothers, a group classified as country rock combined with a little punk. They've produced eight studio albums with Bloodshot Records. Author and music critic Sarah Vowell told the Chicagoist, "I've never been able to find a live band in New York as consistently thrilling, funny and fun as the Waco Brothers." Local bands include the Blisters, Stealin' the Farm, River Kittens and Robert Rolfe Feddersen. The festival also will include culinary arts, featuring delicious local grub from food trucks, as well as craft beer and wine from local breweries and wineries. Check out the vendor area where you can find cool dunes-related swag. And, of course, be sure to stop by the Save the Dunes table to become a member. Check out the Kids Zone from 4 to 8 p.m. All ages are welcome from 4 to 10 p.m. June 1 at the Guy Foreman Amphitheater in Washington Park. (219) 879-3564 or www.savedunes.org.
Anne of Green Gables
When aging siblings Matthew and Marilla Cuthbert write to the orphanage in Nova Scotia asking for a boy to help them on the farm, they get more than they bargained for. Because of a mix-up, they are left with 11-year-old Anne Shirley. For six years, this romantic, hot-headed and energetic girl wins their hearts and turns the stodgy, rural Canadian community into a bright world of "kindred spirits." Whether the playgoer is an "old friend" of Anne's or meeting her for the first time, this production will solidify a lasting friendship between the audience and one of literature's most unforgettable characters. Written by Sylvia Ashby and based on the book by L.M. Montgomery. Directed by Bonnie Quigley. Fridays, Saturdays and Sundays from May 3-12 at La Porte Little Theatre Club. (219) 362-5113 or www.laportelittletheatreclub.com.
Visit the South Shore Arts regional calendar for more information on current exhibits, concerts, plays and other arts events at SouthShoreArtsOnline.org.
Click here to read more from the Apr-May 2019 issue of Northwest Indiana Business Magazine.