For kids and adults at Notre Dame
The University of Notre Dame's DeBartolo Performing Arts Center is offering entertainment options in a variety of different disciplines in the coming months. On Oct. 13, the Merz Trio performs a concert of chamber music. A kids show comes to DPAC on Oct. 26, featuring Seattle-based band Recess Monkey. A recent alliance with the Irish Theatre of Chicago continues when the acclaimed theater company performs Philip McMahon's play "Pineapple" from Nov. 7 through 9. Kathleen Battle, a celebrated operatic soprano, performs a show Nov. 15 titled "Underground Railroad: A Spiritual Journey." (574) 631-2800 or www.performingarts.nd.edu.
Keeping it vintage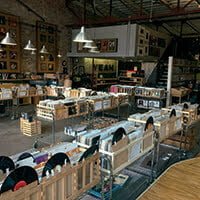 Ignition Music Garage in Goshen continues to expand its offering of vinyl records, and the bands keep rolling through town as well. Ignition has a good-sized performance space and will host Canadian alternative country act The Bros. Landreth on Oct. 13. Acoustic roots-music collective The Steel Wheels play Oct. 20, and The Main Squeeze is coming for a Halloween Costume Bash on Oct. 26. For that gig, audience members are encouraged to show up in their best costumes for an energetic dance party. (574) 971-8282 or ignitionmusic.net.
From women who rock to Wild Kratts
The Morris Performing Arts Center in South Bend brings a stage adaptation of C.S. Lewis' "The Screwtape Letters" on Oct. 13. The South Bend Symphony Orchestra features guest vocalists for a Pops! Concert on Oct. 19 called "Women Rock," saluting stars such as Pat Benatar and Janis Joplin with orchestral accompaniment. Ventriloquist Jeff Dunham presents his cast of characters Oct. 23. "Beautiful: The Carole King Musical" is from Oct. 25 through 27. Tribute act Rumours of Fleetwood Mac has a concert Oct. 29, including a new subset of blues tunes from the band's earliest days. Blues superstar Joe Bonamassa plays Nov. 5. PBS Kids stars Chris and Martin Kratt come to the Morris on Nov. 16, with a program called "Wild Kratts Live 2.0: Activate Creature Power." (574) 235-9190 or morriscenter.org.
Tribute to classic rock legends
Tribute acts have increased exponentially in popularity in recent years, providing fans an affordable chance to experience simulated shows by massive stars. The Acorn in Three Oaks, Mich., has booked a bunch in a row. The Beggars Banquet Band, a Rolling Stones act, rocks Oct. 19. Heartless salutes Heart's Ann and Nancy Wilson on Oct. 25. Combining material from Billy Joel and Elton John, The Billy Elton Band performs Nov. 8. The notoriously complicated compositions of Frank Zappa are the focus of a show by Furious Bongos on Nov. 15. Mega Beatles conjures the original Fab Four on Nov. 16. The beloved European disco stylings of ABBA get the spotlight with Dancing Queen on Nov. 27. (269) 756-3879 or www.acornlive.org.
Live from Elkhart
At the Lerner Theatre in Elkhart, Dionne Warwick revisits smash hits such as "Do You Know the Way to San Jose" and "I Say a Little Prayer" on Oct. 4. Director Craig Gibson's Elkhart-based Premier Arts presents "Goodnight and God Bless: The Red Skelton Story" from Oct. 11 through 13. Premier Arts returns to the Lerner stage for two shows — a matinee and an evening performance — on Nov. 23, offering the recent Disney show "Frozen Jr." (574) 293-4469 or www.thelerner.com.
Captured in pictures
The Institute for Irish Studies at Notre Dame has filled five galleries at Notre Dame's Snite Museum of Art with an enormous collection of works from Irish artists in an exhibition named "Looking at the Stars." The show runs through December, and features paintings by Jack B. Yeats, Roderic O'Conor and Mary Swanzy. Also find a plethora of prints and photography. Ireland has contributed many poets, novelists and musicians to the world's culture over the years, but "Looking at the Stars" aims to increase the profile of the nation's visual artists as well. (574) 631-5466 or visit sniteartmuseum.nd.edu.
Click here to read more from the Oct-Nov 2019 issue of Northwest Indiana Business Magazine.