Live music at Acorn Theater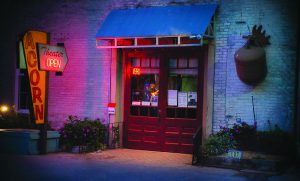 A visit to the vibrant little city of Three Oaks, just 20 minutes over the border into Michigan, makes for a nice drive this time of year. It's also an excuse to see what's happening at the historic Acorn Theater. The venue regularly hosts live theater and cabaret events, along with a plethora of musical acts. Usually, the docket is extremely diverse, but for several weeks this summer, the Acorn is transforming into a virtual juke joint, with a long roster of A-list blues performers coming to the stage. On June 14, it's the Cash Box Kings, one of Chicago's top bands. Sounds from the heyday of the Allman Brothers will be the prevailing tone of the evening June 19 when the Allman Betts Band comes to the Acorn. The band includes children of original Allman Brothers members Dickey Betts and Gregg Allman. On June 22, the unique Belgian harmonica ace Pierre Lacocque performs with his band Mississippi Heat. Author Bill German, best known for his Rolling Stones memoir, "Under Their Thumb," appears for a reading, storytelling and book signing session June 28. A talented son of Muddy Waters plays July 13: Joseph "Mojo" Morganfield and the Mannish Boyz stay rooted in Muddy's history while adding a 21st-century twist. Blues meets classical music with the intricate arrangements of Corky Siegel's Chamber Blues on July 20. John Mayall, the British band leader who gave Eric Clapton and Mick Taylor some of their first gigs, performs July 28. (269) 756-3879 or www.acornlive.org.
No rest for South Bend-area theater
The South Bend theater scene slows down a bit over the summer, but all four major local companies have at least one offering. From June 21 through 30, The Acting Ensemble presents Harvey Fierstein's new play, "Casa Valentina," at their Studio 217 main stage. The plot focuses on straight men who dress up in drag in a private club of sorts at a hotel in the Catskills. (574) 807-0108 or www.actingensemble.com. Elkhart Civic Theatre moves from its usual location at the Bristol Opera House to the larger Umble Center on the campus of Goshen College for performances of "The Music Man" from July 12 through 14. (574) 848-4116 or www.elkhartcivictheatre.org. South Bend Civic Theatre also is doing a musical. SBCT's staging of "Oliver!" runs from July 12 through 28 in Wilson Auditorium. (574) 234-1112 or sbct.org. From Aug. 8 through 18, Michiana Playmakers are putting on "Pulp," a comedic spoof on the detective genre, by Joseph Zettelmaier, at LangLab in South Bend. The gist is that all four primary suspects in a murder case are pulp fiction writers. www.michianaplaymakers.org.
Elkhart Jazz Festival returns
The 32nd annual Elkhart Jazz Festival takes over the city from June 21 through 23. Jazz groups from a range of subgenres play at numerous downtown Elkhart venues throughout the weekend. Headliners, including Hot Sardines and Davina & the Vagabonds, perform June 22 at the Lerner Theater. The biggest star of this year's festival is Gregory Porter, playing the Lerner as the Friday-night main event June 21. Porter has become arguably the top singer of the current crop, with two Grammy wins and an additional couple of nominations in the Best Jazz Vocal Album category. After the festival has left town, the Lerner also has a musical and a country star as summertime highlights. "Footloose: The Musical" runs from July 12 through 14, and then Jo Dee Messina gives a concert Aug. 3. Messina scored big in 1998 when her album "I'm Alright" spawned a whopping three No. 1 hit singles on the Billboard country charts. She's added three more appearances on the top of the list as well. (574) 293-4469 or www.thelerner.com.
For the budget minded
Audiences on a budget always appreciate the return of the Community Foundation of St. Joseph County's Performing Arts Series. Not only is the entertainment high quality, but all the shows are free and open to the public at the Chris Wilson Pavilion, adjacent to Potawatomi Park Zoo in South Bend. This year's series kicks off July 20 in swinging big-band style with the Indiana University South Bend Jazz Ensemble. The Fremont Park Shakespeare group performs July 27. South Bend Civic Theatre belts out its summer musical, "Oliver!" on Aug. 3. A multi-age troupe from Southold Dance Theater presents a mixed program Aug. 10. (574) 232-0041 or www.cfsjc.org.
Click here to read more from the June-July 2019 issue of Northwest Indiana Business Magazine.