Art 4 in the spotlight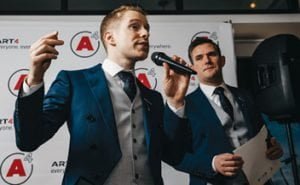 A new professional musical theater company called Art 4 made a splash in 2019 with local premiere stagings of "Next to Normal" and "Ghost Quartet." Co-founders Mark Albin and Aaron Albin open 2020 with a six-show run of Jason Robert Brown's theatrical song cycle "Songs for a New World," running Feb. 7 through 16 at LangLab in South Bend. Rather than follow a strict narrative, the show spins different variations on a unifying theme: "the moment of decision." (515) 205-9498 or art4sb.org.
New home for The Acting Ensemble
The Acting Ensemble is leaving its longtime home at Studio 217 in downtown South Bend for a new venue at 602 E. Mishawaka Ave. in Mishawaka. The switch to the new location is not slowing down the troupe's production schedule. On March 9, Acting Ensemble presents a staged reading of Henrik Ibsen's "A Doll's House," a show that complements the full production of Lucas Hnath's "A Doll's House Part 2," from March 6 through 22. Hnath's play is a 2017 sequel to Ibsen's immortal work of 1879. At the end of Ibsen's revolutionary original, the character Nora emphatically slams a door shut. The sequel begins with that same door opening, leading to a fantasy about what happened to the characters after Ibsen left them. (574) 807-0108 or actingensemble.com.
'First Date' at Bristol Opera House
At the Bristol Opera House, Elkhart Civic Theatre presents the musical "First Date" from Feb. 21 through March 7. It's a lighthearted look at the thrills and pitfalls of the dating world, especially the white-knuckle nerves that can strike on a blind date. Suspense follows with ECT's next show, Peter Colley's "I'll Be Back Before Midnight." A woman who has suffered a nervous breakdown is hoping to find peace in a rural, farm setting. Instead, she encounters hauntings that may be real ghosts or might just be figments of her imagination. (574) 848-4116 or elkhartcivictheatre.org.
Live at Notre Dame
The University of Notre Dame's DeBartolo Performing Arts Center enters its busiest stretch of the year with a performance of Renaissance choral music from Schola Antiqua on Feb. 23. The Irish Theatre of Chicago comes for two performances of John Patrick Shanley's "Doubt, a Parable" on Feb. 28 and 29. The South Bend Symphony Orchestra is in the midst of a complete cycle of Beethoven symphonies, presenting Symphony No.4 on March 8 at the center. One of the elite classical violin virtuosos of her generation, Jennifer Koh appears in a recital March 21. The Fred Hersch Trio (with bassist John Hébert and drummer Eric McPherson) plays on March 27. Highlights from the film scores of John Williams form the program of the Boston Pops' concert April 8. (574) 631-2800 or performingarts.nd.edu.
Music at The Morris
The Morris Performing Arts Center in South Bend hosts a one-night presentation of "Menopause the Musical" on Feb. 8. Country singer Cody Jinks performs Feb. 13. While Jinks might be a big star now, major country legend Wynonna Judd performs with The Big Noise on Feb. 22 at the Morris. Standup comic Nate Bargatze brings his show titled "Good Problem to Have" on Feb. 28. The Morris stage transforms into the wild terrain of Simba, Scar and Mufasa from March 4 through 20, as "The Lion King" comes for an extended run. The show features music by Elton John and lyrics by Tim Rice. Two tribute acts follow. RAIN: A Tribute to the Beatles plays on March 25. On April 7, Brit Floyd presents "Echoes 2020." Along with faithful renderings of the best-known pieces from Pink Floyd's catalog, this show is unusual for its inclusion of a full performance of the band's legendary epic space-out jam, "Echoes." (574) 235-9190 or morriscenter.org.
Click here to read more from the February/March 2020 issue of Northwest Indiana Business Magazine.