Performing Arts Series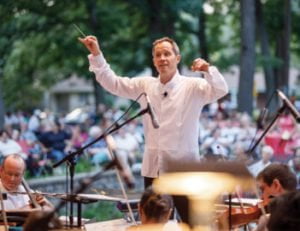 Every summer, the Community Foundation of St. Joseph County offers its Performing Arts Series at the Chris Wilson Pavilion adjacent to the Potawatomi Park Zoo in South Bend. It features a variety of arts organizations in free performances. On Aug. 17, the South Bend Chamber Singers revisit old music by the Shakers during "Simple Gifts," selected and conducted by the group's distinguished director Nancy Menk. The series culminates with the Aug. 24 concert by the South Bend Symphony Orchestra, under the direction of Maestro Alastair Willis. Along with a full program of shorter classical pieces, the concert also features what is becoming a can't-miss opportunity for local musicians: the play-along. Area amateurs can download a score and rehearse with the SBSO in advance of a live rendition of a well-known composition. This year, it's expanded to two play-along works: Edvard Grieg's "In the Hall of the Mountain King" and the "Mambo" sequence from Leonard Bernstein's "West Side Story." Call (574) 232-0041 or visit www.cfsjc.org.
Live music at The Acorn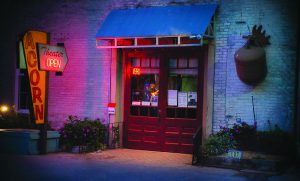 The Acorn, just north of the Michigan border in Three Oaks, features Chicago-based collective Surabhi Ensemble on Aug. 18. The group seeks to foster world peace via the universal language of music, specifically genres rooted in India, Spain and Senegal. On Aug. 22, Al Stewart comes to the Acorn. He'll always be best remembered for his lovely 1976 hit, "The Year of the Cat," but his long career has involved quirky other ideas such as "Down in the Cellar," a 2000 concept album all about wine. A couple of topnotch tribute acts follow, with Eagles tribute band Heartache Tonight on Sept. 27, and Shaun Hague playing the role of good old "Slowhand," better known as Eric Clapton, in a tribute show titled "Journeyman" on Oct. 4. Call (269) 756-3879 or visit www.acornlive.org.
Stand-up comedy showcase
Elkhart Civic Theatre recently offered a six-week workshop in stand-up comedy, and its participants get to try out their material onstage at the Bristol Opera House on Aug. 24 for ECT's "Summer Stand-Up Comedy Showcase." It's a fine (and presumably hilarious) way of keeping the theater in use during the off-season. Call (574) 848-5853 or visit elkhartcivictheatre.org.
Community theater
South Bend Civic Theatre's selection of Pierre Corneille's "The Liar" is a testimony to the timeless appeal of a well-written farce. First staged in 1644, "The Liar" lives again at SBCT from Sept. 6 through 15. It's not surprising that "The Hunchback of Notre Dame" has made a successful transition to a musical format: Quasimodo and Esmeralda have always carried all the drama and intrigue of operatic characters. SBCT presents the musical version of "The Hunchback of Notre Dame" from Oct. 4 through 20. Call (574) 234-1112 or visit www.sbct.org.
Time for jazz
The modernistic jazz of the Jacob Victor Quintet is on the docket at Merrimans' Playhouse in South Bend on Aug. 15. John Matthias, a professor emeritus from Notre Dame's English department, curates a special evening Sept. 5 called "Poetry, Books and Jazz." On Sept. 13, pianist Javier Red performs with his new band, Imagery Converter. The group's debut album, "Ephemeral Assumptions," marries traditional jazz sounds with a 21st-century aesthetic. The authoritative saxophonist Chris Greene returns to Merrimans' with his quartet Oct. 11. Every Tuesday night, proprietors Stephen and Mary Merriman host an open jam. Call (574) 329-3430 or visit www.merrimansplayhouse.org.
Performing arts at Notre Dame
The University of Notre Dame's DeBartolo Performing Arts Center kicks off its 2019-20 Presenting Series with Leslie Odom Jr. on Sept. 20. He originated the role of Aaron Burr in Lin-Manuel Miranda's massively popular "Hamilton," a portrayal that won Odom a Tony and a Grammy. On Sept. 29, it's a recital from classical pianist Conrad Tao. For two performances, Oct. 3 and 4, the Indianapolis Ballet presents a program featuring a variety of choreography by the legendary George Balanchine. Call (574) 631-2800 or visit performingarts.nd.edu.
Click here to read more from the Aug-Sep 2019 issue of Northwest Indiana Business Magazine.