Start and grow your business with help from experts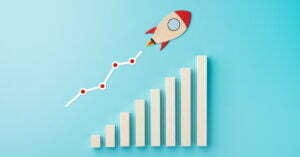 Turning an idea for a product or service into a successful business takes a lot of work. This seven-step guide will help entrepreneurs move in the right direction.
Jim Hubbard, co-chair of SCORE NW Indiana, said his group offers free mentoring to would-be entrepreneurs. SCORE does seminars on each of these steps.
Bert Cook, executive director of the La Porte Economic Advancement Partnership, and others are eager to point to the Northwest Indiana Small Business Development Center for help with getting started.
Laura Schafsnitz, public affairs specialist with the U.S. Small Business Administration's Indiana district office, urges entrepreneurs to get to work right away. The SBA can help put them on the right path to reach their intended destination.
Ryan Biggs, founder of HelloFrom in South Bend, urged budding business owners to start talking about their idea right away. His business, which sends greeting cards for clients, won the Founder Factory's "Shark Tank"-style pitch competition last fall. His idea took off and has been featured on CNBC, FOX, CNN and HGTV, among others. That's some incentive!
Now get to work!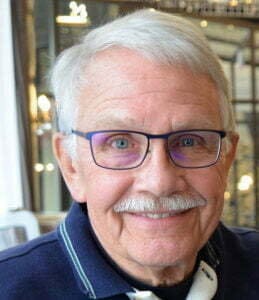 1. So, you have a business idea — what now? How do you start to turn your idea into a profitable business?
"Starting a small business involves planning, making key financial decisions and completing a series of legal activities," Schafsnitz said. "The U.S. Small Business Administration has great online resources to help guide you through the steps you need to take before you open your doors."
Many organizations are eager to offer assistance.
You don't need to seek help from just one, but be sure to let them know who else you're working with and what you're finding out. Often, you might be pointed into another direction for more specialized help. Follow good advice.
Biggs urges entrepreneurs not to be secretive. "Tell as many people as possible," he said. "This is counter to what many think. Everyone is worried that their idea is going to be stolen, but guess what, starting a business is really difficult."
He said don't worry about someone taking your idea.
"One big idea is fun and exciting, but it takes countless hours, over a thousand smaller ideas, and other people to truly bring this business to life," he said. "If someone else is willing to take your idea and start a company around it, then your idea is probably too easy to replicate and may not be worth doing in the first place."
2. How do you evaluate your business idea? How do you conduct market research?
It's not as hard as it sounds, but it does take time.
"One of the first things you need to do before you start a small business is evaluate your idea and see if it will work by doing market research," Schafsnitz said. "This information will tell you where your customers are, what they're buying, what your competition looks like, what their sales have been over the past few years, and how you might need to tweak your idea and pricing to be successful." Search for "Market research and competitive analysis" on the SBA website for resources that will walk you through how to do market research.
Friends, family and even your local barista are great to run ideas by, but make sure you also talk to potential customers, Biggs said. Figure out what they like about the idea, how they're solving this problem today, whether they're willing to pay for it and other details. "Ask them questions with the intent to truly understand their problems," he said.
Listening is key.
"Don't ask people about your idea to simply feel good about what your idea is," Biggs advised. "Often people will ask potential customers if they like their idea but fail to truly understand how motivated this potential customer is to prioritize solving this specific problem."
He said make sure they would be willing to pay a fee that would allow you to stay in business, too.
"If a potential customer says, 'I like your idea but I'm not willing to pay for it,' find out why. Ask them what it would take for them to give you money. Do this with enough customers and see what priorities float to the top," he said. "See if you can adapt your product or service."
Cook said he talks to people well on their way to success and some who aren't likely to make it.
"Do you have a business plan? Do you have financial projections?" he asks. "There are plenty of people who have terrific ideas, but get your idea down in writing," he advised.
Hubbard works with clients to make sure their business model is viable. "What's going to make me different from everybody else?" Is it a better mousetrap? Who's the target customer?
Another pro tip? Go to your local library. Talk to a librarian. "By trade, librarians are research gurus with access to databases and information you might not even know existed," Schafsnitz said.
3. How do you write your business plan?
This step is key to a successful venture.
"Writing and maintaining your business plan is vital to the future success of your small business," Schafsnitz said. "A business plan is not a one-and-done document; it lives, breathes and changes for the entire life of your business. As daunting as that might sound, it's not. Think of a business plan as the map you will use on your small business journey."
"Write Your Business Plan" on the SBA website has basic instructions, tips and formats to get a person started, but get expert help once you get the general idea of what you need.
Hubbard hears from many people who want to open a restaurant, for example. "I can cook. Everybody likes my stuff," they reason. But running a successful restaurant isn't just about feeding people.
"To run a restaurant, it's a business. You have to understand the bigger picture," he said. "A lot of the stuff that we can help them think through, they may never have thought of. That's one of the advantages, I think, of getting mentors. They can help you refine your idea and make it workable."
"Do they have a correct understanding of the marketplace and what they see themselves as being able to see and do?" Hubbard asks.
And do they understand costs? It's not just about the cost of raw ingredients for a recipe.
"You forgot the labor that it took to go out and gather all of this stuff and go out and put it all together," he said.
Then there are overhead costs like marketing, packaging, maintaining a location and more.
Hubbard helped a young man get his cement work business off the ground. After finding his niche, the client had to calculate the cost of equipment, determine how much to pay employees and plan how to market the business.
"We try to get them to understand the cost of providing a service or a product, make that calculation," he said. Then it's a matter of seeing what the market will pay. "If I'm not below that cost, I'm going to lose money."
Advisers like Hubbard won't write a business plan for a new business but offer free one-on-one counseling, advice and mentoring. They'll provide training, tips, templates and more.
"There are ways to do it so that banks are more comfortable" lending money to the business, Hubbard said.
4. How do you develop an entrepreneurial mindset?
Going through the motions won't work. You must believe in your idea and make a plan.
"Turn your dream into a reality. Write your ideas down. Make a plan. Consult with a business adviser. Set smart goals," Schafsnitz urged. "Dreams come true when you consistently do the work to achieve them."
True entrepreneurs love solving problems, Biggs said. They're obsessed with the idea that they can make something better, more efficient or cheaper.
5. How do you build your social network?
It's important to connect with other business leaders as well as reach out more broadly through social media and other means, Cook advised.
"We tend to be of the opinion that you don't put all your eggs in any one basket," he said.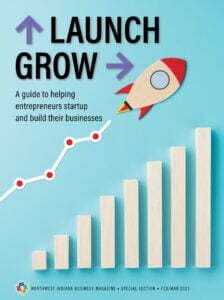 Conversations with other business leaders help you know what's going on in your community and how you might be able to capitalize on events as well as generally improve your community.
"Get involved with your community! Join community organizations, go to town hall meetings, join online forums," Schafsnitz said. "Networking is essential to growing and grass roots advertising your new venture."
Marketing advice depends on the type of business.
"Be smart. Reference your market research and determine where your customers and peers spend their time," she said. "If your research shows that your customer base makes purchases based on what they're seeing on Instagram, focus on building your Insta presence and becoming a go-to small business on that platform."
Downtown Delights, a yogurt business in downtown La Porte, does that well, Cook said. The company is small but has an outsized presence by using social media well and having a presence at a lot of events.
Something not to do, Hubbard said, is to be injudicious about what you post online.
"If it goes on the internet, it goes there forever," he reminds clients. "Are you on there as a person, or are you on there as a representative of your company?" Social media users might not understand the difference. So, use a carpenter mindset when posting, he suggested. "Like a carpenter, measure twice, cut once."
Schafsnitz suggested bouncing ideas off mentors and taking any free social and digital marketing classes they offer. The SBA website also has free marketing tutorials, and there are online platforms offering advice on how to have an impactful social presence.
"Try it all," Cook advised, and see what works best. But don't just focus on one niche. "If you don't diversify yourself, that really becomes a problem," he said.
6. How do you select a business structure?
Cook advises consulting a law firm that specializes in commercial business for the best advice on how to set up your business. You want to protect yourself from potential failure even as you work toward success in business.
Schafsnitz referred to the SBA website for an explanation of the types of business structures. Mentors can also offer advice once they learn more about your plans for your business.
7. How do you register and license your business? What kinds of permits do you need?
Each town, county and state is different.
La Porte doesn't require most businesses to get a permit to operate in the city. However, it's a good idea to make them aware of what's going on, Cook said. They might have advice that you will find useful in setting up your space, as well as utility service and signage.
"It's a good practice to connect with the community you're operating in," he said.
Schafsnitz said Indiana's website has an excellent online resource that allows you to research and register your small business plus file any certification and/or tax paperwork you need to keep your small business legal. Look for "Business Owner's Guide." A mentor or attorney also can help you make sure you're registering your business right.
With that said, the chances of starting a successful business that makes it to the five-year mark are 50-50. According to data from the U.S. Bureau of Labor Statistics, about 1 in 5 businesses fail during the first year. About 35% make it to 10 years. In Indiana, those rates are about right, according to a LendingTree analysis.
The top reasons for failure? Money management, no one wants the product or service and not enough research into the competition. But with careful planning, understanding your market and the competition, and enthusiasm for your work, a business can thrive.
Want to start a small business?
Here are some places to turn for help:
Indiana Chamber of Commerce, Indianapolis
Indiana Economic Development Corp., Indianapolis
Indiana District, U.S. Small Business Administration, Indianapolis
Northwest Indiana Small Business Development Center, Crown Point
Northwest Indiana Forum, Portage
Center of Workforce Innovations, Valparaiso
Entrepreneurship assistance at University of Indiana Northwest, Small Business Institute, consulting services for businesses, Gary
Innovate WithIN
LEAP, partnership between the Greater La Porte Economic Development Corp. and the Greater La Porte Chamber of Commerce
Purdue Northwest University, Certificate in Entrepreneurship and Innovation, Commercialization and Manufacturing Center, Hammond, Westville
Notre Dame University, Innovation, De-Risking and Enterprise Acceleration, the IDEA Center, South Bend
SCORE Northwest Indiana
Society of Innovators at Purdue Northwest
Startup South Bend-Elkhart
Valparaiso University Innovation Hub, Valparaiso
1 Million Cups of Northwest Indiana, Hammond
Community Investment Fund of Indiana, Indianapolis
Indiana PTAC, Northwest Region, Crown Point
Center for Creative Solutions, Michigan City
NWI BizHub.com/resources: Most comprehensive list of resources for small businesses in Northwest Indiana
Move to Indiana.com/business inbiz.in.gov to register a business
Click here to read more from the February-March 2023 issue of Northwest Indiana Business Magazine.