Northwest Indiana Meals on Wheels doing part to keep food on tables of Region's homebound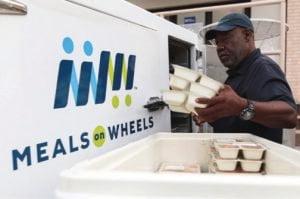 The concept for a program to deliver hot meals to the homes of those in need was born during a world crisis.
The earliest coordinated efforts for a Meals on Wheels program started in London during World War II after the devastating loss of the many sons and daughters who served as the vital support system for their older parents and grandparents. By 1954, the first Meals on Wheels program in America was launched in Philadelphia.
The Meals on Wheels organization in Lake County started in July 1977 as a service provided through the Lake County Visiting Nurse Association. Though Meals on Wheels programs also existed in Illinois in neighboring Lansing and Calumet City, the original Crown Point-based program, which serves Northwest Indiana, remains the largest and most recognized for service.
"Meals on Wheels has never missed a beat in the past months, with our impact in the community even greater during the pandemic, with our volunteers, staff and donors as committed as ever," said Sandra Noe, the executive director of Meals on Wheels of NWI.
With kitchen and administrative headquarters based at 8446 Virginia St. in Merrillville, Meals on Wheels of NWI delivers meals to clients in Jasper, Lake, Porter and Newton counties. In October 2019, the organization delivered its milestone 8 millionth meal.
With a team of more than 600 volunteers, Meals on Wheels of NWI delivers more than 1,700 meals daily. Despite added concerns and extra safety precautions that began because of the COVID-19 pandemic, Noe and her team responded with preparedness and worked with staff and volunteers to assure no disruption of service.
Husband-and-wife volunteers Phil and Sharon Casbon of Valparaiso have been married for 56 years. For 25 of those years, they have delivered for Meals on Wheels of NWI. In the spring, for the first time in a quarter of a century, the couple opted to take a short "pause" from their delivery routes.
"We arranged to take the month of April off from delivery due to everything that was unfolding early on with the virus," Sharon Casbon said.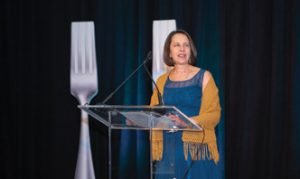 The Casbons, like all Meals on Wheels volunteers, are part of a carefully scheduled rotation. They usually deliver meals to clients one day a week, while also agreeing to be substitutes for other routes as needed. They said most routes have volunteers delivering six or seven meals, as well as some more "concentrated routes." Those might include an apartment complex, resulting in as many as a dozen client meals to be delivered.
"There are some weeks when we help fill in for others, and then, we might deliver meals three or even as many as five days a week as we're needed," Phil Casbon said.
Phil and Sharon agree that, in addition to making new friends while volunteering, the added bonus is the reward of smiles and the comfort of knowing others are helped through the combined efforts of so many.
"For a good number of the clients on the Meals on Wheels service, seeing a volunteer on their doorstep bringing them a nutritious meal can often be the only human contact they might have throughout the day or even throughout the week," Sharon Casbon said.
In March, volunteers and patrons joined the staff of Meals on Wheels of NWI to gather at Avalon Manor in Merrillville for the 20th Anniversary Dine with the Chefs Gala. The elegant six-course charity feast attracted 400 guests and raised more than $90,000.
"We are incredibly grateful to our sponsors and volunteers who believe in us and support us," said Jodi Bella, business development manager for Meals on Wheels of NWI.
Click here to read more from the June-July 2020 issue of Northwest Indiana Business Magazine.