Design experts help companies implement new safety precautions as they rethink work spaces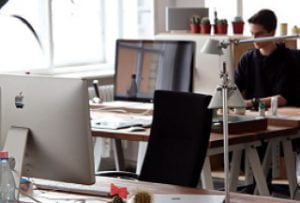 De-densifying — that will be the trend for at least the near future as businesses try to adjust their existing workspaces to the realities of a world changed by the coronavirus.
Speros Valavanis, principal emeritus at architecture firm Shive-Hattery Inc., said clients are looking at reimagining their existing workspaces. They also are thinking about what steps must be taken to safely bring employees and clients back into the fold.
"We are not seeing anybody saying, 'change our workplace,'" Valavanis said, whose Chicago-based firm has offices in Valparaiso and South Bend.
A building that once housed 800 workers might only have 450 moving forward to allow for the 6-foot social distancing requirements during the pandemic. Work from home and varied shifts help to de-densify workplaces for what is hopefully just a short-term situation.
"The whole trend in the '70s and ' 80s was densification," Valavanis said. "From the '90s on, we really wanted to create a work environment that supported collaboration and innovation with smaller work stations and more collaboration areas."
Now clients are looking at raising panel heights and inserting plexiglass to create additional safety.
"People are modifying according to COVID," he said. "They are not changing the entire concept of the workplace, (so) it's definitely not a one-size-fits all solution."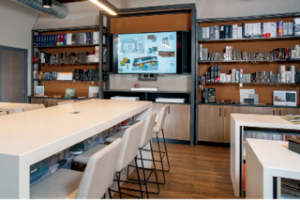 Rita Bacevich, president of HDW Commercial Interiors in Merrillville, said the pandemic has hit the full spectrum of her clients — health care, hospitality, corporate and education —but there are definite nuances to the needs and solutions for each of those applications. Clients' concerns about their existing workspaces focus on configuration, distancing and cleanable surfaces.
"Our team has been called in to help reconfigure and modify individual work areas, teaming areas and public spaces," Bacevich said.
Everyone loves open, light-filled spaces. Work and reception areas certainly have trended that way over the past several years as design has moved away from dividing walls, small reception desk windows and height-driven cubicle workstations.
"Areas now feature open-plan furniture, short-height panels and often no division at all to promote light-filled, productive engagement between team members and guest," Bacevich said.
Post-pandemic office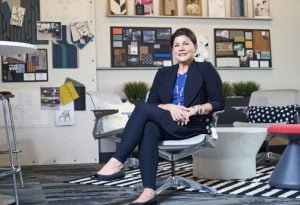 Moving forward, the preference is not to return to the previous claustrophobic solutions as reasonable divisions between users once again are added.
One solution is adding poly or glass screens to existing furniture or reception areas to create safe barriers. Furniture is being re-upholstered with fabrics that can withstand the rigors of strong, anti-bacterial cleaning agents.
Bacevich said they have reconfigured waiting and public areas by using planters, tables and screens and the rotation of seating clusters to enhance separation yet keep the goal of purposeful function and aesthetics.
Clients are seeking cost-effective temporary solutions that do not look temporary. Those solutions don't leave permanent scars to the facility or furniture.
She said it also is important to ensure temporary solutions can be removed and reinstalled easily, if necessary, to deal with future crisis.
Hotel clients at Interior Image Group of Crown Point are seeking ways to reconfigure their spaces, including lobbies and check-in areas to be functional yet safe, said Patti Tritschler, company president.
Tritschler's company recently relocated from Dyer to Crown Point, and the new spacious layout has helped make coping with social distancing in the workplace easier.
The design resembles a small hotel lobby like those IIG Design creates for its clients. Lounges with different seating areas, a large community table and smaller meeting spaces help limit the number of people working together while providing options to work both independently and with others.
In the hotel industry, the check-in process drastically has changed, Tritschler said. Plexiglass helps separate clerks from visitors.
More touchless lighting and bathroom fixtures are being installed or converted because of the pandemic. That change will push forward the yearslong trend toward energy efficiency and cost savings in commercial spaces, she said.
"Going forward that's going to be really very important in how we design," Tritschler said.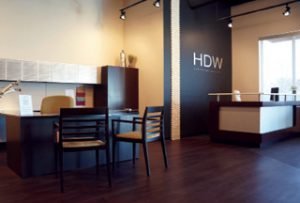 Hotels will take a more minimalist approach with design both in furniture and décor, and overall space planning to make their common areas safe.
"We will not be seeing many throw pillows around," Tritschler said. But ways to bring the outdoors in through windows will help make indoor spaces more inviting.
Moving forward, designers need to take surfaces into consideration to ensure cleaning and sanitizing are both effective and efficient for hotels.
Fabric choices should be wipeable and bleachable with common areas that have hard, easy-to-clean surfaces. Even the cleanability of wall coverings needs to be considered as clients look to create spaces that can be made safe for travelers during the pandemic.
"I think those are the immediate things we are seeing," Tritschler said.
Remote working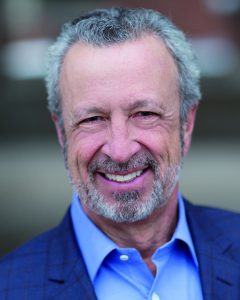 Valavanis said clients are adjusting not only to the need for social distancing in the workplace but with the entire work-from-home trend, which has escalated during the crisis.
"COVID just kicked it in high gear," Valavanis said. Heading into late summer, many businesses continued allowing almost all or 100% of their employees to work remotely.
Some of those employees, Valavanis said, likely will never return to a traditional workspace.
"That's the trend," Valavanis said. "Corporations will probably give space back to some degree, (and) if 25% of the people are no longer in the space, you don't need all the space."
Remote working may be the trend but giving up a company's workspace could have ramifications such as the loss of corporate culture and the sharing of generational knowledge between employees.
"These things can't be replaced when doing things virtually," Valavanis said.
Back to the office
Bacevich said there has been and will continue to be a significant return to the common workplace.
Most businesses will not be able to take on additional real estate to provide more distancing between team members, she said. The commercial furniture market is surging with solutions to respond to separation needs without adding space.
"It has taken a minute or two to ramp up … but we need to be well-prepared in all aspects of life for a reoccurrence," she said. "As we design, we must consciously take into account solutions that will allow us to adjust in a much quicker, safer and more comprehensive fashion."
Mechanical system changes may be where the future is headed when it comes to making a safer workspace.

Troy Woodruff, co-president and co-CEO of RQAW in Fishers, said ventilation will play an important role in design in the wake of the pandemic. RQAW focuses on municipal clients, including jails, where social distancing can be a challenge.
Those clients now must focus on how to keep inmates safe in common areas by supplying airflow.
Adjustments are being made to existing structures to make them as safe as possible during the pandemic and beyond. He expects new construction projects to begin incorporating these design elements that help with ventilation and airflow at the onset, when it is more cost effective, instead of moving to retrofit existing structures.
Facilities are looking at how to use ventilation to help minimize the dispersal of an airborne virus. He said mechanical, electrical and plumbing designs must be coordinated to make sure residents in the facility are kept safe and healthy.
"Those things (as) an industry we are all learning together," Woodruff said.
For municipal clients, budget is a priority. Woodruff said a good use of limited funds is to start thinking about how safe a facility can be.
When talking to clients, it is important to bring up potential considerations for safety during the pandemic and beyond, he said.
As designers learn new techniques to help clients cope with the pandemic, they also must adapt to new information about how the virus spreads.
"What I say today may be totally different a month from now," Woodruff said.
Improvements to ventilation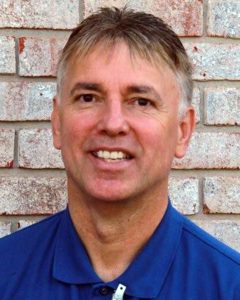 Proper ventilation and air scrubbing may be the key to keeping people safe moving forward, according to Ken Christensen, owner of Earl's Heating & Air Conditioning in Schererville. Christensen said air cleaners now on the market can help filter out unwanted germs. Air cleaners have been popular for some time among those with lung conditions like asthma and allergies. But they are moving into the mainstream as more people consider how to prevent the spread of the novel coronavirus both in their homes and businesses.
Christensen said he expected the demand for air cleaning units to skyrocket during the pandemic, but that has not happened. The pace of sales for these devices has only slightly increased since before the new virus, but that may change as more people learn about the option and as the situation continues.
"It's costly to do, but put a price on your health," Christensen said. His office has the system installed in its ducts. His staff has been working through the pandemic, and so far, there have been no health issues.
Another option is an air scrubber, which was designed by NASA for use in space.
The air scrubber works by making particles in the air heavier and essentially removing them from the air, Christensen said. These units could be effective in businesses, making them safer for the return to normal.
Air scrubbers employed in places like schools, businesses and even homes can help to stop the airborne spread of the virus, he said.
People have been focused on their air conditioning, especially those working at home in this summer's record heat, Christensen said. Installing the air cleaning system while updating the heating and air conditioning in your home or business is the most cost effective and efficient way, but retrofitting can be done.
Christensen said he has seen a lot of interest, but the cost has been a challenge.
Future designs
Woodruff said some of the changes being made today to cope with the pandemic will, quite frankly, stay that way.
"Now that we know its capable for these viruses to come over, will this be something we will have to deal with again in a few years?" Woodruff said.
Right before the pandemic struck, the open-office concept was a big design idea.
"State agencies, local government, everybody was looking at the idea of an open-office concept and thinking how we readapt to an open office space," Woodruff said.
Adaptability will play an important role in design moving forward, experts said. Work schedules are evolving to meet social distancing requirements, and companies are embracing remote work and staggering days of the week employees come into the office.
Designing for those changes will become important.
"There are going to be a lot of different changes, especially in architecture, (and) we are trying to keep up with it," Woodruff said. "We are trying to stay in front of what we are hearing from professionals across the country, (and) we learn things every day in this pandemic."
Tritschler said she wonders whether the impact on design now to make spaces usable amid the pandemic will become permanent additions to future designs.
"That's the question of the hour. How permanent is this?" Tritschler said.
Click here to read more from the October-November 2020 issue of Northwest Indiana Business Magazine.