New face of popular Whiting festival recognizes importance of representing nationally recognized event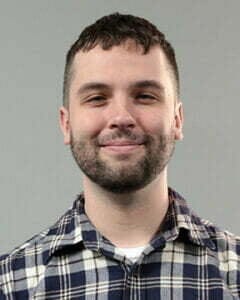 The 2023 Pierogi Fest will have a new ambassador, and his name is Tony Panek.
The East Chicago native understands being the face of the popular and nationally renowned Whiting summer festival is no small task.
"It's not lost on me the importance of it all," said Panek, an on-air personality with WJOB 1230 AM/104.7 FM and JEDtv. "It's a regional character that became a household name throughout the country, even the world."
He said being the next vessel for that character and portraying Mr. Pierogi brings him great joy. This year's festival is July 29 through 31.
Tens of thousands of people descend on the Region to enjoy pierogis, take in the festivities as well as watch the precision lawnmower team in action. Readers Digest has recognized Pierogi Fest as one of America's 50 best festivals and by TripAdvisor as one of the wackiest festivals on the planet.
Besides appearing at Pierogi Fest, Panek also will serve as the official ambassador for the festival, making appearances to promote the event. He said the work he does prepared him for his new role.
"Although the character is a separate entity of its very own, I do think the years of radio/video certainly lend a hand to help me out in the role," said Panek, who also has covered the festival numerous times. "I'm out there in the thick of things, mixing it up with the people and just having a good time. And even though I'm well aware it's way different once I step out in that costume, I know the years of covering the event, that experience will help out greatly."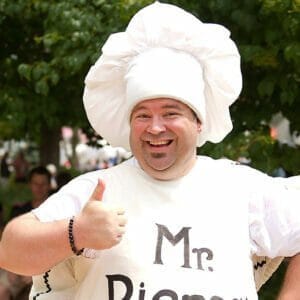 Panek was approached about taking on the mantle by Tom Dabertin, chairman of Pierogi Fest. Matt Valuckis of Whiting served as Mr. Pierogi the past 25 years but decided to retire from the role.
Valuckis said he retired because he wants to enjoy the festival with his two children. He started the role in 1997 when he was 21 years old.
"I have two kids who are now at the age where they want to come out and enjoy Pierogi Fest," he said. "I've spent years making memories for other families, I want to do it with my family now.
"I had an awesome run, made a lot of great friends and memories, but it felt like it was time. "
Dabertin said Panek is the right person for the job and will be a great addition to the festival.
"Mr. Pierogi is the face of the festival," Dabertin said. "He is our ambassador throughout the year at events throughout the Chicago metropolitan area, and we felt that Tony was the perfect personification of Mr. Pierogi."
Panek was raised in East Chicago. He said growing up in the Region gave him good values and shaped the person he is today.
"I sometimes sit around and wonder what kind of person I would be if I was raised in another state or country, or just even another part of this state, and every time I do, I just quickly come to the realization that I don't think I would be as well rounded of a person if I was never born or raised here," he said. "There's just something so special about it, and there's no place I'd rather be."
Panek, a 2013 graduate of Purdue University Northwest, said he has enjoyed watching the festival grow into a national event.
"I remember coming as a kid, and it always had that larger-than-life fest feel to me," he said. "I know that wasn't always the case, and the first few years it was all about trying to find that wacky identity, but here we are well over 25 years now, and I'm not sure if anyone could have predicted that it would become what it is today."
Panek said the Region should be proud to be the home of Pierogi Fest.
"People fly in (from all over) for this one event," he said. "I think the zaniness of it all just makes it truly special, and that's what captures everyone's interest at the end of the day."
Click here to read more from the December-January 2023 issue of Northwest Indiana Business Magazine.