Chesterton nonprofit offers novel approach to treating those who struggle with substance abuse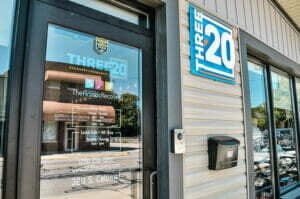 A creative outlet might be the right path for someone on the road to recovery, some experts say.
Amber Hicks, executive director for Artistic Recovery Center in Chesterton, describes the programs and design of the outreach and assistance platform she created as "a unique approach without limits."
"Artistic Recovery is a free-of-charge membership-based community … with a mission to provide creative outlets to support recovery through the use of art, music, faith, nutrition and fitness," Hicks said.
Hicks has more than 20 years of experience in nonprofit management, including founding a local treatment center. She operated it for 12 years before opening Three20 Recovery Community in 2019.
A mother of two adult sons, Hicks says her work "has always been a family affair."
"In 2007, I started an intensive outpatient program alongside my oldest son, Allen, to provide treatment for those struggling with substance-use disorders," Hicks said.
That program grew from serving less than 30 people in the first year to more than 300 clients annually in 2019 when she merged the treatment center with another local community health center.
Hicks transitioned from providing just treatment to expanding the focus on recovery services that concentrated on substance abuse and mental health disorders.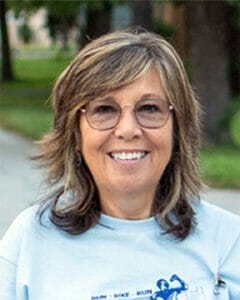 "Treatment has a beginning and end, but recovery is forever," Hicks said.
In 2019, Hicks and youngest son, Nick, and her husband, Jon, teamed up to purchase the recovery center facility at 320 S. Calumet Road in Chesterton.
"We were already providing initial recovery services working out of our transformed garage space," Hicks said. "Today, when you visit our center space, you may find my husband, Jon, working with a team to continue our constant updates to the facility, as my son Nick is on the soundboard during a music program and my sister even helping preparing meals for the masses."
She credits her family's commitment to the center for driving its success.
In addition to a fully equipped commercial kitchen, which can host cooking and nutrition classes, the center has a 1,600-square-foot fitness area, an art studio and professionally equipped live music venue space for music classes. It also includes professionally trained and certified recovery coaches available to provide personalized recovery support and resources.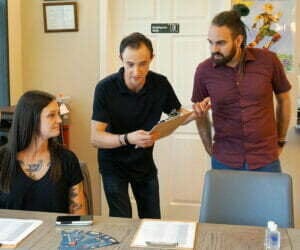 "Our programs and success wouldn't be what it is without the amazing people that write, speak and share what they've learned on their personal journey of recovery, and it's all free-of-charge services," Hicks said.
She said the need for services has never been greater.
"To say it's all about giving people an opportunity may sound cliché, but it's exactly what motivates me," Hicks said. "I grew up fast as a teenage parent with very little support."
Though her sons are grown, Hicks never lost sight of feeling overwhelmed and the need to find some level playing field to make life manageable.
"That's what our center is all about," she said. "If someone is ready, we're here to provide as much support as possible."
Hicks said partnerships contribute to the center's continued growth.
Circles in the Wind Amish Furniture is among the center's partners. It has assisted with the center's programs, as well as provided funding and furnishing.
"Their nonsecular approach to helping people cope and work on their own personal recovery journey is innovative and novel," said Steven Beigle, president of Artisan Woodcrafts and Circles in the Wind Amish Furniture.
"They challenge their clients to look inward and to focus on the arts to develop inner strength, while coupling music, faith, nutrition, fitness and art to assist in their recovery," Beigle said. "Their facility is a testament to the arts, as well as fellowship to build strong relationships with their clients."
He said the work the center does in Porter County is truly amazing.
"(It) works under the radar of most mainstream methods," Beigle said.
Hicks said, connecting with others, both clients and community parents, has taught her "everyone knows someone who needs the kind of support we provide." Financial struggles are constant but perseverance and support from the community comes when needed.
"I have personally served as a volunteer for the past 15 years," she said. "Running any not for profit is not for the faint of heart."
Click here to read more from the December-January 2023 issue of Northwest Indiana Business Magazine.