Tom & Ed's Body Repair sons take the driver's seat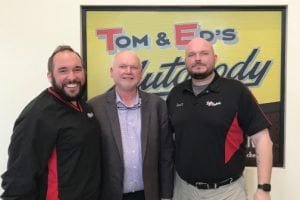 In 2009, Tom Tylka was ready to call it quits.
He had enough of the pressures, the headaches and the endless responsibilities to run his successful but stressful business, Tom & Ed's Auto Body Repair Services. After operating his firm for more than a quarter century, Tylka figured it was time to sell it.
"I kept asking myself, 'Why am I doing this to myself and my wife?'" Tom recalls.
Before he could list it on the market, he got a call from his younger son, Andy.
"Dad, what do you think if I got into the family business so we can keep it going," asked Andy, who was working in the entertainment industry in Indianapolis.
His father replied, "You don't want to get into this."
"Let's talk about it," insisted Andy, who's business-minded, college educated, and loves new challenges.
The father and son met for dinner. It didn't matter that Andy wanted nothing to do with the family business while growing up. It didn't matter he knew nothing about the auto body repair industry. It didn't matter he had to live in his parent's home for a couple of years.
They decided to give it a go.
"The rest is history," Tom says. "Our history."
Andy began learning about the family business and the industry overall. Then he began making changes, from digitizing the firm's invoice and billing system to expanding to new locations across Northwest Indiana.
A couple of years after Andy joined the team, Tom's other son, Geoff Beckett, joined, first as an employee, then as a manager. Together, the two sons installed a new motor on the rusty chassis of the family business.
"He's the smart brother," jokes Geoff, 37, a former construction worker.
"But he's got the good looks," jokes Andy, 35, whose job oversees all six stores.
In addition to the original shop in Schererville, which has expanded from 2,500 square feet to 14,000 square feet, other shops are located in Crown Point, Burns Harbor, Cedar Lake, Valparaiso and Merrillville, employing more than 50 workers in all.
"We like to tell customers about my dad's success story," Andy says while giving a tour of the spacious Merrillville shop.
It's located behind the Bozak Motors dealership on U.S. 30. Inside this impressive building, state-of-the-art upgrades and old-school elbow grease go together seamlessly, like a new side panel on an old pickup truck.
Still, the company's smallest shop in Crown Point, in business for nearly 20 years, remains the busiest. The average bill at any shop is $3,800, taking five business days to complete. Not on Saturday, though. The firm is now closed that day, another of Andy's upgrades.
"I thought I'd have a heart attack," Tom says, only half-joking.
But, as Andy points out, the move has boosted employee morale, and business overall.
"I trust Andy with the numbers," Tom says.
Tom, who's now 68, no longer works from 6 a.m. to 10 p.m. each day, as he did for too many years.
"I've kind of developed my own job while staying out of their way," Tom says.
However, he still enjoys being involved in the business.
"To make sure everything gets done right," says Tom, who lives in Crown Point with his wife Debbie. "She still does our bookkeeping."
When the family business hits a speed bump or turns a dangerous corner, Andy and Geoff know who to lean on for guidance.
"We ask dad," Geoff says. "He has a mind that just knows how to solve problems."
"They still have to learn how I learned – by hard knocks," Tom says.
Tom opened his first shop in 1983, the same year Andy was born.
"The family joke is that the business was the best thing to happen to dad that year," Andy jokes.
In 1986, Tom bought out his original partner, Ed. But he couldn't afford to change the signs and company stationary, so he kept the firm's name, Tom & Ed's.
"If anyone calls and asks for Ed, we know they're selling something," Geoff jokes.
Looking to the future, both Andy and Geoff have young children.
"I named my 2-year-old son Tom," Andy says, "so we won't have to change any signs."
Click to read more from the Jun-Jul 2018 issue of Northwest Indiana Business Magazine.