Pokagon Band of Potawatomi Indians elects first woman as tribal chair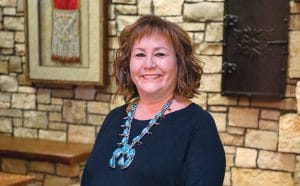 Elected in August, Richards is the first woman to serve as chair since the Pokagon Band of Potawatomi Indians received federal restoration in 1994.
"Our tribe has gone through so much in the 26 years since being restored federal recognition," Richards said. "We have had many accomplishments with a lot to be grateful for, but I felt it was time for a change in leadership at tribal council."
She said she made a "pledge of honesty, integrity and transparency while keeping all citizens' interests in mind."
While calling on her 25 years of experience and knowledge working for the band, Richards also serves as the CEO for all four of the tribe-operated Four Winds Casino gaming properties in New Buffalo, Hartford and Dowagiac in Michigan, and the South Bend sister property.
"Women have always supported our leaders, or been in supporting positions, but it was time for a woman to lead our nation and my opportunity to work for my people," Richards said.
Richards is the daughter of Bonnie and Tom Drake. Her mother is a tribal citizen, as are both her grandparents Luella and Morris Lewis.
Richards grew up in Hartford, Michigan, and later graduated from Western Michigan University. She moved to Hawaii and worked for GEICO insurance after college, but she came back when the tribe was restored federal recognition in 1994.
In 1995, she started working as a grant writer for the tribe.
Before her election, Richards served as assistant government manager for the band, only leaving for a short stint to work as a grant manager at the Kellogg Foundation in Battle Creek, Michigan.
John Warren, the previous chair for the band, says Richards is prepared for her new role.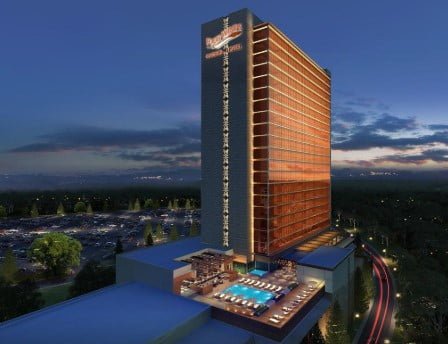 "Having served our tribal nation for more than 25 years, Chairwoman Richards has the knowledge and leadership skills to not only lead our tribal government and guide our businesses through the COVID-19 pandemic but also ensure we meet the needs of our nearly 6,000 Pokagon citizens," he said. "Through her leadership, we will continue to be a good neighbor to the communities in which our citizens reside and maintain strong government-to-government relationships at the local, state and federal levels."
As chair of the 11-member tribal council, which is elected to staggered, three-year terms to govern the Pokagon Band, within the tribal council, other executive officers serving include vice chair, secretary and treasurer.
"Our tribe is a sovereign nation residing in Michigan as well as the only federally recognized tribe in Indiana," Richards said. "We generate the funding for the services we provide our citizens, everything from tribal police and housing support to medical services, from our successful business operations such as Four Winds."
Richards' husband of 14 years, Sam Richards, a retired police officer, and the couple's daughter Myah, 13, were both involved and supportive during campaigning for the tribal council earlier this year before Richards election.
"I consulted with my family, and we all knew what a big job this is," Richards said. "Using my own family, including my grandmother, as one of my role models, we all believed it was time for a new chapter, and this was the opportunity to bring leadership from a fresh perspective."
Richards said she is proud of how the Four Winds properties are more than a brand. They also incorporate the importance of traditions and customs based on tribal heritage, which is even apparent in the architectural design at each of the gaming destinations.
Her goals during her tenure are to continue to lead and guide during the challenges of the pandemic while overseeing the levels of government services for her citizens, including housing, social services and education.
Click here to read more from the December-January 2022 issue of Northwest Indiana Business Magazine.

Latest posts by Philip Potempa
(see all)