National park status for Indiana Dunes puts Region's lakeshore in elite group
A familiar place has a new name.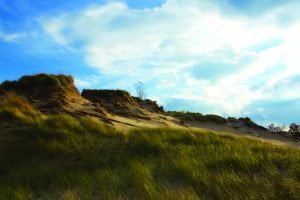 The Indiana Dunes National Lakeshore officially became the Indiana Dunes National Park, making it the 61st park to receive national status.
Legislation to change the name was introduced by U.S. Rep. Pete Visclosky and signed into law by President Donald Trump on Feb. 15.
"This action provides our shoreline with the recognition it deserves, and I hope further builds momentum to improve open and public access to all of our Region's environmental wonders," he said.
Indiana Dunes National Park hugs 15 miles of the southern shore of Lake Michigan and encompasses 15,000 acres of woodlands, prairies, savannas, bogs, wetlands and sand dunes. The Dunes were created when glaciers receded 14,000 years ago, creating white, sandy beaches, which are consistently ranked among the best in the U.S.
According to Paul Labovitz, Indiana Dunes park superintendent, advocates have been trying to get national park status for the Indiana Dunes National Lakeshore for more than a century.
"The (name) change finished the effort suggested in 1916 by the first director of the National Park Service, Stephen Mather," Labovitz said. "What a terrific tribute to the neighbors, partners, visitors and national park staff. We are so appreciative to the entire Indiana delegation for their recognition and support of this national treasure."
While the status change does not bring more funding, the elevation to one of only 61 national parks in the U.S. means that it is part of an elite group.
Magnet for visitors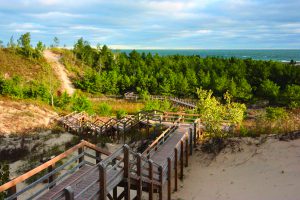 In the past five years, there have been about 1.6 billion visits to National Park System sites, which include 419 national parks, preserves, monuments, memorials, historic sites, seashores and battlefield parks throughout the U.S.
"Northwest Indiana has a new feather in its cap, and we all have an opportunity to use the Indiana Dunes to increase our economic development," said Lorelei Weimer, executive director of Indiana Dunes Tourism.
U.S. Rep. Jackie Walorski shared the sentiment.
"The Indiana Dunes National Lakeshore has long been a treasured place for Hoosiers to relax, explore and enjoy all that nature has to offer, as well as a strong driver of our local economy," Walorski said. "The Indiana Dunes National Park will draw even more visitors from across the country, strengthening Indiana's economy and boosting the outdoor recreation industry that is so vital to our Region."
America's national parks in 2018 exceeded 300 million recreational visits for the fourth consecutive year. It was the third highest record of visits since the National Park Service began keeping track in 1904.
"America's national parks are national treasures that tell the story of our nation and celebrate its beauty, history and culture," said David Bernhardt, secretary of the U.S. Department of the Interior. "I am pleased that so many Americans and visitors from around the world continue to take advantage of the affordable and accessible recreational opportunities provided by these sites."
Dan Smith, National Park Service deputy director, said millions of visits to our country's national parks annually "continue to affirm that Americans are in love with their public lands and hold dear the stories of our nation embodied in the natural, cultural and historic landscapes we protect in the National Park System."
Tourism is big business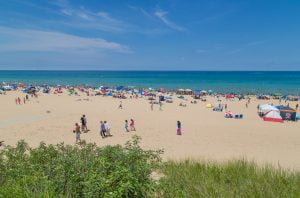 Locally, visitors to the Dunes won't see any significant physical changes except for new signage. However, local experts are betting on an increase in visitors.
Tourism is the state's 11th largest industry, with visitor spending in Indiana totaling $12.7 billion in 2017, according to the most recent results released by the office of Lt. Gov. Suzanne Crouch and the Indiana Office of Tourism Development.
Indiana Dunes is the No. 1 tourism attraction in the Hoosier state, attracting 3.6 million visitors in 2018—that's without the national park designation.
"We could not be prouder of Visclosky's efforts and the work our National Park Service members have done to make this a reality," Weimer said. "This will be a significant boon to Indiana's economic development, specifically tourism, which already pumps $476 million into our economy annually."
Weimer said tourism is one of Porter County's fastest-growing industries, responsible for 1,000 tourism-related businesses and more than 5,500 jobs. And while the name change is recent, Weimer said her office has seen the benefits of the designation.
"We're already getting visitors who are coming to see the new national park—during winter—which is outside of our peak season," Weimer said. "The designation is a big deal, and we expect many people to add the Indiana Dunes National Park to their bucket lists."
Online they are seeing the boost as well. Overall total social media impressions for Indiana Dunes Tourism were about 2 million in 2018. Within a month of becoming a national park, Indiana Dunes Tourism totaled more than 718,000 social media impressions.
Spero Batistatos, chairman of the Dunes National Park Association, said the name change will allow potential visitors to understand what Indiana Dunes has to offer.
"The word 'park' has a certain appeal and to add that little four-letter word brings the power and enthusiasm that the traveling public perceives," Batistatos said. "The name change helps us tell the story of this incredible asset better."
Batistatos said there is so much more to the lakeshore than its beach, and the national park designation will help convey that.
"In essence, we have had many millions of visitors a year, but they have not fully explored the entirety of the park and all of the attractions that are within the park," Batistatos said. "I am talking about the flora and fauna and dunes environment."
Batistatos said the name change will hopefully encourage people to lengthen their visits because there is so much to see and do at Indiana Dunes National Park.
"We are focused on getting people to recognize that there is a whole lot more there than a beach," Batistatos said. "I think the word 'park' positions people to be more serious about exploring what the offerings are and what experiences they can have here."
Capitalizing on designation
The Indiana Dunes might be the most recent park added by the National Park Service, but the St. Louis arch on Missouri's riverfront is also a relative newcomer. The Jefferson National Expansion Memorial was designated the Gateway Arch National Park in January 2018.
Samantha Fisher, director of communications for the Gateway Arch Foundation, said that, at the time of the designation, the park was under a major construction project. A grand re-opening took place in July 2018 to unveil a $380 million renovation of the 91-acre park, 46,000-square-foot visitor center and complete overhaul of the Museum at the Gateway Arch.
"As a result of the renovations and the significant media attention on a local, regional and national level, visitation has been up about 30 percent over previous years," Fisher said.
Fisher said an area they expect to see grow in terms of visitation is from international travelers who tend to choose their park destinations based on titles.
"The Gateway Arch has long been recognized as a national icon and re-naming allowed the park to align with the way visitors were connecting to the site," Fisher said.
Weimer said the Hoosier state is ready to embrace visitors and welcome them to discover what the Indiana Dunes National Park has to offer.
"What we're excited about is that visitors who see the Indiana Dunes almost immediately realize how deserving of this status we actually are," Weimer said.
Labovitz is optimistic the national park designation will provide an economic boost.
"Indiana Dunes National Park is a major economic driver for the Region and state," Labovitz said. "When you think about our quality of life here, the presence of this place, inspired over a century ago, is clearly one of America's best ideas."
Click here to read more from the June-July 2019 issue of Northwest Indiana Business Magazine.