Health professionals use mobile apps, wearable tech to help people lead better lives
Health care in the 21st century has shifted from a reactive approach to a proactive one.
"Despite the rise of heart disease and obesity rates in the U.S., Americans are still living longer," Arizona State University said in a statement. "With the help of technology, Americans are taking control of their health and taking steps to improving their well-being."
Enter wearable technology, devices that help track everything from blood sugar to caloric burn — and everything in between. Local health care systems and providers are using and encouraging such tools to enable patients to improve or maintain their health in ways that weren't possible just a few years ago.
Technology in play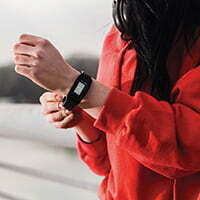 Rose Flinchum is among the health professionals who has benefited from integrating these devices into her patient encounters. As a clinical nurse specialist at La Porte Hospital, she helps diabetes patients better manage their condition.
She said, in addition to commonly used devices such as Fitbits to record movement, some patients prefer to rely on more advanced technology to keep their sugars in check.
"It's really exciting right now in terms of the technology," she said. "In the past, people would put their blood drop on the strip, and they would just get their glucose number that way.
Flinchum said these days, blood sugar meters can help patients set their ranges.
"So, the meters will give them feedback on if they are at their target or under their ideal range," she said. "They will also sometimes send them messages on what they could do to fix or address the problem."
This means patients can adjust course sooner, so they don't risk developing related complications. Beyond the self-monitoring aspect, Flinchum said it's common in other markets for patients to opt in to have the data sent to their provider.
"By having it there — where it's accessible in the cloud — it's much easier for providers to get that information," she said.
While La Porte Hospital doesn't have such a program in place, she said it would be helpful to both patients and providers.
"So, for example, I have a patient that calls me at least once a day with her blood sugar numbers, just to get my feedback and my reassurance that she's doing OK. And if she were a little more tech savvy, that would be a great way for us to remotely monitor it that way."
Continuous glucose monitors are another breakthrough. Flinchum said she's seeing more and more patients turning to an insertable device that can be worn for several days.
The patient can elect to use a reader that comes with that internal device or their cellphone and wave it or tap it where the device has been inserted — and it will read their blood sugar. According to Flinchum, this is the wave of the future when it comes to diabetes management.
Insulin pens are another development in streamlining diabetes management.
"These are pens that have a replaceable cartridge," Flinchum said. "So, the pen itself isn't disposable, but the insulin cartridges are added to them."
She said one company is looking at making the disposable pens so that they also will keep track of insulin doses and even using Bluetooth for smartphone apps to keep track of the insulin dosing and timing.
Smarter smartphones
Speaking of apps, Flinchum said there are more options now than ever to help patients stay on track. According to her estimates, more than 1,100 diabetes-related apps are available for download via Google Play or the App Store.

Krissy Graun, business development and communications manager with Community Hospital Fitness Pointe in Munster, is also in the business of changing lives for the better.
As part of her duties, she oversees their corporate wellness initiative, New Healthy Me program. New Healthy Me can function as a stand-alone service as well as work alongside programs already in place to help clients maximize results.
From start to finish, New Healthy Me can provide a customizable health solution for employees in organizations of all sizes. To that end, the hospital offers a return on investment for employers, through New Healthy Me.
The program includes tools and resources like an integrated online portal, laboratory screenings and educational material for employees.
Graun said incentivizing wellness in the workplace is a wave New Healthy Me is riding. The program allows participants to set up an account and sync their devices to the hospital's portal.
"And what happens then is not only do we track steps, but we also track aerobic activity," she said. "So, for instance, one of the things that we reward points for is hitting 10,000 steps in a day."
Graun said aerobic activity is another thing that Community Hospital can track.
"We reward people for staying active by relying on data from technology," she said.
The experience is seamless for all parties involved, she said. Case in point: they have an automated integration with a national health station. Employees can get markers like weight and blood pressure checked monthly.
Graun's team has access to those results and then rewards employees accordingly. In this way, it's all about looking at "the whole picture" of health, she said.
Beyond the monthly check-ins, Graun said they do a yearly assessment and look at such variables as lab results, waist circumference and other data — all of which get automatically uploaded into their portal. These results afford Graun's team a chance to be proactive.
"So, we really are trying to take a hands-off approach from the data and allowing that to all be done automated," she said. "But … if people have certain risk factors, then they're automatically put into a pool, if you will, for our risk reduction program. And again, it's all automated and then it alerts our staff that this is a group of people who have some risk factors, and then they're reached out to by health coaches."
At risk or not, Graun said people have responded well to the program.
"We know we're doing something right, because they're enjoying it and continuing to make progress," she said.
The numbers frame that story. In 2018, participation in New Healthy Me for Community Healthcare System was at 58% for employees and spouses on the health plan, she said. They're making a measurable difference, too, when it comes to producing better outcomes for participants who may need extra attention.
"Once all the data is aggregated from our biometric screenings, those with one or more risk factors are stratified and automatically invited to our risk reduction program," she said. "Of those that are invited to participate, we average a 30% participation rate in the risk reduction program."
Plenty of options

Jill Schneider, manager of Franciscan Health's Fitness Centers in Chesterton, said there's no shortage of ways to track one's fitness and performance.
But where to begin? Her recommendation: "Any device that helps increase your awareness and keeps you motivated to stick to a regular workout routine is good."
However, her company does stand behind one device in particular. She said Myzone offers the best product on the market, because the accuracy and science far surpass what other gadgets have to offer.
Myzone is a heart rate-based system that is wearable. It uses wireless cloud-based technology to monitor physical activity. Myzone monitors heart rate, calories and duration of exercise that convert into Myzone Effort Points (MEPs), with a focus on rewarding effort rather than fitness. In other words, Myzone provides a comprehensive look at your overall workout.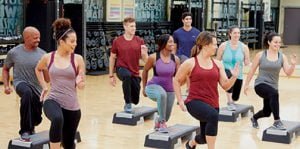 "The Myzone app allows for engagement, motivation and communities to flourish," she said. "With built-in challenges, personal goals, gamification, commenting and sharing workouts through social, users are motivated to sustain physical activity. The support from friends, our personal trainers and other fitness staff help hold members accountable and encourages them to be active."
And the proof is in the execution.
Just ask Carrie Fleming, manager of Fitness Centers in Schererville.
"We hear time and time again from our members who use the Myzone system to track their workouts and energy expenditure that, when not wearing their Myzone, they almost feel as if their workout didn't count," she said.
It can be said that the accountability and motivation that comes from wearing the Myzone belts in and of itself has been a huge benefit to their members as well.
The value provided to the clinical community is not to be discounted either.
"For example, an employee at our Chesterton facility, while teaching a group exercise class, noticed irregularity with his heart rate while it was displayed during classes on the screen," Schneider said. "He addressed this with his cardiologist and showed the physician his workout through the Myzone app, which in turn led to diagnostic testing and ultimately a heart ablation."

Fleming said it's not uncommon for members to share their Myzone workouts with their cardiologists and primary care physicians at appointments. This allows the providers to also monitor and detect any irregularities.
In doing so, they can determine a potential need for further testing or referral to a specialist. According to Fleming, each situation is different, but Myzone can play a role in helping a provider get a more close-up view of a patient's cardiovascular health.
"In some cases, it is simply a matter of the member/patient needing to build up their cardiac endurance at which time the physician would refer them back to the fitness centers for continued exercise as part of their preventative care plan," Fleming said. "It's also a great way for physicians to see the positive gains made in their patients, as they can monitor their effort and increased energy expenditure/calories burned through the Myzone app.
Schneider agrees and adds that exercise is truly the best medicine.
"We highly recommend the Myzone monitoring system for anyone who is concerned about working out or for anyone looking to re-energize their workouts," she said. "After all, you cannot monitor what you don't measure."
Click here to read more from the Dec-Jan 2019 issue of Northwest Indiana Business Magazine.