Region attracts Chicago's top medical specialties, grows opportunities for treatment near home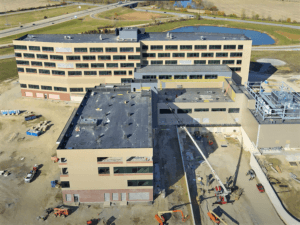 While Gov. Eric Holcomb has made reducing health disparities in the state a priority, providers in the Region have been building health care infrastructure for the future.
Holcomb has recommended spending an additional $243 million annually on health care in the state.
According to the 2022 Commonwealth Fund's Scorecard on State Health System Performance, Indiana is 37th in the overall national rankings for health care. Holcomb plans to improve that ranking. In January, he requested $120 million in his 2023 Next Level Agenda for the fiscal year 2024 and $227 million in 2025.
But here in the Region, some of Chicago's best hospitals already are addressing these issues as the population ages and grows. They have launched new facilities and services in Northwest Indiana, endeavors that experts say will provide residents more convenient health care and be a boon for other businesses in the Region.
Some homegrown hospital systems also are addressing the need with new facilities and doctors' offices.
For residents who live here, these changes mean they may need to drive only minutes rather than an hour or more to reach their health care providers.
"There is no need to travel to Chicago for initial treatment or planning," said Dr. Daniel McCormick, president and CEO at Franciscan Health Crown Point. "Our physicians frequently refer to Chicago and Indy markets depending on the level of expertise needed."
Patients might not even need to leave their homes. Telemedicine, which enables patients to visit virtually with health care providers, is making an impact, too. Telehealth usage got a boost during the pandemic and is expected to continue making health care easier to access for some patients.
Health systems moving in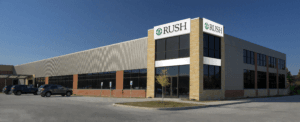 A few examples of the Chicago hospitals that are entering or expanding their services and facilities in the Region include the University of Chicago Medicine, Rush University System for Health and Ann & Robert H. Lurie Children's Hospital of Chicago.
The University of Chicago Medicine broke ground in August on a new two-story, 130,000-square-foot multispecialty care center and micro-hospital in Crown Point. It will be the academic health system's largest off-site facility and its first freestanding building in Indiana.
The $121 million care center, at I-65 and 109th Avenue, is slated to open in spring 2024. It will include an eight-bed emergency department and short-stay inpatient unit; a comprehensive cancer center with infusion therapy, radiation and medical and surgical oncology; an imaging center with MRI, CT, PET, X-ray and ultrasound capabilities; an outpatient surgery center; and laboratory services.
It also will have medical offices staffed by UChicago Medicine's physicians and specialists in cardiology, digestive diseases, orthopedics, neurosciences, pediatrics, primary care, surgical specialties, transplant care and women's health.
Blase Polite, physician-in-chief for UChicago Medicine's Northwest Indiana operations, says opening a facility in the Region makes sense.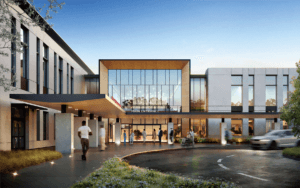 "Northwest Indiana has always been part of the population we serve," he said. "We know that a certain percent of our patients leave Northwest Indiana and come to Chicago for cancer care."
Wanting to serve patients better is also a reason why Rush University System for Health planned to open an outpatient center in Munster early this year. Rush also continues to provide thoracic surgery services and telestroke services in partnership with Franciscan Health hospitals in the Region.
The services at Rush's new outpatient center include transplant services, breast surgery, ear, nose and throat, epilepsy, gastrointestinal surgery, neuro-oncology, cardiology, oncology, gynecologic oncology, plastic surgery, urogynecology, urology and vascular services.
"We have been expanding our relationships in Northwest Indiana," said Dr. Paul Casey, Rush University Medical Center's chief medical officer. "We know we have about 14% of our patients who come to our system from Northwest Indiana."
Another partnership has been forged between Franciscan Health Crown Point and Ann & Robert H. Lurie Children's Hospital of Chicago. It brings a neonatology program to Northwest Indiana. In 2022, Lurie Children's neonatologists started staffing a 20-bed, neonatal intensive care unit at Franciscan Health Crown Point, caring for the most vulnerable babies and their families close to home.
Growing from within
Meanwhile, health systems from Northwest Indiana also are expanding. Community Healthcare System announced in October that it is adding a new immediate care and medical service center to replace its immediate care location at 1946 45th St. in Munster.
The new 32,000-square-foot, two-story structure will be at 10240 Calumet Ave. The existing facility will be converted to office space. Along with immediate care, the new facility will offer diagnostic and imaging services, occupational health, and offices for pediatrics, ENT and family medicine.
In addition, one of the system's hospitals, St. Catherine Hospital in East Chicago, dedicated a new, 36-bed intermediate care unit in March 2022.
The $2.7 million inpatient intermediate care unit, now on the sixth floor, was designed with enhanced aesthetic features, patient comfort amenities and critical care efficiencies for patients. An IMCU delivers care to patients whose conditions require more specialized care and a longer hospital stay.
Another relatively new homegrown facility is Franciscan Health Michigan City, which replaced an existing hospital there in 2019. The new hospital has 123 private, inpatient beds and outpatient services with diagnostic imaging equipment. The site of the former hospital now houses a 14-bed inpatient behavioral health unit, a new Franciscan Senior Health and Wellness program for care of the elderly, and a prenatal assistance program, which provides prenatal and post-partum education and referral services.
The health system also is building a $200 million hospital in Crown Point on the southeast corner of Interstate 65 and U.S. 231. The project will expand Franciscan Health Franciscan Point and double the size of the University of St. Francis campus. The new hospital will be part of a larger 250-acre development. The hospital at 1201 S. Main St. will continue providing care until the new hospital opens, which is scheduled this fall.
Gary-based Methodist Hospitals also opened a sexual assault treatment center at its Northlake Campus, which is funded by a grant from the Indiana State Department of Health, Division of Women's Health. The private location will offer 24/7 services, including forensic evidence collection, treatment for sexually transmitted diseases, pregnancy, HIV, among other services. Before the opening, the closest center providing these services was in Crown Point or South Bend.
"This center will be an important source of healing and support for some of Northwest Indiana's most vulnerable residents," said Sheila Pochron, Methodist Hospitals director of critical care.
Aging population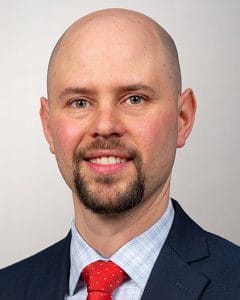 While families with children will be happy about more health care options closer to home, younger patients are not the reason Chicago-area health care providers and others are expanding in the Region. Older patients are the drivers of health care growth.
"Overall, the population in Northwest Indiana is staying flat, but the older population that is more likely to need health care is growing," said Micah Pollak, associate professor of economics at the School of Business & Economics at Indiana University Northwest.
"(Older adults are the primary) population that is drawing hospitals here," he said. "They want to make money, and they want patients."
While business may be a driver of these efforts, Pollak said residents of Northwest Indiana can only benefit from easier, closer access to health care and more options.
"I think it's needed, especially for a lot of specialties," Pollak said. "This is an effort to reach out to patients who need specialized care. Rather than us going to Chicago, they are coming to us."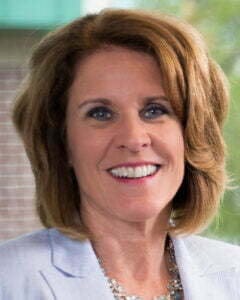 Barbara Anderson, interim president and CEO for Franciscan Health Hammond, Dyer and Munster, cites growth in Lake County as Illinoisans move to Indiana for its lower taxes as a reason why health care is expanding there.
The U.S. Census Bureau reports that the population in Lake County was about 498,500 in 2021, up from 475,594 in 1990.
"We are not the only system addressing that population shift," added McCormick, of Franciscan Health. "University of Chicago, Munster Community and Rush have all opened up in Crown Point in the past three years or will in the near future."
Anderson said Franciscan patients seek a range of services.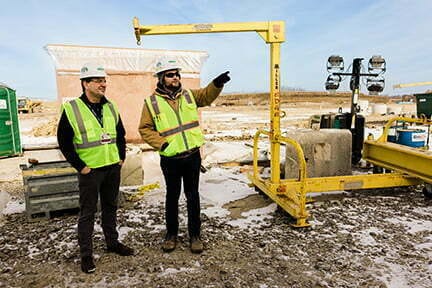 "Those areas that are especially busy are the emergency departments, inpatient care due to the flu season, obstetrics, cancer service, orthopedics and those with chronic conditions, such as diabetes, congestive heart failure, COPD," she said.
In addition, she said a particularly difficult flu season that has included RSV outbreaks has increased demand for pediatric services.
"This is an area in which many times our residents must travel to Chicago for services," she said. "Franciscan Health Crown Point has Lurie Children's Hospital staffing their NICU, providing multidisciplinary, skilled care in a community setting."
The downside
While health care expansion is an important trend in the Region, contraction also is part of the story.
The most prominent example is Franciscan Health's decision in November 2022 to cease inpatient care and emergency room services at Franciscan Health Hammond, formerly known as St. Margaret's.
Franciscan officials said it will continue to offer primary care and medical services on site, and it is investing $5.3 million to renovate space on the Hammond campus to broaden access to primary care.
However, the city of Hammond wasn't happy about the closure, filing an injunction in early December. A Lake County judge ruled with the city later in December, but ultimately, a higher court allowed Franciscan Alliance to close the emergency department as planned Dec. 31.
Hammond Mayor Thomas McDermott Jr. said on his Twitter feed in late December that the city already had begun to search for an alternative.
Pollak said the decision to close the emergency department is controversial for several reasons.
"The major upset is because the closure (of inpatient care and ER services) is in an underserved area," Pollak said.
He noted that hospitals are choosing to expand in areas that are growing the fastest, and others lagging in growth may suffer.
"The residents (of Hammond) are not benefiting in the same way that people in Michigan City or Crown Point are," Pollak said. "It's going to create a vacuum for health care."
According to a statement from Franciscan, the hospital system approved in 2021 a $30 million investment in the 100-year-old Hammond campus to renovate some buildings and $15 million to demolish buildings that no longer have a use. A scaled down, 10-bed inpatient unit and emergency department was planned, but there was a drop in patients.
"In the last 15 months, we have seen inpatient volume at Franciscan Health Hammond drop to an average of 2.5 patients per day," Anderson said. "Of the 54 patients who present to the emergency room each day, more than 90 percent would be better served in a lower-cost setting, such as an urgent care or primary care clinic."
She added it is difficult to maintain operational efficiency at these volumes. Anderson said other reasons for closing the ER and inpatient services at Hammond were a critical shortage of health care workers and a dramatic shift in patients choosing full-service hospitals elsewhere in the county.
Those factors made it impossible to continue to keep open the facility that is averaging less than three inpatients a day, she said.
Wittenberg Lutheran Village also cited labor shortages as the reason it closed its skilled nursing facility in Crown Point in October, according to a Worker Adjustment and Retraining Notification sent to the Indiana Department of Workforce Development. Seventy jobs were lost.
Worker shortage
The shortage of health care workers is not a problem unique to Northwest Indiana. Consulting firm McKinsey & Co. reports that the United States is projected to face a shortage of more than 200,000 registered nurses and more than 50,000 physicians in the next three years.
"In addition to fueling persistent inflation, this clinical staff shortage is likely to create challenges in health care access and potentially exacerbate health inequities," according to the report titled "Gathering Storm: The Uncertain Future for U.S. Healthcare."
A supply of well-trained health care workers is important in the Region, especially since the industry plays such a prominent role in the Region's economy.
"Health care employment has been rising in Northwest Indiana for some time," Pollak said. "You could argue that it's the biggest industry in Northwest Indiana."
He said universities, such as Indiana University Northwest, are trying to meet the demand for training workers.
IUN has the only medical school in Northwest Indiana and provides nursing and health information academic programs.
"We're seeing more interest (in health care careers) from students," he said. "We'd love to have more. But we've hit capacity in those programs. We are looking for ways to expand capacity."
Other area schools offer health-related programs. Ivy Tech, University of Saint Francis, Bethel College, Goshen College, St. Mary's College, Valparaiso University and Purdue University all have nursing programs accredited by the Indiana State Board of Nursing. Indiana has 10.23 nurses per 1,000 people, according to the U.S. Bureau of Labor Statistics as of August. But many of those workers are expected to retire or leave the industry altogether.
That means hospital groups that are expanding will need to look for partnerships to fill their employment needs.
For instance, nonprofit HealthLinc is building a 39,000-square-foot, $15 million clinic in Michigan City. It will sit behind Ivy Tech Community College and offer students hands-on experience.
More medical facilities, of course, create jobs and ancillary businesses, such as hotels, restaurants and stores that form to address the needs of staff, patients and their families.
Pollak anticipates the growth of new businesses near new health care facilities.
"Any business that gets value from being close to a hospital is likely to choose to be close to a hospital," he said.
Telehealth
A phenomenon in the health care industry that is not likely to encourage new hotels or retail is telemedicine. It provides some forms of health care to patients who communicate with providers over their phones, iPads or computers.
Interest in telemedicine grew during the pandemic when many health facilities had to shut down.
The U.S. Government Accountability Office studied Medicaid beneficiaries in five states and found that the number of telehealth services increased dramatically — 15 times the pre-pandemic level. The number of patients receiving telehealth services rose from 2.1 million in the year before the pandemic to 32.5 million in the 12 months from March 2020 to February 2021.
Ron Donahue, a former EMT, who operates InHealth, which has headquarters in Valparaiso, also has witnessed the increased interest in telehealth visits.
His company employs paramedics who visit people in their homes to provide such services as EKGs, administration of some medications, lab works and some other services such as breathing treatments.
The paramedics connect with physicians off-site to oversee patients' care.
"The doctor could be anywhere in the world, and our guy is on the scene," he said. "The experience has allowed patients to get the same health care even better."
With so many changes in health care in Northwest Indiana, Pollak and others agree that this is an exciting time in medicine.
"The health care industry is going to continue to grow," Pollak said. "This is not just Northwest Indiana, and this is not just some fluke."
Click here to read more from the February-March 2023 issue of Northwest Indiana Business Magazine.