Regional transportation groups find success as they provide more ways to get riders from A to B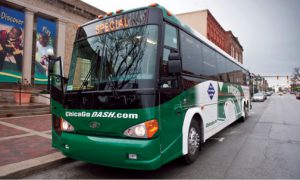 Finding the best way to get Northwest Indiana residents from one part the Region to another as well as to metro Chicago has involved more than passenger rail development.
The spotlight has shined extensively on expansion of the South Shore Line rail system. Extensions are coming to Dyer and Munster as well as the double-track project. But extensive work also has been done through the years to enhance mass transit services to get people out of their cars and relieve congestion on Region roadways.
Recent polls conducted by the U.S. Public Interest Research Group revealed access to public transportation is "very important" to millennials in considering where to live and where to work. About 80% of those polled said access to public transportation was very important in choosing where to live, while 78% said having their workplace near transit was a more important amenity than access to parking.
Transit passes paid for by employers were listed high on the list of desirable perks, according to the survey.
NIRPC takes the lead

As a regional council of local governments, the Northwestern Indiana Regional Planning Commission provides a forum, which allows the Region to address transportation and economic development issues.
"As an MPO (metropolitan planning organization), we determine where the federal funds go within the Region," explained James Winters, NIRPC transit planner. "We collaborate with all 10 of the Northwest Indiana transit programs and help provide funding based on data-driven analytics."
Winters said public transit is popular with the younger workforce.
"Many of our younger workers are more conscious of the environmental impact of commuting," he said. "We see an increase in the desire for electric trains and buses based on environmental concerns."
Winters said younger workers also see an advantage to getting a jump on the workday while commuting instead of driving.
Short-term NIRPC plans range from one to five years, with long-term plans extending out to 2050. Recent successes include the public transit in Gary, Valparaiso and La Porte. "Those three in particular have added new transit that is having a positive impact on economic development and business continuity for their cities and counties."
The 2050 plan focuses on Lake, Porter and La Porte counties because of their population density. Winters said that improvements to accessing public transit are prioritized, with an emphasis on connecting the 10 transit systems where possible to create a regional system.
"Shuttle buses that branch off main routes can help make public transportation a reality to those who don't live right next to the route," he said. "Transits that can connect and transport passengers to jobs in the next city or even the next county help both jobseekers as well as businesses that want to offer public transit as an enticement."
Winters used the La Porte County Transit Triangle as an example of connecting communities.
"With funds from NIRPC, Michigan City, La Porte and Purdue Northwest, they were able to create a bus route that will take passengers to and from the college, both cities and the South Shore train station in Michigan City," he said. "It's very attractive to students and young workers who can use the train to go to Chicago or South Bend."
Ride sharing from companies like Uber and Lyft are also part of the plan. Those services help connect smaller communities where public transit is less feasible.
Gary Public Transit Corp.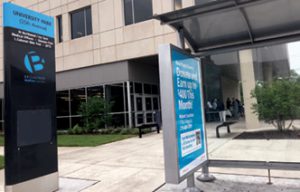 In 2016-17, the Broadway mobility analysis determined that there was a tangible need for a bus route that ran down the Broadway corridor of Gary and branched shuttles into Merrillville and Crown Point. Beginning in February 2018, the Broadway Metro Express (BMX) began service.
"With buses running every 20 minutes, we're now able to get passengers from the South Shore in Gary to the U.S. Highway 30 corridor, University Park, Merrillville and into Crown Point," said David Wright, planning manager for the Gary Public Transportation Corp. "Our 2018 ridership report shows just how successful the BMX is, and how it can help contribute to economic development in all of the communities we serve."
More than 214,000 passengers rode the BMX in 2018, with ridership growing steadily as the new shuttle caught on.
"Our analysis shows that the passengers on the BMX hold 21,000 jobs in the Region, which is over 10% of the total employment," Wright said. "Traveling from downtown Gary to 109th Avenue in Crown Point is a very popular route that attracts many employees."
He said Gary public transit reported that more than 75% of all rides on the BMX are job related.
The GPTC also reports that 43% of those jobs are related to the medical field. With the ability to reach Pinnacle and Methodist hospitals, health care workers have options that were unavailable just a few short years ago.
NIRPC helped drive BMX's success by working with other agencies to acquire funds for a portion of the repaving of Broadway and the addition/improvement of bus shelters.
While data for 2019 was not completed as of early December, Wright said ridership is ahead of 2018 by more than 16%.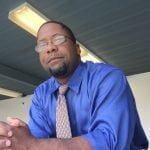 Oak Street Health, the Food Bank of Northwest Indiana, the Gary Public Library, and Broadway Lofts have all inquired about installing bus shelters and signage by their respective businesses.
"That's a perfect example of how public transit helps economic development and vice versa," Wright said.
The GPTC experienced a total ridership of more than 800,000 in 2018. Those riders generate $20 million in total household income, according to Wright.
They restored Lakeshore service to Hammond and ridership increased on that route by 8%.
The success of the GPTC in recent years has resulted in businesses agreeing to provide shelters and signage in front of their storefronts in exchange for advertisement.
Valparaiso gets involved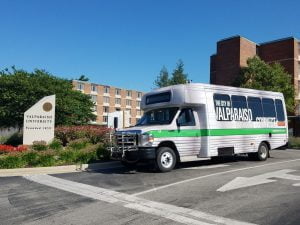 After a recent addition, Valparaiso Transportation now consists of three transit operations: Chicago Dash, the V-Line and South Shore Connect. Each one serves a specific purpose, and all three contribute to economic development for the city and Porter County.
In 2018, the ChicaGo Dash line took 63,309 riders from the Valparaiso transit hub to three stops in the Loop. The V-Line, Valpo's intracity bus route, provided 108,732 rides to residents throughout the community.
South Shore Connect, Valpo's newest line, launched in August 2019. Six times daily, seven days a week, the Connect takes passengers from the Valpo transit hub to the Dune Park South Shore station in Chesterton. From there, passengers can go to Chicago or South Bend.
All three are part of a multifaceted strategy to make the "vale of paradise" an attractive place to live.
"We offer commuters several options to fit their schedule," said Tyler Kent, planning and transit director for Valparaiso. "They can park in our free lot at the hub and take a bus to the South Shore or one of our buses to the Loop. Whatever works for them, we have the ability to address those needs."
The location of Valparaiso University helped spur the intracity routes to transport 3,500 students throughout the city. Today, thousands of city residents use the system to move around, leaving cars in the garage.
"We have many businesses ask us about transit options as part of their location analysis," Kent said. "When a business is trying to attract younger workers, public transportation is a perk they want to offer."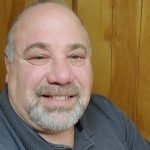 Quality of place is a key strategy in Valparaiso's economic development plan. Offering commuters the option of using public transportation to work in Chicago or South Bend helps attract millennials as well as established workers to a lower cost of living than Illinois. Free parking at the transit hub is an attractive perk, according to feedback received by transit manager Don Lorntzen.
"Many of our commuters are complimentary of our service and our prices," he said. "Those who have had to deal with (the) Chicago process are pleasantly surprised by how reasonable our transit system is."
Development of vacant land adjacent to the transit hub will include additional parking, new townhomes and a new business — Journeyman Distillery. City leaders believe the townhomes and the distillery will attract younger residents who place less emphasis on automobile ownership.
Uber options expanding
Rideshare companies, including Uber, have experienced significant growth in Chicago and Northwest Indiana.
A recent Chicago transportation report released by the mayor's office shows ride-hail services accounted for 102.5 million trips in 2018, an increase of 270% since 2015. In addition to individual rideshare services, Uber has been expanding into other venues of transportation as part of their overall business strategy.
Uber Freight is available to eligible shippers and carriers moving full truck loads in the United States and Canada.
The company, in an email to Northwest Indiana Business Magazine, said the Chicago area is a major talent hub for the logistics industry. Uber recently announced the opening of a new freight headquarters in Chicago, which is expected to invest $200 million annually in the area and hire 2,000 new employees.
Uber Transit integrates with public transit to provide riders with a hybrid travel option. The company said Uber riders can plan their trips with real-time information and receive end-to-end directions from the Uber app.
Through this tool, Uber allows businesses further away from public transportation to use their services and provide rides from public transit hubs to offices in a timely fashion. Connecting with Northwest Indiana transit is in the process, according to the company.
Built with HIPAA controls, Uber Health allows health care providers, payers, nonemergency medical transportation brokers, and others to centrally schedule, manage and pay for rides for those they care for at scale. Uber Health is available in every city in the country where Uber operates, including Chicago and its surrounding suburbs, and serves more than 1,000 health care organizations nationally, the company said.
According to the Transportation Research Board, an estimated 3.6 million patients cannot access health care because of a lack of transportation, which can lead to hidden costs for patients, caregivers, providers and insurers. Partnering with Uber Health means health care organizations can coordinate rides for patients.
On the Go
Public transit operators in Northwest Indiana:
* Gary Public Transportation Corp
* East Chicago Transit
* North Township Dial-A-Ride
* Opportunity Enterprises
* Porter County Aging & Community Services
* City of La Porte TransPorte
* Michigan City Transit
*  City of Valparaiso V-Line and ChicaGo Dash
*  South Lake County Community Services
*  Northern Indiana Commuter Transportation District
Click here to read more from the February/March 2020 issue of Northwest Indiana Business Magazine.