Region's E-Day award-winning serial entrepreneurs share experiences of business successes and failures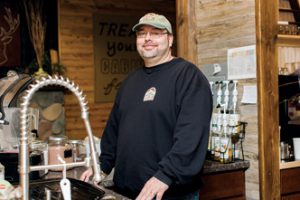 Like most opportunistic kids, Jeff Conti not only worked on his newspaper route, he also shoveled snow and mowed lawns for his first entrepreneurial experiences.
Conti explored other unconventional ways to challenge himself while growing up in the late 1970s and early '80s in the Griffith area. He built backyard amusement park rides; he created woodworking projects; and he showed movies inside his father's empty step van, among other endeavors as a young capitalist.
At 17, he launched Minutemen Fleet Services with his father, eventually earning a Young Entrepreneur of the Year award in 1991 for his role in the business. Since then, he has owned three other businesses.
"My parents were both entrepreneurial, but they weren't businesspeople," Conti said. "Management wasn't their thing."
As an older teenager, Conti wanted to pursue a formal education, but he knew he was an entrepreneur at heart. While pursuing an associate degree in engineering, he hustled to earn several patents in his name. He majored in effort at the school of hard knocks and minored in acid-tested problem solving.
"I was thrown into it in a sink-or-swim sort of way, and I nearly drowned at first. But then I became proficient and, later, a lifeguard," Conti joked, continuing his analogy.
Conti, now 52, owns the Coffee Cabin gourmet coffee business. He opened his first drive-thru location in 2014 on U.S. 30 in Schererville. There are three locations now, with plans to open nine more cabins by April 2019.
His efforts haven't gone unnoticed. Conti was awarded Emerging Business of the Year honors at the 2018 Entrepreneurial Excellence Awards, better known in the Region as "E-Day." Hosted by the Northwest Indiana Small Business Development Center, the 27th annual ceremony honored acclaimed entrepreneurs from across the Region, each of whom embodies what it means to be an entrepreneur.
"It's not an easy life, and it's not for the faint hearted," Conti said. "But I like a challenge, and that's the path I chose."
'Help people first'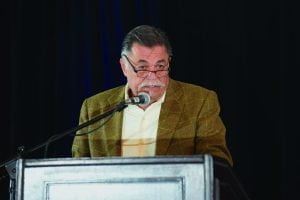 This difficult career path is a familiar one for most "serial entrepreneurs," defined as an elite subset of your everyday, garden-variety entrepreneurs. They share a dogged, business-minded vision of success among other similar characteristics.
"Grit, determination, natural curiosity, hard work and comfort with risk certainly come to mind," said Lorri Feldt, regional director of the Northwest Indiana Small Business Development Center, "also the ability to tolerate failure and to bounce back from it."
These business owners rely on their personal instincts and professional acumen rather than a college degree or formal education.
"We often see entrepreneurship running in families but not so much connected with formal education," Feldt said. "Often I think the kids who are impatient and easily distracted in school are ones worth watching later in life as natural entrepreneurs. Unable to sit still is not a bad thing, especially for a business owner."
Serial entrepreneurs share many key traits: a compelling curiosity, time management wizardry, a knack for nurturing personal connections and the ability to end a failed business venture to begin a new successful one. They also change direction without fear, listen to pertinent advice from others and trust their instincts at crucial times.
"Anyone can be an entrepreneur at any point in their life, but most will not because there is a great deal of personal risk and personal sacrifice that goes into being an entrepreneur," said Scott Albanese, founder of the Albanese Confectionery in Hobart, who earned this year's Lifetime Achievement Award.
Albanese, who started his business with $10,000 and a candy-coated dream, is a serial entrepreneur who offers simple advice to newcomers.
"Many entrepreneurs make the mistake of focusing on money as their key metric of success instead of focusing on the consumer," Albanese said. "Help people first, and the money will come."
'Entrepreneurship is so dang fun'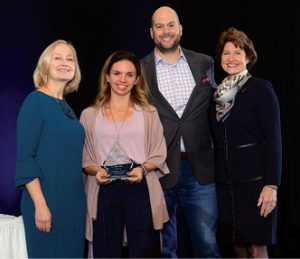 For Julie and Tony Bombacino, helping their son, AJ, led to Real Food Blends, meals for tube-fed people, in Chesterton. The 8-year-old boy, who is nonverbal and unable to walk, has been fed through a tube since he was 6 months old.
"After having a 45-minute seizure out of the blue, he failed a swallow study and had to get a feeding tube," Tony Bombacino said. "He's had one ever since, still eating 100-percent Real Food Blends meals."
Bombacino's company was awarded Small Business Persons of the Year at E-Day.
"Before I knew what it meant to be an entrepreneur, I was taught the importance of hard work, accountability and humility," Bombacino said. As a kid, Bombacino watched his father, a Vietnam War veteran, work his tail off every day as a house painter, quitting his corporate job to start his one-man company.
"He taught me I could control my own destiny," Bombacino said. "Seeing him start, grow and manage his own small business prepared me for the tough stuff that entrepreneurship has to offer."
He doesn't feel he was "groomed" for entrepreneurship. However, he was around many blue-collar, hard-working people in his family who took a chance on starting their own small businesses.
Bombacino, who was one of the first in his family to attend college, calls himself more street smart than book smart. In his 20s and 30s, Bombacino didn't fear leaving corporate jobs for new startups. He showed similar confidence when he began Real Food Blends with his wife and business partner, Julie.
"To me, entrepreneurship is exhilarating and so dang fun. You really don't know where life is going to take you," he said. "I never could have imagined that my son would have inspired my wife and I to create a food company for people with feeding tubes—and to take our shot at disrupting the multi-billion-dollar enteral nutrition industry."
'I was scared to death'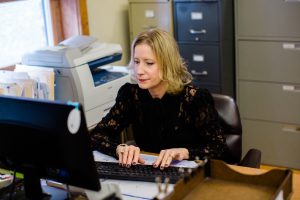 Lori Ann Lake also traces her entrepreneurial lineage to her father, George Wood, who owned and operated a Merrillville restaurant. There, she and her five siblings worked at various jobs while absorbing their father's work ethic and small business spirit.
"As a child, I thought I also would run a business someday. Not a restaurant, for sure, but some sort of enterprise where I would be able to work with people," said Lake, president of Intercontinental Subscription Service Inc. in Michigan City.
Although Lake was honored with Women-Owned Business of the Year, nothing simply has been handed to her in life. She learned about her firm by reviewing business contracts, contacting customers and asking endless questions of employees.
In 1995, she started at ISS, expecting to rescue a sinking company, initially known as Hoosier Magazines, after only two years in operation.
"Needless to say, I was scared to death," she recalled. "However, I was excited at the opportunity to help bring this company out of its slump. I knew this was the right thing to do for my family, the business and myself."
After a year at the helm, ISS began showing its first profit. By 2000, ISS reached more than $950,000 in sales, and a decade later, it jumped 20 percent. By 2015, ISS earned $1.5 million in sales. By 2017, the firm's net worth skyrocketed 32 percent.
Along the way, Lake attributes her success to daily hustle and years of hard work, key traits for serial entrepreneurs.
"My husband would actually drive myself and our three children around in a big city where I would literally jump out of our van in my business suit for meetings, and to make 30 to 40 cold calls within the hour," she said.
Lake attributes her E-Day award to the same perseverance that rescued her company.
"As I become older and wiser, I am enjoying that sometimes I do catch a break here and there," she said.
'Others have bought into my vision'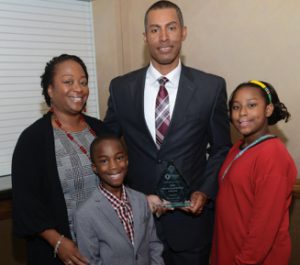 In 2005, Chip Lee didn't catch a break when he had to make the most difficult decision of his life. Lee left his family's business, Congress Enterprises, to launch his own demolition, excavation and trucking company, C. Lee Construction Co. Inc.
"I had to walk away from my family to take care of my family, if that makes sense," Lee said.
He had no capital money, no resources and no idea how to pull it off.
"Being an entrepreneur is quite a daunting task," he said. "I trusted in my faith in God."
As a self-described "Tonka toy kid," Lee first acquired his first six trucks, then hauled into his firm a handful of top-notch employees.
Today, C. Lee Construction Services has 44 employees, and the company has worked on a variety of large-scale projects, including roads and bridges across Northwest Indiana and the Chicago area. The firm also played a major role in the revitalization of the Gary-Chicago International Airport.
Lee's firm was honored with the Minority-Owned Business of the Year award.
"It's been a humbling and gratifying experience, to be recognized as an award-winning entrepreneur," said Lee, who's 48. "It's a term I don't often use to describe myself. Yet I've learned that you can't be a true entrepreneur unless you can step back from your day-to-day duties to take a big-picture look at your company.
"I learned that my daily decisions directly affect others who have bought into my vision," Lee says.
'They will get their nose bloodied'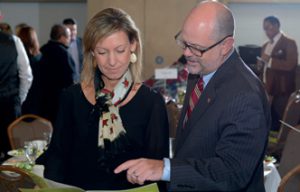 Chris Chatfield has helped countless serial entrepreneurs transform their visions within the Northwest Indiana business sector. For doing so, he was named Small Business Advocate of the Year by Northwest Indiana Small Business Development Center.
"As a commercial lender, it's fun to watch these risk-takers follow their dream," said Chatfield, who works with entrepreneurs as a commercial relationship manager at First Merchants Bank in Munster. "We may not be risk-takers by nature, but we make educated business decisions for our clients, who are visionaries by nature."
For more than 20 years, Chatfield has helped connect clients to resources inside and outside of the bank. On any given day, Chatfield might visit a mom-and-pop retail shop or a large-scale construction site.
"We consider ourselves trusted advisers," said Chatfield, former director of the Small Business Development Center in LaPorte County. "When they start out, they don't know about all aspects, so we bring them along, help them become mature, and ultimately generate wealth and sell the business or pass it along to their kids."
Chatfield, who lives in Michigan City, considers himself a high-powered cheerleader for this elite team of business people who share similar qualities in their strategies.
"They see things differently than how others see things," he said. "They're creative in their approach, and they will get their nose bloodied to get their business idea realized."
"Commercial bankers are like psychiatrists," Chatfield said. "Part of what we do is challenge folks. I try to dissect and pull out of them: Who is your market? How are you getting to them? I feel I have become a pretty good problem solver."
'An amazing alignment of the stars'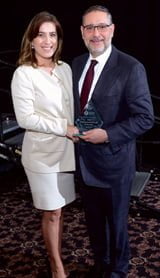 In 1995, Joshua Halpern became his family's own problem solver during his senior year of college. His market research determined that Schererville would be an ideal site for a jewelry store. The family's now successful jewelry store in Schererville, Albert's Diamond Jewelers, is the culmination of Halpern's business plan thesis.
"I was able to come into a successful family business and take fresh ideas and new energy to help transform it into a more successful company," said Halpern, 46, who earned E-Day's Entrepreneurial Success award. "Our Schererville store came about through an amazing alignment of the stars."
Halpern, who grew up in his father's jeweler business, polished his entrepreneurial skills by earning a gemologist degree in 1996. After joining the family business, he recruited key employees from former jewelry stores in the Region. The family's two locations offer all things jewelry, from watches to wedding rings, as well as services such as custom designs, repairs and appraisals.
When asked if he is a jeweler or an entrepreneur, Halpern paused with thoughtful reflection.
"I would say both," he replied. "At heart, I'm a jeweler through and through. But as an entrepreneur, I love to explore new ideas and fresh approaches to what I do."
The Radtke family, owners of Pioneer Lumber in Michigan City, nabbed the honor of Family-Owned Business of the Year at the E-Day event. The company's foundation is built on the merger of two lumber yards by Steve Radtke's father, Herbert. But Steve and wife Sandy have redirected its path over the years.
"Being family-owned means failure is not an option," Sandy Radtke said in her family's 2018 Entrepreneurial Excellence Awards profile, featured on the Northwest Indiana Small Business Development Center's E-Day Leaders website. "Trying to set it up for the next generation, we don't want to disappoint. It makes you work harder. It's in your blood."
Click here to read more from the Feb-Mar 2019 issue of Northwest Indiana Business Magazine.