From renewable power generation to clean fuels, education driving sustainability projects in Region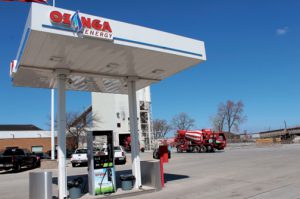 Hoosiers throughout the Region continue to make energy efficiency and environmental consciousness a priority. From utilities to transportation, clean energy is in growth mode in Northwest Indiana.
When an industry is expanding, jobs follow.
Clean Energy Trust brings clean technology innovation to market by finding, funding and growing high-impact clean technology startups from the Midwest. Structured as a nonprofit, Clean Energy Trust makes seed investments and provides patient, hands-on support to help entrepreneurs scale and succeed.
To date, the trust has invested in 31 companies across the Midwest. Susie Spigelman, director of business development and partnerships for Clean Energy Trust, has seen economic development and job growth as a result.
"These are new industries with new types of jobs that all have different kinds of training," Spigelman said. "By creating these new technologies and supporting them, we can help create economic development not only in the Midwest but in the U.S."
Indiana is among leading Midwest states for clean energy jobs, according to a recent report from the Clean Energy Trust and E2, a business group of environmental entrepreneurs. More than 737,000 Midwesterners work in clean energy, which includes 86,900 Hoosiers.
Employment in the industry grew 4.7% in 2018. That's one of the fastest growth rates in the Midwest, and it represents an addition of almost 3,900 jobs, according to the trust.
Growth sector

South Shore Clean Cities is a nonprofit organization and a member of the U.S. Department of Energy's Clean Cities Coalition. Executive Director Carl Lisek said the member-based coalition has seen tremendous growth in the last 20 years.
"Sustainability projects are nothing new in the Region," Lisek said. "Air quality has been improving in the Region for decades, and that is thanks to the hard work not only of our large manufacturers and industries and utilities like NIPSCO but also to our municipalities, transit agencies, small businesses, and individual residents and homeowners."
South Shore Clean Cities covers 18 counties in roughly the northern third of the state of Indiana and membership is now five times the level it was in 2005. The organization has assisted its members in successfully acquiring about $90 million in grant funding since its inception.
"South Shore Clean Cities is all about connections and education," Lisek said. "We work with our members and partners to educate them about the multiple environmental and economic benefits of sustainable transportation methods, then work to help them make connections with funding sources and trusted professionals to turn the discussions into reality and into long-term plans and programs."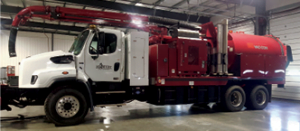 One grant recipient is the city of Hobart, which began using compressed natural gas-fueled garbage trucks, or CNG-fueled garbage trucks, in 2014.
In 2018, the city of Hobart unveiled its compressed natural gas fueling pumps and vehicle maintenance garage at the city's Public Works facility. The $2 million project was made possible in part by a Congestion Mitigation and Air Quality grant from the Federal Highway Administration, which is administered by the Northwestern Indiana Regional Planning Commission. South Shore Clean Cities helped acquire the grant.
The new CNG fueling pumps — constructed and fueled by Ozinga Energy — reduces travel time for the city's fleet.
"The leadership of the city of Hobart has made green energy a priority in its short- and long-term planning for capital purchases and infrastructure," Mayor Brian Snedecor said. "The city of Hobart is a strong advocate for energy efforts that create a clean sustainable environment for future generations."

Ozinga recognized the benefits of CNG in 2011 and have broadened its products and services to become trusted CNG experts in the Midwest.
"Ozinga Energy has committed to working with Indiana to build a CNG roadway with stations that will open up in Gary, Crown Point and South Bend," said Jeffrey Bonnema, vice president of fleet management, Ozinga Bros. Inc. "We believe that, by providing fleets with more locations to fill at, it will ease the transition into the alternative fuel market.
Bonnema said the response so far has been overwhelming, and Ozinga has commitments from fleets outside of Indiana that will use their stations.
"Ozinga's purpose is make a positive impact on individuals, their families and the community for generations," Bonnema said. "By working to reduce the overall greenhouse emissions not only for our fleet but helping other fleets do that as well."
Clean energy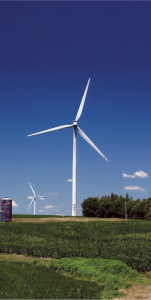 Northern Indiana Public Service Co. offers a variety of options to promote renewable generation opportunities for consumers to power their homes and businesses. The Merrillville-based utility is one of seven energy delivery companies of NiSource, which provides natural gas and electric service to more than 4 million customers.
Operating in an environmentally responsible way is a value NIPSCO demonstrates by investing in cleaner air and water quality, reducing carbon emissions, supporting renewable energy and funding land restoration projects. It also designs programs to help customers reduce their environmental impact, including green power and customer-owned electric generation from renewables.
"The programs we provide are about providing options for our customers," said Nick Meyer, a spokesman for NIPSCO. "Depending on your situation, you may not be able to install solar panels, or you can't put a wind turbine on your property. For those customers who want to continue to support the technology right now, we give them the option to do that without having to make the investment in the technology themselves."
NIPSCO's Green Power program is voluntary and allows customers to designate a portion or all their monthly electric usage to come from electricity generated by renewable energy sources, such as wind power. NIPSCO purchases renewable energy certificates on the behalf of customers, which act like a tracking system.
The utility's Net Metering program allows customers to generate their own electricity from renewable energy to offset their monthly usage. NIPSCO installs a meter capable of measuring the energy consumed and the energy generated.
Users who generate more than they need receive energy credits that they can apply to future usage.
The feed-in tariff program is similar except it offers a sell-back opportunity. Users receive a check from NIPSCO for electricity they generate from their renewable energy project.
"The motivation (for taking part in the program) really depends on the individual customer," Meyer said. "Some (customers) are purely interested in doing what they can to be self-sustainable, and some are interested in trying to look for ways to lower their energy bills and their energy costs. Some are interested in supporting the environment."
The land is a gift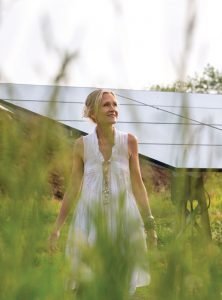 Deb Maxwell had a clear mission after her parents gave her a 167-acre agricultural property in Valparaiso.
"I wanted to minimize my carbon footprint and to be environmentally sensitive," Maxwell said. "I don't think that any of us really own the land. We're sort of custodians of it in our time, and it's our moral obligation to tend to it."
To do that, Maxwell decided to build a high-efficiency environmentally sensitive home to invest in her own infrastructure and create her own energy from the sun, land and air.
In 2017, she partnered with Ag Technologies, a family-owned business in Rochester, Ind., and had solar panels installed on the property.
"The key is to have a solar provider properly size up what you need based on your household consumption," Maxwell said. "Ag Technologies was an extraordinary partner in getting me set up with the (feed-in tariff) program at NIPSCO."
Maxwell said there are many misconceptions about solar output, and her thriving property debunks them. Solar is not complicated, she said, and more importantly, the sun is free.
"Just because it is cloudy doesn't mean that your panels aren't producing," Maxwell said. "My solar panels are over producing by one-third more than I need. I overproduce from spring into early fall, and I build up a credit balance. There are about four months in the winter that I run in a deficit, but then I am pulling off of my surplus, so I still come out ahead."
Community solar
For those who don't want to take on the investment in renewable energy, Wabash Valley Power Alliance has a solution. The Indianapolis-based, not-for-profit generation and transmission cooperative provides wholesale electricity to distribution cooperatives serving Indiana, Illinois and Missouri.
The solar array at Kankakee Valley REMC is part of Co-op Solar, a community solar program that delivers power to more than 18,000 residential and commercial members in Lake, La Porte, Marshall, Porter, Pulaski, St. Joseph and Starke counties.
"The community solar program is designed to allow customers to buy into the portfolio and get solar energy without the expense, risk and hassle of putting it in themselves," said Andrew Horstman, manager of load response, Wabash Valley Power Alliance.
"By the end of this year, we will have eight sites spread out in Indiana, Illinois and Missouri."
Education is key
Lisek said increased education on idle reduction, alternative fuels, alternative fuel vehicles, electric vehicles and fueling and charging infrastructure, and their financial benefits are helping with adoption throughout the Region.
"For years, individual consumers, business owners and municipalities assumed sustainable methods were cost-prohibitive," Lisek said. "In reality (it) helps save money in fuel and energy bills and often with vehicle maintenance."
Bonnema agreed.
"We are seeing a lot of movement with fleets in Indiana when it comes to alternative fuel," Bonnema said.
"A few years back it was only the larger fleets that felt like they could benefit from CNG, so we spent the last few years educating on the benefits of CNG — not only to the bottom line but to how it is affecting our environment."
Click here to read more from the Oct-Nov 2019 issue of Northwest Indiana Business Magazine.