Backroom Hobart bakery blossoms into thriving multi-location operation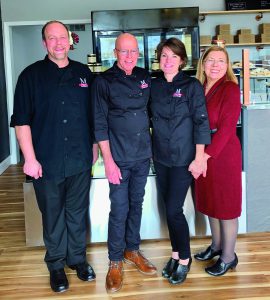 For Barbara Tracy of Marilyn's Bakery & Cafe, success isn't by accident. It's "baked in," using the freshest and most local ingredients available.
Tracy, the daughter of Marilyn (Johnson) Pearson, grew up in and around the business. She watched her mother grow the operation from a tiny kitchen at Johnson's Farm Produce in Hobart — expanding in terms of products, customer base and popularity.
Eventually Tracy joined her mother on what was supposed be a temporary job. She was a teenager and wanted to leave the area.
That was about 20 years ago.
About that time, the mother-daughter team built a new building on the same property. In retrospect, Tracy said she grew personally and professionally alongside the food business.
"We just kept growing and knocking out walls and added to the product line," she said. "But the same basic principles have existed over the years."
Marilyn's Bakery & Café focuses on seasonality, a nod to Indiana's farm culture and home produce growers, Tracy said. "Growing up as a kid, my mom had a huge garden and canned vegetables," Tracy said. "She also made everything from scratch."
Tracy said her mom's homemade mentality is part of the bakery's culture.
"That was her upbringing, so she took that (philosophy) and extended it into the business," she said.
Tracy admits the approach has worked for the business but acknowledges past mistakes. For example, at one point, they moved to a location in downtown Valparaiso but didn't experience the same success. After three years, they returned to Hobart.
Today, Marilyn's Bakery & Cafe is a destination, with a presence in Hobart and St. John. The latter opened in late 2019, and Tracy said she's been tickled by the feedback so far.
"We've had a great response from customers," she said. "I'm very excited that we're out here."
Regulars who routinely visit the Hobart bakery also have stopped in at the new St. John site.
"I'm amazed by the number of people who are already our customers and also by those who are coming in who are brand new and know nothing about us," she said.
Tracy runs the business along with her husband, Robert Eustace, and Ted Zych, general manager, business partner and chef. Zych said opening the St. John location gave the business much-needed additional production space. The bakery has a goal of wholesaling kolaches.
"I brought a kolaches recipe with me when I joined the bakery in 2011, and they're now our second-most popular item after pies," Zych said.
He recalled the time spent renovating the new bakery site, but once the work was completed, everyone quickly recognized the potential benefits. The team worked on streamlining operations in recent months to reduce time traveling back and forth between both locations.
Whether new or longtime customers, Tracy said every transaction is a chance to give them a taste of Marilyn's legacy.
"Imagine you're working all day, baking 60 pies at a time, and there's some problems," she said. "Now, what do you do with 60 pies? You could say, 'It'll be alright. They'll never notice.' But we can't say that, because (customers) do notice. And if they don't complain, that's even worse because that means they have an opinion about your poor-quality product, and you don't have a chance to make it right."
Apple pies are the bakery's top-selling item, according to Tracy. They're also known for cheesecake, dinner rolls and cinnamon rolls. Both locations serve lunch on a seasonal basis. The menus feature a variety of sandwiches, soups, quiches and salads.
Honoring their Hoosier farm roots, Tracy said the menu changes regularly based on what's seasonal. The produce reflects her resourcefulness.
"Our Hobart bakery is still located on our family's farm," she said. "So originally when we started lunch, it was whatever they had available and that's what we made our menu from."
Click here to read more from the February/March 2020 issue of Northwest Indiana Business Magazine.