Retirement from corporate life means more time for community, family for Don Babcock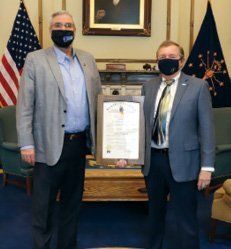 Harnessing new energy opportunities and aligning new business partnerships, both for the benefit of Northwest Indiana, are the creative catalysts Don Babcock says define his 43-year career at NIPSCO.
"I've shifted my direction a few times over the course of my work," said Babcock, 66, who started at NIPSCO as a mechanical engineer in 1977 and retired in early 2021 as director of economic development.
"My last 20 years in my economic development role provided the most challenges and rewards, because I was part of a larger statewide effort bringing businesses to our communities for the benefit of so many," he said.
Representing the Merrillville-based utility, Babcock said his two decades as director of economic development teamed him with three Indiana governors and state officials to travel the U.S. as well as internationally to encourage overseas businesses to open locations in Northwest Indiana.
In February, Babcock, received the state's highest civilian honor, the Sagamore of the Wabash award, which was presented to him by former Indiana Secretary of Commerce Jim Schellinger at a ceremony in Indianapolis on behalf of Gov. Eric Holcomb during an Indiana Economic Development Corp. board meeting. Schellinger presented the award to Babcock prior to stepping down March 3.
"Very few people exemplify the true meaning of the word 'leadership' more than Don Babcock," Schellinger said. "I don't take Don's service to the state of Indiana for granted, (because) the impact he's had on the lives of Hoosiers will be felt for generations to come."
In addition to working with Holcomb, Babcock also worked closely with previous Indiana governors Mitch Daniels and Mike Pence.
Babcock said that, while at NIPSCO, he witnessed the evolution of the energy industry over four decades.
"When I started with NIPSCO, it was because I was interested in all of the future possibilities for sources of energy," Babcock said. "I was especially interested in what was the new horizon of nuclear power. But Jane Fonda and Three Mile Island changed all of that and opened up a new direction in this field."
As director of economic development, Babcock assisted businesses considering locations in Northwest Indiana with natural gas and electric rate incentives. His alliance with state officials and Indiana's Triple-A credit rating made promoting an Indiana address "an easy sell."
Hoist Liftruck Manufacturing Inc. in East Chicago, Pratt Industries in Valparaiso, MonoSol's Duneland facility in Portage, and Marbach Engineering & Surveying in Michigan City are just some of the new businesses Babcock says he is proud to have helped bring to Northwest Indiana.
Babcock said his work on the managing board of directors of the Northwest Indiana Forum, the seven-county regional economic development organization, and serving as chair of the forum's Ignite the Region initiative, Northwest Indiana's strategy for economic transformation, were important communication tools for his success.
"Our strategies and achievements, including during my three years serving as chair, led to many firsts for our organization and meeting our mission of the Northwest Indiana Forum," Babcock said. "Ignite the Region was the first economic development plan with a broad support by the entire Northwest Indiana Region."
While retired from corporate life, Babcock plans to continue his commitment with the Northwest Indiana Forum and Ignite the Region.
"Don Babcock is an amazing asset to Northwest Indiana," said Heather Ennis, president and CEO of the Northwest Indiana Forum. "He spent his 40 years at NIPSCO finding good people and helping them to move the Region and the state forward."
Ennis said Babcock is recognized for his work and contributions to economic development efforts in Northwest Indiana but also has been a mentor to many economic development professionals.
Babcock, who lives in Michigan City with his wife, Sue, a retired teacher, said he also is proud of his work with the Michigan City Redevelopment Commission and the Boys & Girls Club of Michigan City.
"I don't know how much I will slow down during my retirement, because I still plan to be involved with our communities throughout Northwest Indiana," Babcock said. "But I know I'll enjoy more time with my wife and family, including my daughter Julie, and also my son Ryan, who just gave us all the joy with a new grandson."
Click here to read more from the April / May 2021 issue of Northwest Indiana Business Magazine.