Mission of Shirley Heinze Land Trust stays true to vision of organization's founder

Dr. Shirley Heinze is buried in the tiny city of Young Harris in northern Georgia near the Chattahoochee National Forest.
That's more than 600 miles from her hometown of Ogden Dunes where her love of protecting the Indiana Dunes was born and developed.
The Oak Park, Illinois, native, and a prominent psychologist, devoted her free time to enjoying and studying the nature of the Dunes. Although Heinze died in 1978 at the age of 51 from lymphoma, her legacy of protecting the Dunes and nature lives on through the land trust, which bears her name.
"After her passing, friends of Shirley Heinze, Robert and Bette Lou Seidner from Chicago, decided to leave $30,000 in her memory," said Kristopher Krouse, executive director of the Valparaiso-based Shirley Heinze Land Trust. "And that's how the Shirley Heinze Land Trust got its start in 1981 with a mission of permanently protecting land and the southern Lake Michigan watershed."
In the early days, the land trust's board members would attend land sales to acquire property.
"They would pick up these vacant lots of ecologically significant land in Gary, mostly dune and swale habitat," Krouse said. "In Beverly Shores, it was the Great Marsh, which is land immediately adjacent to the Indiana Dunes National Park."
That process continued throughout the 1980s, he said. Land also would later be donated to the group.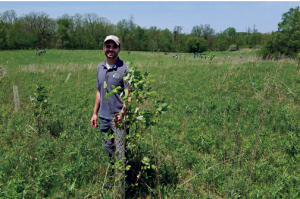 Krouse said in the mid-1990s, the organization received a significant donation of Berkshire Hathaway stock, which provided the financial resources to hire an executive director, purchase larger tracks of ecologically significant property and venture into land management.
By the 2000s, the land trust began partnering with other nonprofits, including the Field Museum of Natural History in Chicago, and municipalities offering environmental education programs.
Today, the land trust protects everything from small vacant lots to its largest parcel, the 520-acre Ambler Flatwoods east of Michigan City.
"People don't realize that, although there's a lot of fragmentation with our landscape, this is one of the most biodiverse places in the country," said Krause, who has served as director since 2005. "What we're doing is going out and protecting the biodiversity that we have left in this Region."
There are many unique plants at the Lydick Bog near South Bend.
"It's one of the last remaining bogs in Indiana where you find pitcher plants that are like actually carnivorous plants that eat bugs," Krause said.

Krause said the land trust has been spared significant fallout from the global pandemic. He said the trust's supporters and its diverse income streams allow it to operate during down economic times.
"I think that speaks to our diversification," Krause said. But the group must be diligent in monitoring its expenses.
"A lot of the programming we typically do, like bus tours and in-person workshops, have been limited and have affected our ability to engage at the highest level," Krause said. "But I think we have done a good job as an organization of pivoting and doing our best in having more virtual activities."
The work of the land trust has received national recognition. In October 2018, the Washington, D.C.-based Land Trust Alliance, a national land conservation organization, recognized the Shirley Heinze Land Trust along with three other groups with its National Excellence Award.
"There are many ways to make a difference," said Andrew Bowman, LTA president. "The work of Shirley Heinze Land Trust helps large populations of the underserved and conserves a vast spectrum of biodiversity."
Jim Haniford is a volunteer site steward at Meadowbrook Nature Preserve in Porter County, which is managed by the land trust. He walks the trails, noting any downed trees and picks up trash.
"I monitor the birds that I see (because) the beauty and the diversity of the wildlife is what attracts me," Haniford said. "… Hiking is my favorite thing, (and) that's why volunteering is so much fun."
Next year marks the 40th anniversary of the land trust.
"We're really proud of how far we've come," Krause said. "We currently have protected over 2,600 acres and geography that now includes six counties: Lake, Porter, La Porte, St. Joseph, Starke and Marshall Counties, (and) we continue to innovate as an organization."
Click here to read more from the December / January 2020 issue of Northwest Indiana Business Magazine.