Early adopters of sustainable building certification say many standards now just part of construction process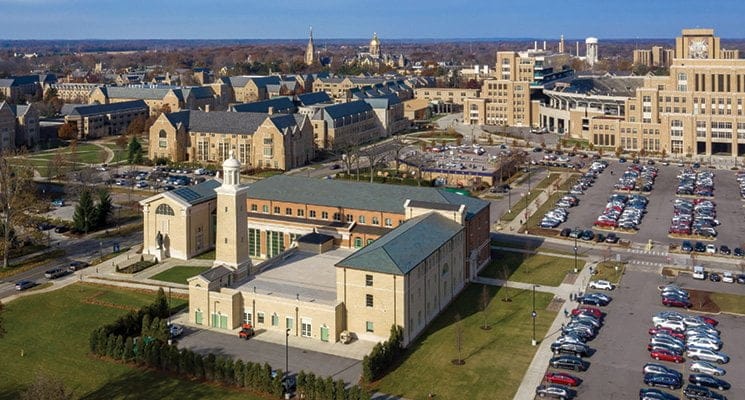 Construction and design professionals say new buildings going up today are designed to have the least impact on the planet, and might even curb costs for residents and tenants.
Dan Brellen, a structural engineer with Wisconsin-based McMahon Associates Inc. — which has operated an office in Valparaiso since 1989 — is well versed in Leadership in Energy and Environmental Design certification.
"For many years, our company has specialized in efficient and sustainable designs, whether part of a specific green-building protocol or just good, quality designs," he said.
According to the accrediting body the U.S. Green Building Council, LEED-certified buildings save money, improve efficiency, lower carbon emissions and create healthier places for people. They can be one means to proactively address climate change, and meet environmental social and governance goals, enhance resilience and support more equitable communities.
The USGBC reports projects are vetted, and must address carbon, energy, water, waste, transportation, materials, health and indoor environmental quality. These projects go through a verification and review process and are awarded points that correspond to a level of LEED certification.
Just as there are different levels of certification, the distinction is rooted in a holistic approach. For example, LEED doesn't simply focus on one element of a building such as energy, water or health, according to the building council.
Instead, it looks at the big picture, factoring in all the critical elements that work together to create the best building possible. According to the USGBC, 35% of the credits a project can earn toward its LEED certification are related to climate change, 20% directly impact human health, 15% impact water resources, 10% affect biodiversity, 10% relate to the green economy, 5% impact community and 5% impact natural resources.
In LEED v4.1, the next generation standard, a majority of LEED credits are related to operational and embodied carbon.
Good for business

Brellen said LEED criteria can be incorporated into a variety of projects.
"Providing sustainable clean water for municipal clients has been a staple of our company since its origin over 100 years ago," he said.
"We also have a strong history of waste-to-energy projects, turning waste streams (farm, food, etc.) into natural biogas products."
In other words, this gives McMahon Associates Inc. an advantage in advising clients who are interested in planning and designing projects that consider the environmental impact. LEED certification may be the ultimate goal.
Brellen said LEED certification is popular because it's good for business on several levels.
"The idea of LEED and sustainable design has been well received," he said. "Business and industry understand the goals of sustainability and of improving the environment where we live, at the same time implementing those ideas that are practical and economically prudent."
Green building as a concept is evolving and reflects the context and setting. Brellen has a few ideas about where the future is headed as it relates to this type of construction.
"The reuse and renovation of existing buildings/sites seems to be the next logical step in sustainable building design," he said. "With the increase in material costs and lead times, it becomes economically feasible and sometimes necessary for owners to make use of current assets, along with the fact that infrastructure (roads, utilities, etc.) already serve many existing sites."
Brellen said the electric vehicle movement will impact business and industries. No doubt transportation, including trucking, will move to this next generation of vehicles.
EV charging stations and the infrastructure for them will impact the way sites are used, he said.
Brellen said pandemic-fueled challenges have affected green projects in the same way they have affected the building industry.
"Most manufacturers of building materials have already adjusted their products and manufacturing processes to become LEED-friendly; therefore, supply chain issues will affect all types of construction projects," he said. "For example, roof construction is one concern. Metal deck, rigid insulation and roofing materials are in short supply, causing the delay of building projects since the building may not be enclosed as quickly as desired."
Early adopters
The University of Notre Dame adopted a sustainable buildings policy in 2008.
Doug Marsh, the college's vice president for facilities, design and operations, said the university was interested in designing and constructing its new buildings using techniques, materials and systems commensurate with best industry practices regarding sustainable design, construction and operating practices.
"(We) found the third-party review and certification process provided by the United States Green Building Council most advantageous as it held the design teams, especially the engineers designing the buildings' HVAC systems, to a very high standard," he said. The private, Catholic college requires all new construction to be up to LEED standards.
Since implementing its sustainable buildings policy, Notre Dame has earned more than 20 LEED building certifications. It has accomplished a 96% diversion rate for all construction project waste, according to the college.
Marsh said, in his view, seeking LEED certification for Notre Dame's new major buildings the past 15 years resulted in creating more energy efficient and sustainably designed buildings than if the university had not adopted the practice. About 95% of the college's buildings use efficient, non-LED lighting (such as CFLs) and 40% of Notre Dame's outdoor space uses highly efficient LED lighting.
"We have encouraged our staff charged with leading the design and construction of major campus buildings to become LEED-accredited professionals," Marsh said. "Many have done so, which greatly facilitates the collaboration in working with consultant teams hired for these projects."
Chicago-based architectural firm Farr Associates also was an early adopter of LEED certification. But much has changed in the design world in recent years.
"We designed our first LEED platinum building in 1999, and it was the world's third LEED platinum building," said Doug Farr, founder/principal, whose firm designed the Cardinal Campus of Highland at East 53rd Avenue and Indianapolis Boulevard. It achieved a LEED for Neighborhood Development certification.
"LEED was revolutionary at the turn of the 21st century; 20 to 25 years in, and there's a real fragmentation going on, in kind of what the standards are," Farr said.
According to Farr, LEED was the gold standard of the design world, but now the standards are baked into projects, and therefore, they're not as novel.
"A lot of corporations and real estate companies have portfolios that have the LEED requirements explicitly written into their standards," he said. "So, there's a kind of an institutional (aspect)."
Farr said once something becomes the standard, everyone embeds it.
"And it's kind of the de facto standard," he said.
Region welcomes LEED
Farr said his firm has about a 20-year run with designing LEED-certified projects. Among them was the Veterinary Orthopedic Center, built on the Cardinal Campus of Highland, which has some noteworthy features.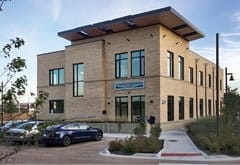 "The scupper is modeled after the beak of a rain bird, "he said. 'That's how the water gets from the roof and down through the parapet and out of the sun — it kicks out at the sidewalk."
He said the whole surface under all the hardscapes is pervious pavers and retains water.
"And then the roof is filled with solar panels," Farr said.
Farr said the project is part of a master plan that likely will be built out over three phases. There are two more buildings pending.
There's a hotel yet to be built, and the campus is attracting a lot of medical office and veterinary office tenants, he said.
In Gary, Broadway Lofts is a three-story, 40,000-square-foot mixed-use multi-family building on a corner site at Broadway and 7th Avenue, which is still in development. The building will house 38 one- and two-bedroom units, while the ground floor will feature a Women, Infants and Children (WIC) clinic space for Northwest Indiana Community Action, a project partner focused on poverty alleviation.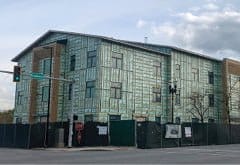 The site will be a hub for new transportation infrastructure, including potential connections to car share, bike share and bus rapid transit (BRT) networks. A portion of the site has been set aside for a fresh produce greenhouse.
This project's goal is to achieve net-zero energy through a combination of energy-demand reduction, envelope efficiency and on-site renewables. To achieve these goals, Farr led an integrated design workshop with the goal of achieving passive building (PHIUS+) certification. PHIUS strategies focus on super-insulation, high-performance windows, elimination of thermal bridging, air-tight construction and heat recovery within the mechanical systems.
Farr said the building will be powered entirely by electricity.
"So, no fossil fuels burned here," he said. "That's another example of integrated design thinking because, if you, say 'we're going all electric,' you just saved $100,000 on the building, because you don't have gas service, gas meters, gas piping, etc. And so, when you eliminate entire systems from a building, those are big cost savings."
And those cost savings are passed on to the residents, too, who benefit from more affordable energy bills.
After 20 years of sustainable building practices, Farr reflects on the merits of LEED certification.
"We actually build a LEED certified building for less cost than a conventional building, because there's so much low hanging fruit that, when you just show up and build the next one you built like you did the previous 10, you weren't paying attention to even ask questions," he said.
Managing Editor Larry Avila contributed to this story.
Click here to read more from the April-May 2022 issue of Northwest Indiana Business Magazine.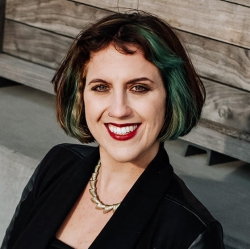 Latest posts by Lauren Caggiano
(see all)