Ability to listen on top of list of qualities organizations now seek in new leaders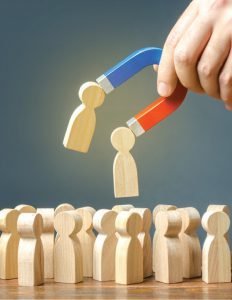 When it comes to succession planning, the task can prove daunting especially for an organization that has enjoyed prosperity under stable leadership for decades.
For some organizations, the pandemic presented new challenges and opportunities for already established leaders. For others, it was a time of unique transition in appointing new leadership during an unprecedented time.
Some entities followed established plans of succession, while others saw an opportunity to find a different path under new leadership.
Talent pipeline

For more than 13 years, Michael Rechin has led First Merchants Bank during a period of significant growth and success. But the president and CEO will retire from his position Dec. 31. Rechin will remain on the First Merchants Board of Directors and will serve as an adviser to the bank going forward.
His retirement will come with a restructuring of top management. Mark Hardwick, current COO and CFO, will succeed Rechin as CEO, and Michael Stewart, chief banking officer, who will become president. Michele Kawiecki, senior vice president of finance, will become CFO. All leadership changes are effective Jan. 1.
"First Merchants works to have a strong talent pipeline and leaders in place to move up within the organization," said Charles Schalliol, chairman of the Muncie-based bank's board of directors. "These leadership moves are great examples of the successful programs we have in place to groom people, which are the most important assets to First Merchants."
Schalliol said the board of directors meets annually to discuss succession planning and review internal candidates who show strong potential for upward mobility.
"We value promoting from within because we know these leaders are good organizational fits," Schalliol said. "I like to say people both outside and inside the organization have development needs, (but) with those outside, we do not know what they are."

Schalliol said First Merchants, which operates 130 banking offices, including 18 in Northwest Indiana and Northeast Illinois, also has a pipeline in place to grow young talent. It hires recent college graduates who show leadership potential.
"We want to hire younger people who will be good fits for a much larger organization, which we aspire to in the next decade," Schalliol said. "We look for strong candidates with an interest in banking and an interest in the role banking institutions play in our communities."
First Merchants Corp. is a financial holding company with headquarters in Muncie, Indiana. The corporation has one full-service banking charter, First Merchants Bank. The bank also operates as First Merchants Private Wealth Advisors (a division of First Merchants Bank).
Nature and nurture

Attorney James Jorgensen has spent his entire 45-year career with Hoeppner, Wagner & Evans, a Valparaiso-based law firm. Jorgensen, who has been recognized by his peers as a top leader in Northwest Indiana, said a good leader is a great listener.
"The leader is humble enough to genuinely care about the opinions of those he or she leads," Jorgensen said. "A good listener hears what is said, how it is said and what could be said but isn't."
He said a leader processes what is heard, not having to agree with it — at least in whole.
"Regardless of the outcome, there is great value in just the process," Jorgensen said.
Jorgensen has observed another common trait among strong leaders. They often surround themselves with great people and empower them to be their best.
He said leadership is probably a combination of nature and nurture.
"Nurture-wise, a good leader gives others an opportunity to lead and to learn from mistakes," Jorgensen said. "This requires the leader to be patient in increasingly impatient times, (and) the best way to learn to lead is to be given the opportunity to actually lead and to learn from it."
Change in leadership
Even before the pandemic, the processes for choosing new leadership and the qualities sought in those leaders had changed.
"Some of the characteristics that we looked for when selecting leaders in decades past are no longer considered as important in new leaders today, particularly when we consider technical skills," said Cynthia Roberts, dean of the School of Business and Economics at Indiana University Northwest. "For a long time, hiring committees and organizations looked for leadership candidates who had certain credentials, voiced confidence that they had all the answers, and were ready to come in and tell direct reports what to do."
The world is just too complicated for that to be a successful approach, she said.
"That has transitioned over time to the value being placed on a candidate who expresses the desire to come in, listen more than they talk and consider other perspectives," Roberts said.
Roberts said she was impressed by a candidate who said they planned to "hit the ground listening." She said this approach is particularly relevant as many organizations have put a priority on building diverse and inclusive work environments.
Roberts was part of the process IUN underwent in the recent hiring of a new chancellor. She said the multi-tiered approach used by the university helped ensure a variety of voices and perspectives played a part in the hiring process.
"We had a robust committee representing people from different levels, departments and campuses involved in interviewing the candidates," said Roberts, who specializes in leadership development. "Hopefully, this process helps select a candidate (who) works for all, and because many had a voice in the process, it is more likely that the new leader will be accepted."
When Roberts took the dean position, she said she spent the first several months listening to everyone in the school.
"A true leader does not just come into a new position with their own plan and ready to take everything in a new direction," Roberts said. "Instead, you come in and listen to those who are there to understand the history and then develop a strategy collaboratively based on that."
Leadership research
The Leadership Institute at Purdue University Northwest is a hub for leadership development in Northwest Indiana. The institute offers research-based leadership development programs for regional business leaders in every sector, as well as university staff and students and youth across the regional community.

"We help leaders identify areas of growth with time to intentionally practice their skills," said Sheila Brillson Matias, executive director of the Leadership Institute and the Society of Innovators at Purdue Northwest. "Our goal is that each participant will become a more authentic leader poised and ready to be a community contributor who will help assure the Region's vitality and quality of life in an increasingly competitive global environment."
Matias said the Society of Innovators and the Leadership Institute work closely and share common ideals.
"I like to say that you have to be innovative to be an effective leader, and you need well-honed leadership skills to be an effective innovator," Matias said. "The purpose of the Society of Innovators at Purdue Northwest is to work collaboratively with the community to drive economic and community development in Northwest Indiana through the power of innovation."
Matias also serves as president of the La Porte County Commission. As a former public-school teacher, two-term councilwoman and two-term mayor of Michigan City, Matias is a practitioner of leadership and works closely with experts in the field.
"Leadership seems to be a muscle that needs to be worked to get stronger and more nimble — it involves listening, evaluating, inspiring, developing trust and creating genuine connections between people," Matias said. "Good leaders create an intentional culture of respect, of inclusion and of genuine connection to the people they lead."
Matias said leader development is personal development, and that as a leader grows in self-knowledge, adaptability, self-confidence and responsibility, he or she becomes a better leader and a better person overall.
"That's the great news, because the reward for your hard work can be experienced in all dimensions of your life," Matias said. "This growth will affect multiple domains — your work life, your home life and your community life, making you more effective in each area."
Brand passion

In the midst of the pandemic, University of Saint Francis underwent a major leadership change. Leaders at the institution, which has campuses in Fort Wayne and Crown Point, appointed the Rev. Dr. Eric Albert Zimmer as the new president. He succeeded Sister M. Elise Kriss, who retired in June after serving 27 years in the post.
"We had been praying for quite some time for the right individual to lead us during uncertain times," said Sister Angela Mellady, provincial superior for the Sisters of St. Francis of Perpetual Adoration, who assisted with the search. "Father Zimmer's experience and passion for higher education seemed to be a good fit, (and) it was quite a new experience for us to select someone other than a sister to lead the institution."
Zimmer was appointed by the founding congregation, the Sisters of St. Francis of Perpetual Adoration, working closely with the USF board of trustees. Zimmer previously served in the Mendoza College of Business at the University of Notre Dame as well as pastor of Saint Patrick's Church in Walkerton.
"I come in at a time when many universities, especially private, are challenged by demographic shifts and questions about their reasons for existence," Zimmer said. "As a leader, I want to reaffirm our commitment to student-centered education in the Catholic tradition."
Zimmer previously worked in higher education at Creighton University, Georgetown University and the University of Washington. He said a priority will be the continued development of the USF brand.
"We are a place of transformational education for the whole person," Zimmer said. "At the end of their program, we want a student to be better prepared for life and living a fulfilling life in our society, (and) that means we need faculty and other leaders to be growing in the same direction as we embark on our strategic plan."
Click here to read more from the December / January 2020 issue of Northwest Indiana Business Magazine.