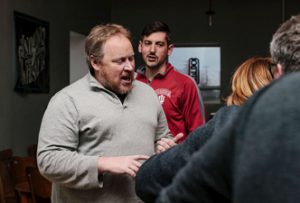 by Hoosiers, for Hoosiers
"Too much of anything is bad, but too much good whiskey is barely enough."
— Mark Twain
The Indiana Whiskey Company prides itself on distilling every last drop of Hoosier values into its smooth-tasting whiskeys.
"Our state has a rich tradition of agriculture and manufacturing," says Charles Florance, the company's president and cofounder. "We take those two ideas and blend them together in one package that anyone can enjoy."
When Florance initially came up with this idea in 2011, he learned that roughly $100 million leaves the state every year on whiskeys made in Tennessee, Kentucky and Canada.
"That was unacceptable," he says with 100-proof conviction. "It's about time we show those other states what real bourbon looks like."
Along with cofounder Braden Weldy, production of this spirited idea began in 2013 using their unique blend of Hoosier pride and American patriotism. Florance graduated from Notre Dame, and Weldy from Purdue University. Both men are military veterans, having served Uncle Sam in Operation Iraqi Freedom.
"We are in about 400 physical retail stores throughout the state, and we refuse to send it anywhere else," says Florance, who acted as an Army infantryman for a dozen years before being diagnosed with a nervous system disease. "In the Army, foundations were built on core, bedrock values," he adds. "We do the same thing here. We make delicious, approachable whiskey from Indiana ingredients and sell it for an honest price."
Both men share a genuine respect for U.S. soldiers, sailors, airmen and Marines who, like them, have made sacrifices to make the world safer for our freedoms. With this in mind, the company has a relationship with the Chapter 31 VA Vocational Rehabilitation and Employment program for Northern Indiana.
The South Bend firm donates to the Miller Center for Veterans at the Center for the Homeless in the city, and provides paid internships for transitioning veterans. Plus, three percent of all profits go to veterans' support programs and organizations in Indiana.
"With Indiana Whiskey, Hoosiers can choose an excellent alternative to big national brands without having to break the bank to get it," Florance says. "New and old hands alike can appreciate our whiskey's flavors and inviting complexity. However, with the rise of craft distilling, the table stakes are getting higher and higher."
The company's combined annual growth rate is 30 percent since May 2013, ranking as the "Best Spirit" in Indiana by Playboy.com. "Talk about local," the site's review states. "Everything involved with the production of this wheated bourbon was made or grown in Indiana, from the grains, to the bottles, to even the still itself. It's young, so it has a sprightly graininess along with some oak."
The firm's staff welcomes guests to experience the entire process, from brewing the grain to distilling the spirit to barreling and bottling the whiskey. Guests can then sample whiskey at the bar or sip a signature cocktail while relaxing in the lounge.
"By Hoosiers, for Hoosiers," has become the company's war cry, insisting on keeping Indiana's traditions of farming, manufacturing and integrity alive in every part of its process. Everything that touches its whiskey is made in this state, from its grains and fabricated fermentation equipment to its traditional alembic-style copper pot still.
"That way, every dollar Hoosiers pay stays in our state," Florance says.