BraunAbility's vehicles give mobility to those with disabilities.
by Barbara Eastman
When spinal muscular atrophy robbed him of the ability to walk at 15, no one would have blamed Ralph Braun, who was born and raised in Winamac, Ind., if he felt a little sorry for himself. And perhaps he did–for a minute. But then he went to work on a solution. Rather than accept immobility as his lot in life, he set to work in his cousin's barn and built the world's first motorized scooter, which he called the Tri-Wheeler.
It worked well in nice weather, but not when rain or snow was in the forecast. His next project was to adapt a mail delivery van, which he outfitted with a wheelchair lift and hand controls. These early prototypes gave him the first independence he'd ever known. Before long, individuals and families of people with disabilities asked for his help and he realized that through these devices he could share the gift of independence with others. In 1963, he began to produce Tri-Wheelers and other adaptive devices in his parents' garage and established his business, which he called Save-a-Step Manufacturing Co. In 1972, he incorporated as The Braun Corp., later changing the name to BraunAbility.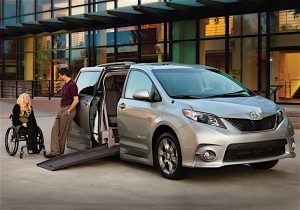 The fledgling company started out with five employees, and it has since grown into an international business that employs 1,200 people worldwide. The company and its employees are dedicated to supporting Ralph Braun's dream and legacy: to bring dignity and independence to individuals through mobility, and are inspired daily by the motto: "Life is a moving experience."
Joe Garnett, director of marketing, has been with BraunAbility for 21 years and says, "When I began my career with BraunAbility, there were only about 250 employees. Today we are the single largest employer in Pulaski County, with employees coming from a six-county area. I was privileged to know and work for Ralph, who passed away in 2013, and our continued growth would have made him proud."
During his early years with the company, Garnett says the focus was on public transportation. It continues to constitute a significant portion of the business and BraunAbility is the leading name in adaptive mobility lifts and other assistive devices for municipalities in the United States and around the globe. But, according to Garnett, "In the '90s, demand in the consumer market sharply increased. People wanted to own their own vehicles and, as a result, the consumer end of the business exploded."
In the early days, the only vehicles that offered wheelchair lifts were large, industrial-looking full-size vans. But, as Garnett explains, "People's cars are an extension of themselves. It's no different for people with mobility issues than it is for anyone else. They want smaller, sometimes sporty vehicles. We pride ourselves on being a responsive, market-needs driven company, and we now have relationships with Chrysler, Dodge, Toyota, Honda, Nissan and Ford. Individuals may now go to any of our 260 mobility dealerships throughout the United States and order the model and color that best expresses their personality.
"When a person makes the decision to purchase an adapted vehicle, the professionals at the various dealerships perform what is akin to a clinical evaluation. They determine whether the disabled person will be a passenger in the vehicle or will be the primary driver, and what his or her particular needs are. And, of course, they need to know the budget. For those who need it, many dealerships offer pre-owned vehicles, which can then be customized in our facilities with side- or rear-entry, retractable in-floor or foldout ramps, hand controls and whatever else the customer requires."
In its long history, BraunAbility has touched hundreds of thousands of lives all over the world. Ralph Braun's five-point business model continues to guide the actions of the company: Put the customer first, no excuses, surround yourself with good people, never stop improving, and believe in your God-given abilities. Ralph Braun was a visionary whose life's work was to give people independence through mobility. His legacy lives on because "Life is a moving experience."