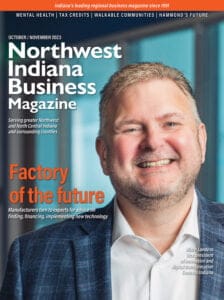 The golden rule — treat others as you would like to be treated — is more than just a guideline, it's a way of life. The people and organizations featured in our October-November issue know that, and share their work ethic and goodwill with co-workers and neighbors.
In our cover story, business owners used Manufacturing Readiness Grants to buy technology that will make workers' jobs easier and give them chances to upskill.
Managers are especially aware of their employees' mental health as the state shines a spotlight on inequities in access and care. Programs like on-site nursing and expanded Employee Assistance Programs offer easier ways to be well.
We explore tax credits with experts who point out ways to save by embracing energy-efficient standards at home and in the office.
While some of those changes aren't so easy, town officials and investors are busy reconstructing downtowns across the Region in anticipation of the double-track's project completion next year. They also keep residents in mind as they consider ways to make getting around easier for walkers, riders and motorists.
Hammond is one of those towns that is pretty much under construction. In our ongoing series, "The Future of," we highlight the projects that will change the face of the city forever and efforts to increase its population to 90,000 by 2030.
With an influx of residents, a more diverse population will call for understanding and common ground in the Region. In our third and last special section of the year, we define DEI and ask experts what it means for employers and the people they count on to make their businesses successful.
Chocolate and dinosaurs might not seem to fit in with my theme, but entrepreneur Mark Tarner found kindness in his community when he thought his dream museum might not come true.
For those readers taking the advice of our wellness story, Evexia Salt Cave offers a unique opportunity to unwind. And then, if love is what you need, Humane Indiana is looking for foster parents and volunteers.
Finally, Neil Samahon of Opportunity Enterprises reminds us that the golden rule should be applied to everyone — no matter their abilities. Enjoy this issue!
Read more stories from the current issue of Northwest Indiana Business Magazine.