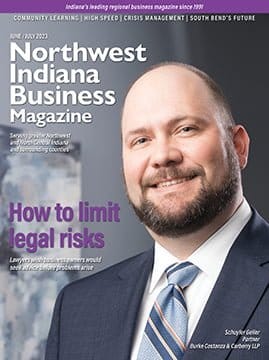 As I edited the articles for this issue, I kept coming back to the word "synergy" — combining two or more things for greater effect.
That concept isn't always easy to manage.
But in this issue, we share ways to make synergy happen — or at least consider it.
Experts discuss ways to mitigate legal exposure, helping business owners think about how the best laid plans can go wrong.
Students and businesses envision the future with the help of educational partnerships in the community.
Equitable access to broadband gives residents — no matter where they are — a chance to participate in global and regional economic growth.
Creating a culture of planning can reduce the risks that come with doing business.
The underlying theme of each story seemed to come back to the concept that working together makes the tough decisions easier to manage.
Our special section "Regional Thinking" brought that idea home. The Region will experience exponential growth as major infrastructure projects underway continue to attract development and people. Experts from seven organizations share their thoughts on how these plans came to fruition with the help of a regional outlook.
The Region is on the cusp of a new direction that will set the stage for years of potential prosperity.
For example, in our latest installment of "The Future of," South Bend is gearing up for a major health care upgrade, large- and small-scale renovations downtown and once-in-a lifetime transportation infrastructure that will change the city forever. But these projects would not be possible without the hard work of many stakeholders, including government, community organizations and the business community.
The NWI Forum and SCORE are two of those organizations committed to efforts that will bring community partners together and share knowledge with the next generation.
We also highlight individual efforts that make the Region better. MegMade in Munster is open for your furniture needs. Carolyn Watson conducts her way to the top. And, just for fun, Ashley Thorsen takes a break from airplanes to visit ballparks around the country. Enjoy this issue!
Read more stories from the current issue of Northwest Indiana Business Magazine.