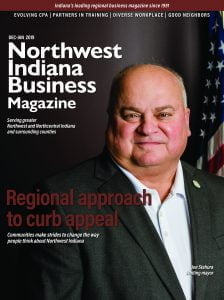 In this edition of Northwest Indiana Business Magazine, we explore some of the reasons the Region is such a great place to live, work and play. From water slides to rain gardens, our cover story examines the wealth of attractions, activities and efforts around Northwest Indiana to create a place where people and businesses thrive.
But the Region wants to be known for more than its leisure activities. Many collaborative initiatives are underway to develop better training for employees. More focus also is on helping employers manage a diverse workforce, as well as providing resources for launching small businesses.
Stories about people and their commitment to building stronger communities are here too, as well as the innovation it takes to move forward. That includes health care providers using technology to monitor chronic conditions to small businesses building a successful venture from the ground up.
And it never hurts to add a dash of peanut butter. Enjoy!
Click here to read more from the Dec-Jan 2019 issue of Northwest Indiana Business Magazine.