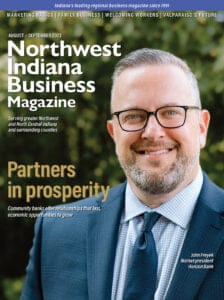 This issue is packed with heart. Building a sense of community is just that for many of the business owners and their employees who live where they work.
First, our cover highlights banks with a mission to build community. They are the financial institutions that sponsor little league, issue small business loans and support local events. Their employees volunteer at local nonprofits and offer expert advice. You might also see them at the grocery store and chat a bit about the weather. You know them and seek them out when you need financial help.
Then we take a look at marketing a business and how important it is to tell your company's story on your website and wherever you go. Getting the word out never ends and neither do efforts to create a brand customers trust. The personal touch goes a long way ­— a little heart helps too.
Family also can be the heart of a business. Teamwork and shared values can lead to successful companies that build value for generations to come. M&M Car Care started when the family's daughters were little. Now they have four locations and lessons he shares with other entrepreneurs.
Companies also have learned that happy employees are more productive. Some are changing their expectations and hiring practices to address work-life balance and career fulfillment. Businesses are taking a closer look at soft skills and finding job candidates who have the same values and goals.
Then, we take a look at the future of the city of Valparaiso. Transformative projects there promise to bring business development to the community, and attract new residents and visitors. Its location "in the middle of everything" positions it for growth and prosperity.
If that's not enough heart for you, we also feature Joslyn Kelly's J's Breakfast Club in Gary, which puts the "soul" in food. The Seeds of Promise program by First Things First offers $100 to babies born in Porter County. And Crown Point electrician Jonathon Appelman puts his heart into the Indiana Mixed Martial Arts pro circuit.
Finally, we hear from a mom who is all heart — her story might even cause a few tears.
Enjoy this issue!
Read more from the current issue of Northwest Indiana Business Magazine.