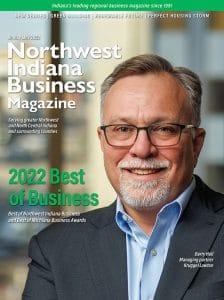 Spring is the time of year Midwesterners look forward to after a long winter. It's also when Northwest Indiana Business Magazine reveals its Best of Business Award winners! This year's honorees showed operating in a new business environment meant evolution, which for some, opened doors to new opportunities.
Many entrepreneurs took a chance during the pandemic and found success opening specialty venues. Building designers incorporated more sustainable processes into their construction projects to reduce their impact on the planet.
Speaking of green, renewable energy production is emerging as an economic development engine as well as a job creator. More work means more people, which translates to a hot housing market.
Change is afoot at White Lodging with new leaders, and Girls on the Run of Northwest Indiana marked 15 years empowering young women. Applied Imaging of Michigan expanded into Indiana, reinforcing remarks from Indiana Commerce Secretary Brad Chambers who touts the importance of economic development investments.
We hope you enjoy this issue!
— Larry Avila, managing editor
Click here to read more from the April-May 2022 issue of Northwest Indiana Business Magazine.