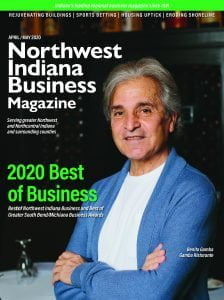 This edition of our magazine features the annual Best of Business Awards honorees. Our readers cast their votes to decide which companies in Northwest and Northcentral Indiana deserved recognition across 51 award categories. Longtime businesses grew through building strong reputations over years of delivering promised services on time. The Region continues to diversify and change. Examples include the resurgence of casino gaming, driven by legalized sports betting and rampant growth in new residential housing. Preserving the past also has led to redevelopments of historic buildings such as the former Anco manufacturing plant in Valparaiso, which soon will be home to a distillery. The state's Lake Michigan shoreline faces a growing erosion problem, which poses potential dangers to lakefront homeowners and a burgeoning tourism industry fueled by the recent national park designation for the lakeshore Dunes area. And the entrepreneurial spirit is evident in Fluid Coffeebar. We hope you enjoy this issue of Northwest Indiana Business Magazine.
— Congratulations winners!
Click here to read more from the April-May 2020 issue of Northwest Indiana Business Magazine.