Communities bank on economic impact of tourism
Indiana is known for Hoosier hospitality. And hospitality is paying off big time for local communities, where visitor spending has a huge economic impact.
The multibillion-dollar hospitality industry is one of the fastest growing business sectors worldwide. It encompasses a range of businesses centered on customer service. Indianapolis is the pot of gold at the end of the revenue rainbow generated by the conference and meeting segment. Each year, more than 60,000 gaming enthusiasts flock to Gen Con, held in the Indiana Convention Center. Gen Con 2016 generated an estimated $71 million for the Indy area economy. That's according to Leonard Hoops, the head of Visit Indy. The annual Future Farmers of America convention in October brings in 64,000 FFA members and generates $36 million in revenue. And then there's the economic driving force of the Indy 500, one of the premier sporting events in the world.
The Northern Indiana region can't compete with larger cities that have mega hospitality infrastructures. That's especially true now that White Lodging is demolishing the well-used Radisson at Star Plaza in Merrillville. The 30,000-square-foot conference center will be replaced by a facility less than half the size in a hotel expected to open in 2018.
Even before the dust settles around the Radisson, Northwest Indiana lost revenue from 90 cancelled events and 90,000 hotel room reservations, according to Speros Batistatos, president and CEO of South Shore Convention and Visitors Authority (SSCVA).
That's the bad news. The good news is that a growing number of large group events are attracting visitors and boosting the economy. We talked to Batistatos and other convention and visitors bureau professionals about what's on tap for 2017.
Batistatos says hospitality is the second-largest industry in Lake County. According to an economic impact report by Rockport Analytics, visitors in 2014 spent more than $795 million and supported more than 15,000 jobs. That includes spending on lodging, food and beverage, shopping, entertainment and transportation.
When the hospitality impact figures from Lake, Porter and LaPorte counties are combined, Batistatos says, "We're just as big as Indy." The SSCVA also serves Newton and Jasper counties and takes a broad regional approach to marketing directly to customers. Customers don't care where one county ends and another begins, Batistatos says.
"The process is driven by the customer. A visitor wants the experience they want to create. We understand visitors can spend their money anywhere and we have to make it as easy as possible to get [them] the information they want."
Among the most lucrative markets are amateur sporting events, notes Batistatos. "Sports for us is what got us through the recession and what we believe will carry us through."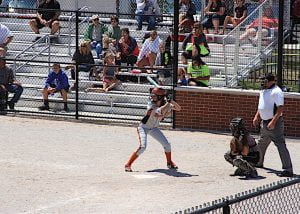 The National Softball Association's Girls Fast Pitch Class "B" World Series is back in Northwest Indiana this July, bringing in about 286 teams and a total of 10,000 visitors–including players, coaches, family members and fans. The Class "B" series has been held here for the past 10 years at the Crown Point Sportsplex and venues in surrounding cities, including Michigan City and LaPorte. Last year, the Class "A" event took place in Northwest Indiana. Batistatos calls this World Series "a multimillion-dollar piece of business."
"We understand that, in order to maximize their stay past the tournament, we have to be willing to help them find the dunes, find Chicago."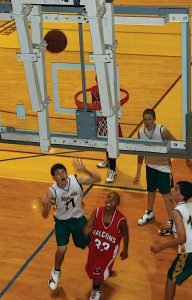 The SSCVA has a longstanding relationship with the Lutheran Basketball Association of America (LBAA), which hosts its national tournament at Valparaiso University each year in March. "Lutheran basketball is the gold standard for us on how to work with a professionally managed amateur sporting event," says Batistatos, explaining the amount of work done with customer service operations and the pre- and post-tournament communications with the LBAA and individual tournament attendees.
Another significant part of the area's hospitality industry is the VFR–visiting friends and relatives–market, Batistatos says. VFRs are often coupled with "traveling for history and culture." In other words, visitors like to have other experiences while spending time with significant others. He says, "While they're here, what else can we entice them to do and see?" He credits revitalizing cities, such as Whiting, Crown Point and Valparaiso, for providing exciting opportunities for visitors.
Lorelei Weimer, executive director of Indiana Dunes Tourism, acknowledges that Porter County can't meet the demands of major event planners, who are looking for large ballroom space with breakout rooms and an attached hotel.
"A lot of times that's a strict requirement," she says. "Lacking those facilities, we can't compete with Indy and Fort Wayne in drawing large conventions."
What Porter County does have is an abundance of natural resources that attract recreation-oriented visitors. "We're a leisure market," Weimer says, citing several examples of large events in 2017.
This spring marks the third annual Indiana Dunes Birding Festival, to be held May 4-7. The event is a joint effort by the Indiana Dunes National Lakeshore and the Indiana Dunes State Park. The dunes area is a hotspot for migrant and resident birds, making it the best birding location in the state, according to the event web page.
Weimer says, "I'm very impressed with what they've done in a short time. More than 400 attendees come from all over for a weekend of birdwatching and related programs. It sold out last year."
Several other repeat events are on tap in 2017. Le Tour de Shore is a two-day, 100-mile fundraising bike ride from Chicago to New Buffalo, Mich., that benefits Arts for Kids at Maywood Fine Arts. The June 16-17 event attracts 500 bikers who travel on Duneland bike paths and scenic secondary roads and stay overnight in area motels and inns. And for the second year, the American Cancer Society Gears of Hope-Duneland Tour will bring in teams of bike riders to Founders Square in Portage for a June 24 fundraising event.
The farther visitors travel to get here, the more likely they are to extend their stay and spend money on lodging, food and incidentals, Weimer says. "A lot of times, events drive the visitors here and then they participate in secondary activities, too."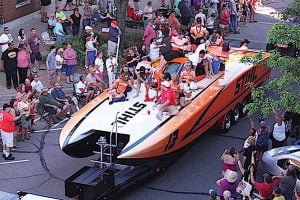 In neighboring LaPorte County, the premier annual event is the Great Lakes Super Boat Grand Prix at Washington Park Beach in Michigan City. This year's boat race is scheduled for August 3-6, marking the ninth year.
Jack Arnett, executive director of Visit Michigan City LaPorte, says the excitement leading up to the Sunday race is heightened by a boat parade, the Taste of Michigan City in the Uptown Arts District, and opportunities for visitors to get up close and personal with the powerful race boats and their team members and owners.
The Great Lakes Grand Prix is part of the Super Boat International offshore powerboat racing schedule that kicks off each year in Key West and runs a circuit across the United States. "Our event got traction right away because there's a fan base that follows the race," Arnett says. Over the years, a strong relationship has formed between the community and the race teams–each with an entourage of up to 20 people.
"We treat them [racing teams] like rock stars," Arnett says.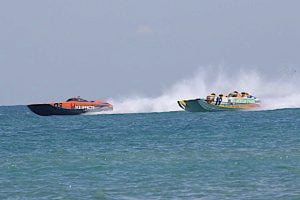 The multi-day event attracts an estimated 120,000 attendees, with about 80,000 on race day alone. Most of the visitors come from Indiana, Michigan and Illinois, with the largest number from the Chicago area. According to a report by Certec Inc., the 2016 Grand Prix event pumped $9.6 million into LaPorte County's economy and generated more than $2 million in job-related wages.
"The ripple effect goes from hotel rooms to bags of ice and everything in between," Arnett says.
LaPorte County is also reaping financial benefits from the Star Plaza closing. Arnett says, "We've been booking dozens of contracts for meetings that had been scheduled at the Radisson." The Blue Chip Casino Hotel and Spa in Michigan City is capturing the bulk of the business because of its 20,000-square-foot Stardust Event Center.
"We have ongoing weekly events at the Blue Chip," Arnett says. The revenue brought in by the Blue Chip on a continual basis surpasses even the boat race."
Becky Fletcher, director of sales for Visit South Bend Mishawaka, says tourism contributes about $551 million to the local economy and generates more than 7,000 jobs. Youth and amateur sports make up the most lucrative market segment. Notre Dame football is by far the biggest dollar driver.
The 2017 Notre Dame football schedule includes an additional home game, Fletcher says, and that one game will result in $18.5 million in revenue from the weekend. Multiply that single-game figure by seven and you'll find out Notre Dame football's mega-contribution to the local economy.
Notre Dame women's and men's basketball teams have had successful seasons recently, Fletcher says, and that translates into opportunities to host post-season NCAA tournaments on campus. This year, the Compton Ice Arena will host the 2017 Arena National Curling Championships on April 25-30, bringing in about 450 attendees. And a total of more than 2,000 visitors will take part in the USBC Women's Indiana Bowling Championship over four weekends in April and May.
Also in May, the Studebaker Drivers Club will meet in South Bend, bringing in 2,400 car enthusiasts from around the world for four to five days. The membership club meets in South Bend every five years and is a powerful economic engine, Fletcher notes.
Each year, an array of conferences and meetings are held at the South Bend Century Center and at additional meeting spaces in the South Bend and Mishawaka area. The 75,000-square-foot convention center can host groups of up to 2,000, according to Fletcher. "Our sweet spot is events that need about 250-275 room nights."
That's about to change with the anticipated opening of two new downtown hotels this fall. A 140-room Courtyard by Marriott will be connected to the convention center, and a 187-room Aloft Hotel will be two blocks away. "This will allow us to get back meetings that haven't been in South Bend for six to 10 years because they outgrew our availability when we lost two hotels a few years back."
Visit South Bend Mishawaka is hosting the Small Market Meetings Conference on Sept. 26-28. The conference will attract a total of 300 travel planners and travel industry vendors. "Most of them have never been to South Bend, so it's an opportunity for us to showcase our community," Fletcher says.
St. Joseph County is a draw because of its strategic location, Fletcher says. "We're located in the northern part of the state on I-80/90, with a regional airport and the South Shore line. We're an awesome drive-in destination."
Local residents have noticed the influx of visitors. "More and more people are now asking why there are more cars in town," Fletcher says. "It's an opportunity to educate local residents about the impact of tourism. It's not just [about] Notre Dame football."
In the rapidly growing hospitality industry, the best salaries go to those in management positions, which generally require a bachelor's or master's degree. Purdue Northwest's White Lodging School of Hospitality and Tourism Management is preparing the future leaders of this industry according to Michael Flannery, executive director of the program.
Being part of the College of Business gives students a solid foundation in business management coupled with an understanding of all aspects of the hospitality industry. Students have the option of pursuing one-year certificates, a four-year bachelor's degree, and a five-year combined bachelor's and MBA degree.
The White Lodging School of Hospitality and Tourism Management Center was established in the early '80s through a $5 million gift from the Dean and Barbara White Foundation and the Bruce and Beth White Foundation. Bruce White is chairman and CEO of Merrillville-based White Lodging, a company that owns 165 hotels located in 19 states. One of the key executives at White Lodging is Deno Yiankes, the president and CEO of the investment and development division. Yiankes is a successful graduate of the Purdue Northwest hospitality degree program. He got his start in the industry in the '80s, when he worked at the Holiday Star Plaza–the forerunner of the Radisson Star Plaza–while attending college.
Flannery says quite a few of the Hospitality and Tourism Management graduates stay in the area and help current students get internships and full-time jobs. "There's a nice synergy between our graduates and students. Alumni are active and always involved in the program."
Flannery notes the hospitality industry has grown substantially since the '80s. Continued growth will bring vitally needed revenue to local economies throughout the region.