Linda Perez leads St. Jude House's work on behalf of domestic violence victims.
Difficult conversations.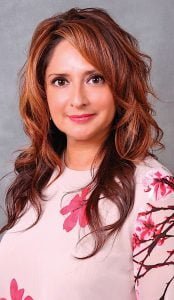 Linda Perez initiates and facilitates such uncomfortable interactions on a daily basis to make a difference in the Northwest Indiana community. As executive director of St. Jude House, a rescue center for victims of domestic violence, she is not only an expert on familial abuse, she also is a survivor. She uses her dark background to shed light on a subject too often closeted by shame and stigma.
"Despite my trials and bad experiences that have happened, I use my testimony to empower others and to encourage others to do the same," Perez wrote on her Leaders as Heroes nominee response form last fall. In October, she was honored with the coveted award by South Shore Leadership Center. She didn't expect it, thinking some kind of mistake was made.
"When I received the email, I misread it and thought I was getting another email about me being nominated," she says. When she finally realized the award was indeed for her, she also realized that all her hard work, hectic days and sleepless nights had paid off.
"Bringing awareness to the cause, and helping St. Jude House be a well-known resource and place of empowerment for victims of domestic violence has been my main goal," she says. "I feel we are on our way to do more for the community and to shed light on this important topic."
A workplace peer nominated Perez, and a committee of South Shore Leadership Center representatives vetted her and deemed her "Leader in a Not-For-Profit" for 2016.
"Linda was a standout because of the daily dedication and commitment she brings to her efforts on behalf of abused women and family members," says Harry Vande Velde III, president and CEO of South Shore Leadership Center. "Linda is truly empathetic in her approach to ending domestic violence, counseling those in the cycle of abuse and caring for the entire individual and family members."
St. Jude House, located in Crown Point, offers safe haven for women and their children escaping violent situations. Sometimes they show up with only the clothes they're wearing, blanketed by nothing else but fear and confusion.
"That program continues to grow to meet the immediate needs of those knocking at the door daily because of Linda's leadership," Vande Velde says. "The Leaders as Heroes awards are given to those who work tirelessly, daily, behind the scenes. Linda models this behavior for all who come in contact with her to see and observe."
Perez models her behavior on the teachings of Jesus, often crediting God for her many blessings since being a domestic violence victim. "My faith and trust in God is the most important factor in my life," she says. "God is a master at turning broken pieces into masterpieces."
Perez uses the broad brushstrokes of compassion and empathy to paint a welcoming portrait for victims to the center. "I always keep a positive outlook because I know I am in a position to influence and inspire," she says. "Someone needs our smile, our love and our encouragement. And someone is always watching."
Perez formerly worked as a mega-church executive and in the casino industry, allowing her to watch the human condition from different polarities of viewpoint.
"Establishing relationships and partnerships is very important to me. However, I can't do it all," she says. "With great organizations to partner with, and great leaders to share their knowledge and resources, we can make our communities better."
Since being hired as the center's new executive director in 2014, Perez has used her experiences to empower others in similar situations. In her line of work with high-profile expectations, she believes it is crucial to be a positive influence for women of all ages. "Especially young ladies," she says.
Routinely getting involved in the troubled lives of victims is how she makes a difference. "Domestic violence is not a topic people like to talk about," she says. "In order for me to create awareness and be able to provide our residents the best quality service, I must have difficult conversations."