Risk-takers challenge the status quo. Honoring innovation in the region.
by Jerry Davich
The word innovation is defined simply as implementing a new method, product or idea. But behind those new methods, products or ideas are creative risk-takers, adventurers and entrepreneurs who simply won't settle for the status quo.
Their innovations can be fueled by fear, chance, accident or necessity. In Northwest Indiana, such problem-solving inventiveness takes place on a regular basis, yet off the radar of public recognition.
The Society of Innovators of Northwest Indiana, now in its 11th year, recognizes and celebrates this spirit of innovation in the seven-county region. Through a project of the Gerald I. Lamkin Innovation and Entrepreneurship Center of Ivy Tech Community College Northwest, more than 1,000 innovative pioneers have been unveiled and heralded.
Each nominated candidate is vetted before finalists are determined and winners announced. The Society's 19 judges then select up to six new "Fellows" each year, in addition to team-based trailblazers through two additional awards: the Chanute Prize for Team Innovation and the Accelerating Greatness Award, bestowed with lifetime bragging rights. Here are their stories.
Don Galbreath
Pulaski County manufacturing trailblazer
This humble son of a hard-working blacksmith harkens back to the world of another forward-thinking inventor, Thomas Alva Edison. Though sporting early 20th century suspenders, pocket holder and work ethic, 83-year-old Don Galbreath clearly understands early 21st century inventiveness.
The professional engineer and lifelong "tinkerer" from Pulaski County is nationally known for inventing the most user-friendly, roll-off hoist in the manufacturing industry, accounting for most in the country. Developed at Galbreath Inc., the container and equipment producing company he founded, he has been hailed as a "rock star" in the waste hauling industry.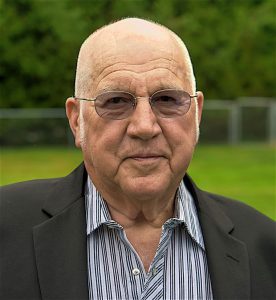 "Nah," he says in typical modesty. "I was just lucky enough to be good at something I enjoyed doing."
His "luck" comes in the form of 60 years of various innovations that have been implemented through numerous waste-handling products for two manufacturing companies. So much so that he was inducted into the Environmental Industries Association Hall of Fame in 2004.
"If I was 30 years younger, I'd do so much more," quips Galbreath, who still uses tools first introduced by his father, Chester–flashlight, drawing pencil, screw driver, marking tool pencil and colored ink pens.
His timeless advice to young innovators: "Don't be afraid."
Erin Argyilan, Ph.D.
Geologist, Indiana University Northwest
Mount Baldy changed her world and breathed new life into her career. She changed how the world views Mount Baldy and other living, breathing sand dunes.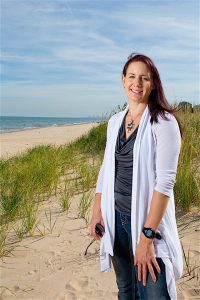 Erin Argyilan pioneered a new understanding of the Indiana Dunes and a new model of a previously unknown geological hazard now called "dune decomposition chimneys or tunnels." Her discovery resulted from nearly a year of painstaking research behind the mysterious disappearance and miraculous discovery of 6-year-old Nathan Woessner.
In 2013, the boy fell into a hole on Mount Baldy and Argyilan was at the scene.
"Because I was present the day of the accident, I felt a responsibility to address the cause of the hole," says Argyilan, who defines innovation as addressing a problem with a novel perspective or approach. "Essentially having new eyes."
Her new eyes and research created a model that could have "game-changing" ramifications for not only identifying a new geological hazard, but understanding the evolving nature and science of the dunes.
Historically, the research community largely dismissed the idea that buried trees could result in holes in sand dunes, as suggested in fictional accounts called "devil's stovepipes." Argyilan's mountain of research led to a scientific study by Indiana Dunes National Lakeshore, which will have significant implications for dunes around the world.
"No one in geology has reported on or studied the occurrence of open holes in dunes," she says. "There are now two studies I know of with vertical tree casts in ancient dunes (rocks). But our study will actually provide a modern analogue to explain vertical tree casts observed in lithified ancient dunes."
Simply put, her ground-shifting work at Mount Baldy unearths how people impact the dunes in ways they never knew.
Joe Coar
Former vice president, Tonn and Blank, Michigan City
When Joe Coar began working at Tonn and Blank, he earned $3.36 an hour working in the cabinet shop before a vice president saw something more in him.
"I'm not sure what it was," says Coar, now a former vice president at Tonn and Blank in Michigan City.
Coar, a self-taught carpenter and proven visionary, erected his career with a passion to prepare youth for the building trades. He championed a path-breaking Carpenter's Apprenticeship program in high schools across the state. His persistence at the local, regional and state levels was hammered home by innovation, defined by Coar as, "coming up with an idea and moving forward with it."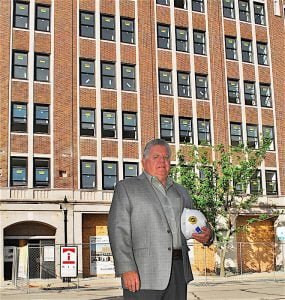 "As I moved forward with my idea, it didn't take long to find out I was going to need many supporters within the field of education," Coar says.
Coar's advocacy led to the AK Smith Center, one of the first in the country to launch this new program for high school students. There, students can take identical classes in high school that are offered in the trades. Students who successfully complete the two-year course earn 14 dual college credits through Ivy Tech and fulfill requirements of the program.
They also are eligible for direct entry into the four-year carpentry apprenticeship, designed to shore up the shortage of workers in the building trades throughout LaPorte County and Northwest Indiana.
"This special recognition is deserved by many innovators, and it is an honor for me to join them," Coar notes.
Marilyn Brunk
Math teacher, Griffith High School
In her past, Marilyn Brunk associated "innovation" strictly with a product.
"I never really thought of it as a concept," says Brunk, a math teacher at Griffith High School.
That was until the Society of Innovators shined a light on her cutting-edge computer programming class, encouraging students to create video games using 3-D programming. She is likely the first math teacher at a public high school in Northwest Indiana, and one of the first in the state, to teach such a program.
While first teaching the course in 2014, Brunk wrote new curriculum with creativity in mind. "To me, innovation means creativity," she says.
Her class became a collaborative effort with bright-minded students raised in the Digital Age. They use a program called AgentSheets to learn the fundamentals and create video games like Frogger and Pac Man.
Brunk smartly taught students how to create their own personalized video games, knowing it would help them also learn computer programming. By doing so, their future career options expanded tenfold within a field where nine million new jobs will be created.
"Currently, white males dominate the computer programming market. By introducing this course to younger students, I hope more women and minority students will consider studying computer science in college."
Joseph Ferrandino, Ph.D.
Associate professor of criminal justice, Indiana University Northwest
Joseph Ferrandino was not the first professor to use GIS analytics in the field of criminal justice. But he used it innovatively throughout this region to connect police departments and increase public safety.
Police departments have always used police blotters, crime data, arrest figures and other key statistics. However, most were not using GIS or analytical techniques. Nor did they have resources for individual software platforms.
Ferrandino took a product and tailored it to accommodate every police department in the region, using it in new ways. With assistance, he turned this privately used tool to connect agencies and share information interactively with the public.
"I am thankful for all the agencies and their leaders that gave me a chance to succeed at this endeavor," says Ferrandino, an associate professor of criminal justice at Indiana University Northwest.
"I am proud I am able to offer this innovation to everyone free of charge, and that we are being recognized for innovating with the software and the whole structure of the group we have created. Nothing we do has existed before in this region on the scale and scope it does now."
The Northwest Indiana Public Safety Data Consortium has transformed how public safety communicates in the region.
"The innovation is not just mapping crimes, but rather connecting the data and information from over 25 agencies across four counties, and soon a fifth county," he says. "Innovation is a process, not an outcome."
Tom Clark
U.S. history teacher, Lake Central High School
It's called the Gold Star Honor Roll Project.
Launched more than 30 years ago by history teacher Tom Clark, it's the longest running experiential learning project of its kind in Indiana and one of the largest in the nation. The ongoing project, based at Lake Central High School in St. John, has involved at least 5,000 students to collect memorabilia, validate records and personally visit families of U.S. soldiers who were killed in wars and military conflicts.
"You are not only reading about history, you are writing it," Clark tells each class of students since the mid-1980s.
The students are not only writing history, but also recording and saving it. He teaches his students to "feel history," not merely read about it in a dusty textbook.
"How many high school students ever get a chance to do that kind of thing?" he asks.
The project highlights Hoosier veterans from World War II, the Korean War and the Vietnam War. It has been in operation since 1986, except for a two-year stint after the Sept. 11, 2001 terrorist attacks when Clark, not surprisingly, served with the Army in Afghanistan.
He defines innovation as something on the cutting edge. If so, Clark has been on the cutting edge since the Reagan administration. His highly-respected project has been saluted in the Wall Street Journal and drafted as the national cover story of Veterans of Foreign Wars, among other national and regional media.
His response to being inducted into the Society of Innovators? "Wow!" he says. "Such a great honor for me and the thousands of students who have worked on this project and this way of teaching."
TEAM AWARDS
Chanute Prize for Team Innovation
Co-recipients: Recycled Granite's Green Abilities Team and IU Health La Porte Hospital.
Green Abilities Team, Highland
The Green Abilities team at The ARC Northwest Indiana, in Highland, developed an onsite training program to teach special needs individuals how to recycle granite remnants into landscaping pavers and other repurposed products.
Under the direction of Julie Rizzo, founder of Recycled Granite, this model project is being duplicated at other locations to divert millions of pounds of granite remnants from landfills and create jobs.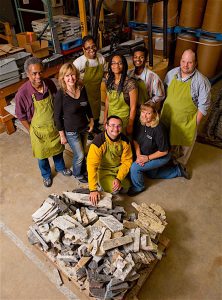 "Our goal is to create jobs, reduce waste and make the world a better place," says Rizzo, who was inducted into the Society as a fellow in 2011.
Though some of the program's artisans can't read, write or speak, they can turn a 1-inch rock into $10, recycling over 500,000 pounds of waste to date.
"Rather than focusing on what they can't do, we focus on what they can do," Rizzo says. "We simply gave special needs people a chance and an opportunity."
IU Health La Porte Hospital
To strengthen a "fair and just" culture where employees are encouraged to report problems, IU Health La Porte Hospital launched Rapid Improvement Events.
This program improves processes, increases value and contributes to a better work environment. Solutions are tested and implemented within 30 days, designed to establish a culture of continuous improvement, with at least 40 initiatives successfully implemented.
"The work we are doing every day to improve our processes and the patient experience is intense, but it isn't always something that the public sees up front while it is happening," says G. Thor Thordarson, CEO and president. "We have a policy and practice that any colleague should feel comfortable speaking up about an opportunity for improvement or a safety issue without feeling as if retribution will take place."
For more than a year, the hospital has sustained an average emergency department wait time of 10 minutes or less, well below national and local wait times.
"This is a cultural transformation for the organization, not just a single innovation that will come and go with time," Thordarson says. "You have to show it and do it. That is where we believe our innovation takes shape. The idea is to create a blame-free culture where improvements are made by focusing on processes rather than pointing fingers."
Accelerating Greatness Award for Team Innovation
Co-recipients: Methodist Hospitals' Northlake Campus, and Edgewater Behavioral Health Services
Methodist Hospitals' Northlake Campus, Gary
Designation as a trauma center has been a goal for Methodist Hospitals for more than a decade, and now official state approval has been given to its Northlake campus.
The entire Gary hospital will be considered a Level III "in process" trauma center, allowing it to fill Northwest Indiana's long-standing gap in trauma care. Previously, the closest trauma centers were in South Bend, Chicago and Oak Lawn.
"Innovation is about looking at your current processes–in our case, caring for patients with traumatic injuries–and not being afraid to say we can do better," says Jen Mullen, trauma program coordinator. "One of the greatest areas of need in the region was trauma care."
Historically, the Northlake campus has had a high number of trauma patients because of its proximity to industry, urban areas and major highways. This data-driven designation offered an established baseline and a clear focus to improve care.
"Innovation is about thinking outside the box, doing what others aren't, and not being afraid to make waves to affect change," Mullen says.
Edgewater Behavioral Health Services, Gary
Edgewater Systems in Gary, a nonprofit behavioral health provider, is the first in the state to respond to a major need by developing a new model, Rapid Access Center, to serve people in psychiatric crisis.
This state-of-the-art center provides immediate response to adult individuals experiencing a psychiatric crisis, including severe psychosis or depression, intrusive behaviors, and extreme thoughts of suicide or harm to others.
"There has been a need for this type of program for 25 years," says Danita Johnson Hughes, CEO and president. "It has been a thorn in all of our partners–the police department, fire department, ambulance drivers and hospital.
Launched by a national advocate for healthy habits for youth, Hughes noted that this is likely the most creative and innovative project of her 20-year tenure.
"We are a resource for the courts, law enforcement and other services when they have difficult cases or challenges."
These team award winners and 2015 class of Fellows were formally inducted into the Society during an Oct. 22 ceremony at the Horseshoe Casino in Hammond. Thanks in part to these key sponsors: Northwest Indiana Business Quarterly magazine; Horseshoe Casino; NIPSCO; Doherty Images; The Times Media; Lakeshore Public Media; Krieg DeVault; ArcelorMittal, SMDG; Bukva; and The Center of Workforce Innovations.
Together, they joined a growing list of esteemed, and now heralded, innovators who have collectively moved the needle in Northwest Indiana and beyond.
"They have all changed the world in a small or great way," says John Davies, the Society's managing director.