Support a local business this year
This year's gift guide spotlights small businesses throughout the region and the unique products and services only they could offer. With Small Business Saturday on Nov. 25, mark your calendars to shop local and help the entrepreneurial community continue to flourish.
Uniq
ue gifts
Copper Butterfly Fine Arts and Gallery—Unique shop which includes a large selection of original art and one-of- a-kind finds. The Copper Butterfly is a home town boutique with an uptown flair. Copper Butterfly is at 120 S. Main St. in Crown Point. For more information call (219) 663-1506.
Rusted Oak—The gentlemen's boutique brings together all of the elements needed to stay stylish no matter what the occasion. From suits and ties to shoes and casual wear, owner Robert Ordway offers custom clothing and tailoring services as well as spotlights books by region authors. Rusted Oak is located at 19 Lincolnway in Valparaiso. For more information, visit www.rustedoak.co, call 219/510-0016 or email Robert@rustedoak.co.
Dust Furniture—At the intersection of art and function is Dust Furniture. Designer Vincent T. Leman brings basic design principles to life in unique furniture and accent pieces. Dust Furniture is located at 456 S. Campbell St., Suite C, in Valparaiso. For more information, visit www.dustfurniture.com, call 219/464-9100 or email info@dustfurniture.com.
Seasons on the Square—Owner Donna Phelps stocks the shelves of her women's boutique with brands such as Joseph Ribkoff, Frank Lyman and Tribal Sportswear. For more information, visit www.seasonsonthesquare.com, call 219/465-0165 or email donna@seasonsonthesquare.com.
Barre + Beyond Studio—The boutique fitness studio specializes in Mind over Matter Method, M3, to help participants achieve long, lean sculpted muscles. Owner Orlee Glazer brings her mix of ballet, Pilates and barre techniques to women in the region. Barre + Beyond Studio is located at 3907 N. Calumet Ave., Suite 207, in Valparaiso. For more information, visit www.barreandbeyondstudio.com, call 219/929-1550 or email info@barreandbeyondstudio.com.
More Fun Sports Cards Store—Owner Ken Zajkowski has been in business for more than 40 years and has 40 years of collecting experience. He has nostalgic collectibles, baseball, football, NASCAR and hockey cards and back-issue comic books. The store is located at 706 Joliet St. in Dyer. For more information, visit www.morefunsportscards.com, call 219/322-5080 or email morefuncollect@comcast.net.
O'Gara & Wilson Antiquarian Booksellers—Chicago's oldest bookstore, established in 1882, now calls downtown Chesterton home. Owners Doug and Jill Wilson carry on the tradition of used bookselling and also feature autographs, old documents, artwork and book-related collectibles on their shelves. Browse the shelves for the perfect gift at the store, located at 223 Broadway in Chesterton. For more information, visit www.ogaraandwilson.com, call 219/728-1326 or email books@ogarawilson.com.
Karma Cigar Bar—With more than 900 cigar facings, owner Dhiren Shah and team offer a large selection of premium cigars to purchase as well as an atmosphere to connect with the cigar-loving community. Karma Cigar Bar is located at 850 W. 81st Ave. in Merrillville. For more information, visit www.karmacigar.com, call 219/756-0698 or email info@karmacigar.com.
Unique Ex
perience
Massage Envy—Treat your boss like a boss! One of my favorite things to do is to treat myself to a spa day. Treat your favorite boss to the latest spa treatments, facials and even Swedish massages from Massage Spa Envy in Highland. For more information call (219) 922-0900 or access www.massageenvy.com. Part of a popular chain, the spa offers gift cards and packages, but also has memberships available. Located at 10343 Indianapolis Blvd., Suite 107.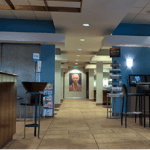 Vanis Salon and Day Spa—A relaxing spa package may make the difference between getting that promotion and not getting it. Vanis offers affordable packages that will make your boss turn heads. Among many skin solutions, Vanis offers glymed peels which can provide cell turnover making you look younger and more refreshed. Vanis Salon & Day Spa is at 221 US Hwy 41, Suite J., Schererville. For more information about gift cards call (219) 322-5600.
Munster Performing Arts Center— Your boss can sit back and enjoy Sunday brunch at the Munster Performing Arts Center. Bacon, eggs, champagne and much more is the order of the day at this Broadway-like playhouse. The Center for Visual and Performing Arts is at 1040 Ridge Road in Munster. Phone: (219) 836-1930.
White Hawk Country Club—This 36-Hole facility has four beautiful nines that present a unique test of golf at every turn. There are 600 acres surrounded by tranquil scenery and wetlands. Excellent course conditions await members, their guests, and public play at this championship facility. Located in Crown Point, White Hawk Country Club has some of the most unique gift items for that one-of-a- kind executive, including clubs and gear made by Ping and Titleist. Or, how about your favorite boss or client getting the inside track from a golf pro? White Hawk Country Club is at 1001 White Hawk Drive in Crown Point. For more information call (219) 661-1300.
Unique food
and wine
Cute as a Cupcake! Cupcakery & Bake Shop—Handcrafted cupcakes are available in sugar-free, gluten-free, organic and vegan options. Owner Michelle Wainwright and her crew put together sweet creations with fine ingredients in traditional, seasonal and specialty flavors all wrapped up in a cute package. Cute as a Cupcake! is located at 2008 W. 81st Ave. in Merrillville. For more information, visit www.cuteasacupcake3.com, call 888/719-9591 or email cupcake@cuteasacupcake3.com.
Uptown Cakery—From tarts and cookies to pies and brownies, owner Kimberly Wertz brings dessert to a whole new level of sweet. The bakery has a range of flavors and specialty items available at the shop or by request. Uptown Cakery is located at 215 W. Eighth St. in Michigan City. For more information, visit uptowncakery.wix.com/cakery, call 219/814-7700 or email uptowncakery@gmail.com.
Running Vines Winery—Cousins Nicole Caylor and Walter Novosel pour their family's passion for running into each bottle of wine, which features the team's unique blends. The winery offers a calendar full of events, including fun runs, book club events, wine and canvas paint parties and trivia nights. Running Vines Winery is located at 119 S. Calumet Road in Chesterton. For more information, visit www.runningvines.com, call 219/390-9463 or email info@runningvines.com.
Tasty Olive Company—Lynn and Al Gandolfi's story began with an initial visit to an olive oil shop in Wisconsin, where they discovered a love for creating marinades and enjoying dishes with products from around the world. Their shop spotlights extra virgin olive oils, flavor-infused oils, balsamic vinegars and specialty products, such as pepper jelly and sea salts. Tasty Olive Company is located at 2014 45th St. in Highland. For more information, visit www.tastyolivecompany.com, call 219/924-7881 or email sales@tastyolivecompany.com.
DeBrand Fine Chocolates— are made from the purest, most natural ingredients. Whether they are imported Belgium chocolates, inclusions from around the world, or fresh local ingredients, the quality and freshness of each chocolate remains an absolute priority. The first DeBrand store was located on Wells Street in Fort Wayne. For more information call (260) 969-8333.
South Bend Chocolate Company— got its start making chocolates under a license from the University of Notre Dame. The company now has 13 company-owned stores in Northern Indiana and four franchised locations throughout Indiana, Michigan and Ohio. South Bend Chocolate Company is at 3300 W. Sample Street in South Bend. For more information call (574) 233-2577 or (800) 301-4961.
Barbara Jean's Gifts & Gourmet—Owner Barbara Young strives to keep small business in the spotlight by featuring local products in her gift baskets. Local food products and artisan creations can be put together in a variety of containers from baskets and bags to coolers and decorative pails. Barbara Jean's is located at 11039 Broadway, Suite B, in Crown Point. For more information, visit www.bjgiftsandgourmet.com, call 219/661-1900 or email barbarajeansgifts@gmail.com.
Opportunity Enterprises Simply Amazing Market—The gourmet treats are hand-produced and packaged by participants of the Opportunity Enterprises program, which supports adults and children with disabilities. The market is located at 2801 Evans Ave. in Valparaiso. For more information, visit www.simplyamazingtreats.com or call 219/464-2670.
Theo's Restaurant—Sets the standard of fine dining excellence. It's a classic steakhouse with a stylish, lively atmosphere and a place where you can celebrate with friends, family and associates. Prime Steaks reign supreme along with delectable market seafood for those non-steak moments. Theo's is at 9144 Indianapolis Boulevard in Highland. For more information call 219-838-8000.
House of Kobe—This restaurant and bar is just the thing for an evening out with friends and family. It has hibachi grill concept that is great for dinner and a show. There are two locations in Schererville and Merrillville. House of Kobe is at 1951 US Highway 41 in Schererville. For more information call (219) 281-5784. For more information call (219) 864-1377.
Chicagoland Popcorn—is winning awards (can you say Food Network) from Hoosiers everywhere. The store makes specialty popcorns for area schools, such as Ivy Tech, that are selling like hotcakes. In fact, there are 250 popcorn flavors to choose from. Their staff can even make mini portions of popcorn for weddings and even employees. For more information email info@ chicagolandpopcorn.com or call Chicagoland Popcorn at (219) 940-1140. Chicagoland Popcorn is at 5470 E. Lincoln Hwy in Merrillville.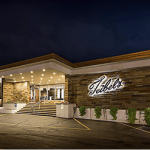 Teibel's Family Restaurant—in business for the past 80 years and offers a fine dining experience. The restaurant chef uses recipes handed down in the Teibel family for generations. Whether you fancy Grandma Teibel's fried chicken or their standout boned and buttered perch—an Indiana favorite—our diverse menu has something for Teibel's Family Restaurant. Teibel's is at 1775 U.S. Highway 41 in Schererville. For more information call (219) 865-2000 or access www.teibels.com.
The Quest Eatery and Spirits— For the executive who loves to entertain, this destination restaurant is full of surprises such as homemade cinnamon French toast for brunch. Try the perch- generous portions of 20 and the baby back ribs paired with an expertly poured drink of your choice. It's at 1204 W. Lincoln Highway in Dyer.
Holiday Ente
rtaining
Spire Farm-to-Fork Cuisine—Chef and owner Brad Hindsley cooks up recipes based on the farm-to-table concept that he has cultivated from his family's farming roots. The restaurant's menu is constantly in-flux, depending on seasonal ingredients and local farmers and growers. Spire Farm-to-Fork Cuisine is located at 299 W. Johnson Road, inside the new clubhouse at Legacy Hills Golf Club in LaPorte. Reservations are not necessary, but recommended for dinner and larger parties.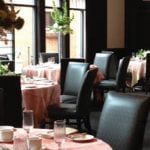 Gamba Ristorante—Owners of the Venezia Bar & Grill and Café Venezia, Benito and Hilda Gamba, have combined their efforts into the Gamba Ristorante. Located in Merrillville, this restaurant is housed in an architectural masterpiece, which is hard to miss with its circular design and copper roof. Modeled after upscale restaurants in exotic European locations, the menu offers classic Italian cuisine. The wine room boasts storage space for 1,000 bottles inside of a banquet hall that holds up to 175 people and looks out onto an open courtyard. Gamba Ristorante is at 455 E. 84th Dr. in Merrillville. For more information call (219) 736-5000.
Avalon Manor—Prepare to be impressed as soon as you step into Avalon Manor Banquet Center's elegant foyer. Suitable for events ranging from wedding receptions and fundraising events to corporate training meetings and seminars. The huge facilities offer over 16,500-square-feet of meeting space to suit your needs. Choose an intimate meeting room, our spacious ballroom or the entire building. Avalon Manor is at 3550 East US Route 30 in Merrillville. For more information call (219) 945-0888 or access www.avalonmanor.com.
Andorra Banquets—offers plenty of room to get the party started. The atmosphere in this large facility is friendly and elegant. It is very spacious with delicious food offerings. Andorra is at 1112 Route 41 in Schererville. For more information call (219) 865-1230.