Hobart chamber director wants companies to succeed and to put the fun back in business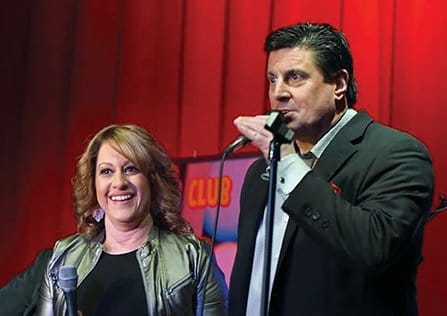 Byelick has a knack for public relations and bringing people together, something that serves him well at the chamber. But he wanted to do more than just having social gatherings where people mix and mingle.
"Typically, chambers of commerce are meeting places for businesses, and they basically turned into more social gatherings," Byelick said.
His mission is to take it back to the original intention of chambers: to help businesses and to increase revenue.
"I think there's an opportunity for entrepreneurs and small businesses in particular," Byelick said.
Of course, business meetings and networking events can be on the stuffy side. But Byelick has an antidote for that: comedy.
Since 2014, Byelick and his business partner and soulmate Michele Gonzalez Piskol, an education consultant, have produced Tomfoolery Fun Club. It puts on PG-rated comedy shows throughout Northwest Indiana.
The idea sprung early into Byelick's and Piskol's relationship when the two just wanted something fun to do without having to shell out money for gas, parking, dinner and a show in Chicago.
"There was just a total dearth of casual entertainment options," Byelick said. "You could go see a play at a performing arts center, or you can go to Chicago anytime, but locally on a Saturday night, you might go see a band at a bar."
Byelick recalled telling Piskol how he always wanted to do a comedy show.
"It just brings people together to have fun," he said. "Michele encouraged me to put on a show … so, on the back of a cocktail napkin, we sketched out what we wanted to do."
Byelick and Piskol hosted their first show at Rodney's Sports Bar inside Langel's Pizza in Highland.
"We envisioned this variety show with a few comedians and a live band," Byelick said. "Neither one of us had any experience in entertainment."
He ran meetings in corporate America, and Piskol ran a classroom for many years.
"We just threw caution to the wind," Byelick said. "We did one show, and people really enjoyed it."
The couple have done more than 100 the past eight years.
"And it has just turned into a true joy," Byelick said. "It's one of those jobs that feeds your soul."
For Byelick, hearing folks come out for a night of good, clean fun is worth all the effort.
"When I hear people roaring with laughter, I just look at Michele and say, 'Are you hearing this?' Just to see them escape their woes for a couple of hours, it's a great feeling of satisfaction," Byelick said.
Piskol sees her partner Byelick as a sort of a superhero with an alter ego who can be serious when he needs to be and not-so-serious when the time is right.
"He's kind of like Superman, 'right?,'" she said. "You can have the day job and then you can be doing something that makes your eyes sparkle with excitement."
She said Byelick is adding to the variety of life.
Byelick said he tries to keep his Tomfoolery activities separate and away from his role as director of the Hobart chamber.
John Yelkich, president of the Hobart chamber board, says so far, there's been no issues with Byelick in his after-hours comedy activities.
"As executive director, he's brought a fresh view and a lot of new ideas," Yelkich said. "He's looking to do some different things and explore different ideas and different viewpoints."
Yelkich said Byelick thinks out of the box.
"He's not confined to the old chamber-of-commerce model," Yelkich said.
Click here to read more from the December-January 2022 issue of Northwest Indiana Business Magazine.