Boys & Girls Clubs take steps to get reacquainted with Region's communities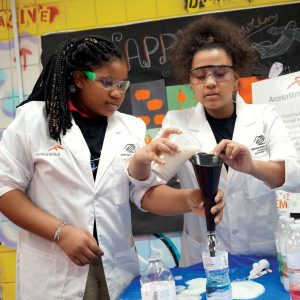 "We're seeing 60% less kids than we saw last March (2020). Where did those kids go? What are they doing?" said Ryan Smiley, president and CEO of the Boys & Girls Clubs of America of Greater Northwest Indiana. "That's been a big concern for us."
When the pandemic hit in March 2020, most if not all schools in Northwest Indiana canceled in-person learning and went to virtual classrooms. When that happened, the Boys & Girls Clubs were affected since many students headed to their facilities after school.
After several months of closure, the organization reopened on a limited basis. But as infection rates decline and society returns to regular routines, Smiley said his organization has plans this summer to reintroduce kids, their clients, with an array of after-school activities.
"Kids have been impacted socially, emotionally, academically, physically, as a result of COVID," Smiley said. "We believe strongly that Boys & Girls Clubs can fill that space for them, bring back some normalcy."
He said too many kids have spent too many hours during the pandemic staring at computer and cellphone screens.
"We want to make sure that we're positively impacting their lives and developing the whole child," Smiley said.
The Region's history with the Boys &Girls Clubs dates to 1954 in Gary and 1971 in Valparaiso. Smiley became CEO of the Boys & Girls Clubs of Porter County in 2012.
In 2016, Boys & Girls Clubs of Northwest Indiana engaged the Porter County organization in conversation regarding a management agreement and sparked discussion about a merger. In June 2017, both boards voted to merge, and by January 2018, the new group would be known as the Boys & Girls Clubs of Greater Northwest Indiana.
The group includes nine facilities in Cedar Lake, Chesterton, East Chicago (Katherine House), Gary (John Will Anderson), Hammond, Lake Station, Portage (Dusty Rhode), South Haven and Valparaiso, which will be replaced by a soon-to-be-built $9 million club just south of Fairgrounds Park.
The Boys & Girls Clubs are viewed as a place where children and teens can receive help with school work, which is important as youths continue to struggle with virtual learning.
Despite all the years the clubs have been around, Smiley said the group's core mission has not changed much. Its goal is to provide programing for children between 3 and 5 p.m. weekdays, which Smiley said are the "most critical" hours in the development of a child's life.
He said academic success is one of his group's core priorities.
"But we make learning fun," Smiley said. "So, our mission remains the same, but our program, our experiences, the impact we have on kids has evolved over time, (and) the needs of kids in our communities change, and we've got to ensure that we remain relevant to be sustainable."
Michael Simpson, chairman of the board of directors for the Boys & Girls Clubs of Greater Northwest Indiana, has personal experience with the organization. He has been associated with it for the last 20 years.
His two nephews, ages 7 and 12, often visited the club in Porter County. In 2008, Simpson's sister and the mother of his nephews, died unexpectedly in an auto accident.
"The clubs became a place for refuge and solace in a turbulent time," Simpson said. "It was a place to go that was comforting and safe and stable."
Simpson said his sister's death has "had an effect on my family and on them (his nephews)."
"That's emboldened my efforts to raise money and grow the clubs," he said.
Click here to read more from the June-July 2021 issue of Northwest Indiana Business Magazine.