We Connect serves as bridge to an array of services from counseling to finding a home for employees
When Paige London was going through her divorce last year, she felt hopeless and suffered some health issues as a result.
"I was not doing well. There was a lot of pressure on me. I felt alone," said London, 26, of La Porte, who was married for four years. "I really just needed some guidance (from) an attorney who would work for me."
London didn't seek help from a friend or her employer but instead turned to We Connect of La Porte.
"Just the fact that someone was there and could do those things for me when I felt I couldn't was an enormous help," said London, a mother of two young children. "It has honestly changed my views on people."
Tom Dermody and his wife, Jackie, started We Connect in July 2018.
Jackie Dermody, president of the nonprofit, said her organization has assisted people with an array of services from finding apartments to financial literacy programs.
"We're getting ready to do a wellness program with one of (our) clients," she said. "We do just about anything."
We Connect is an Employer Resource Network patterned after a 2008 Michigan workforce development initiative. Similar concepts are active in seven states and in development in three others.
According to the Employer Resource Network-USA website, ERNs are a "public-private consortia whose purpose is to improve workforce retention through employee support and training."
Stakeholders can include small to midsize companies, private nonprofits, community colleges and vocation training organizations, along with local, regional and national foundations.
A member of the Greater La Porte Chamber of Commerce board of directors, Jackie Dermody believed the area was ready for We Connect since workforce development and worker retention is a priority for the Region.
"The reason we started this in La Porte is because we're looking at having enough people to fill the jobs (in the area) and what are the reasons people aren't working," she said. "Like a lot of communities, people have crisis and issues, (and) we felt that it was a great opportunity for us to develop something and get on board with the We Connect program."
We Connect today works with five companies in the La Porte area. The nonprofit is supported by fees and grants.
"When we meet with clients, we frame it three ways: One, we're available to help with their employees anything they may need help with. Period," Jackie Dermody said. "There's a multitude of things we can help them with."
Jackie Dermody's background is in criminology. She spent 22 years as a probation officer in La Porte working with both juveniles and adults.
"I've always worked with people having struggles and issues," she said. "People don't often know what is out there and how to get the help that they need."
Tom Dermody is a former Indiana state representative and now a Republican candidate for mayor of La Porte.
The Dermodys operated SevenOKs, a small manufacturing firm in La Porte for seven years, which made insulated food delivery bags. The company employed 47 people until Sterno bought it in 2017.
Courtney Parthun assists the Dermodys in their mission. She worked for the couple's manufacturing operation in human resources from 2013 until April 2018 for the new owner. Then she joined We Connect as a paid employee.
Jackie Dermody said sometimes clients just need help finding training or assisting people to better understand their employer's benefits package.
"We're here to help (clients) with issues they are experiencing but also assist (people) if they want to skill-up, go back to school, get more education, help them navigate their employee handbook, their benefits," she said. "A lot of times people don't know what is available to them through their work."
While both Tom and Jackie believe in the mission of the organization, Jackie said, if her husband wins the La Porte mayoral election, he will step down from We Connect. Neither are paid by the organization.
"Tom and I both feel the mission of We Connect is important to our community," Jackie said. "We recognize the struggle employers are having when it comes to keeping employees working.
"Our goal has been to create an organization that helps create and maintain a sound workforce for employers in our community."
Click here to read more from the Aug-Sep 2019 issue of Northwest Indiana Business Magazine.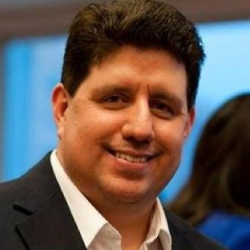 Latest posts by Michael Puente
(see all)