Chambers offer support, friendship to build community, climate for success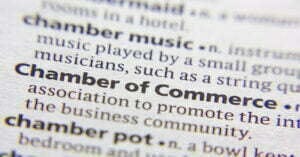 History shows that businesses and their leaders have banded together since the beginning of commercial activity. Codes, to govern trade and influence government, go back to at least the 17th century.
Today, chambers of commerce continue to play a critical role locally, regionally, statewide and federally. In Northwest Indiana, there are 17 local chambers serving communities from Lake, Porter, Jasper and La Porte counties. Members of the Northwest Indiana Chamber Executives Association meet to share best practices and enrich the chamber ecosystem, ultimately making Indiana's economy stronger.
Chamber members include businesses of all sizes, from Fortune 500 companies to home-based, one-person operations. In fact, the largest percentage of the U.S. Chamber of Commerce's membership is made up of companies with fewer than 100 employees.
There is not a "one-size-fits-all" approach to chambers, and each chamber is uniquely designed to meet the needs of its business community.
Despite that, there are some traditional activities that most chambers embrace. For example, chambers are known to be the "voice of business." Businesses coming together to educate lawmakers on what is or is not needed from a regulatory or tax policy can be very powerful. Businesses of all sizes are the engine for jobs and prosperity. A friendly business climate will enhance Indiana's competitiveness, and in large part, a business-friendly climate happens based on the intel legislators receive from chamber members.
Striving to help business and positively impact communities, many chambers execute initiatives focused on issues such as workforce development, housing and transportation. Others may offer visitor development services, public relations, retail promotions and economic development.
Businesses need workers, and talent attraction often comes down to what an area offers from a quality-of-life standpoint. Chambers can work collaboratively with decision makers, subject matter experts and other organizations to focus on placemaking. Tackling obstacles for business success will grow the economy.
Chambers may be best known for the events hosted to facilitate networking. Chambers provide members with opportunities to meet other professionals as well as to frequent venues they otherwise might not visit. Signature events, awards recognitions and golf tournaments are some of the enjoyable ways to see friends and meet new contacts and potential customers.
As with anything in life, you get out of chamber membership what you put in. Generally, chambers offer opportunities to lead or serve on committees.
For example, there can be a real sense of reward by being part of a group interfacing with leaders in education, helping to communicate the skills needed in certain fields for the jobs of today and tomorrow. Specialized sector committees, such as a "manufacturing committee," allow for the exchange of industry ideas but also can create supply chain opportunities. A professional staff is employed to assist committee members and work closely with the members to ensure the goals of each committee are met.
The executive committee is charged with leading the chamber. Terms and officers vary and are outlined in a chamber's bylaws. A chamber's board will be listed on its website and is a "who's who" of that geographic footprint.
Chamber executives delight in being told that a business transaction has been secured because of the chamber network. Lifelong friendships often develop between chamber members. It is more than a social club. Chambers are the heartbeat of the business community and the best place to join to support business enterprises.
As stated by the World Chambers Federation, "Chambers are still the most important type of multi-sectorial business organizations in the world."
The chambers
Learn more about the 17 members of the Northwest Indiana Chamber Executives Association:
Cedar Lake Chamber of Commerce
7925 Lake Shore Drive, Cedar Lake, IN 46303
Diana Jostes, Executive Director
(219) 374-6157
www.cedarlakechamber.com
Email: cedarlakechamberofcommerce@gmail.com
Crossroads Regional Chamber of Commerce
440 W. 84th Drive, Merrillville, IN 46410
Deann Patena, President and CEO
(219) 769-8180
www.crossroadschamber.org
Email: deann@crossroadschamber.org
DeMotte Chamber of Commerce
327 N. Halleck St., DeMotte, IN 46310
Diva Rish, Executive Director
(219) 987-5800
www.demottechamber.org
Email: info@demottechamber.org
Duneland Chamber of Commerce
220 Broadway, Chesterton, IN 46304
Maura Mundell, President
(219) 926-5513
www.dunelandchamber.org
Email: maura@dunelandchamber.org
Gary Chamber of Commerce
504 Broadway, Suite 328, Gary, IN 46402
Charles (Chuck) Hughes, Chairman
(219) 885-7407
www.garychamber.com
Email: chughes@garychamber.com
HighlandGriffith Chamber of Commerce
8536 Kennedy Ave., Highland, IN 46322
Lance Ryskamp, Executive Director
(219) 923-3666
www.highlandgriffithchamber.com
Email: info@hgchamber.org
Hobart Chamber of Commerce
1001 Lillian St., Hobart, IN 46342
Jason Harrigan, Executive Director
(219) 942-5774
www.hobartchamber.com
Email: executivedirector@hobartchamber.com
Lakeshore Chamber of Commerce
7120 Indianapolis Blvd., Hammond, IN 46324
Dave Ryan, Executive Director
(219) 931-1000
www.lakeshorechamber.com
Email: dryan@lakeshorechamber.com
La Porte Economic Advancement Partnership
605 Michigan Ave., La Porte, IN 46350
Mike Riehle, President of Business Services
(219) 324-8584, Cell: (219) 575-2038
www.laportepartnership.com
Email: miker@laportepartnership.com
Lowell Chamber of Commerce
428 E. Commercial Ave., Lowell, IN 46356
Nancy Frigo, President
(219) 696-0231
lowellinchamber.co
Email: sec@lowellinchamber.com
Michigan City Chamber of Commerce
200 E. Michigan Blvd., Michigan City, IN 46360
Katie Eaton, President
(219) 874-6221
www.michigancitychamber.com
Email: info@mcachamber.com
Munster Chamber of Commerce
1005 Ridge Road, Munster, IN 46321
Karen Mashura, Executive Director
(219) 836-5549
www.munsterchamber.org
Email: info@chambermunster.org
Greater Portage Chamber of Commerce
6340 E. Main St., Portage, IN 46368
Nancy Simpson, Executive Director
(219) 762-3300
www.portageinchamber.com
Email: nsimpson@portageinchamber.com
Schererville Chamber of Commerce
122 E. Joliet St., Schererville, IN 46375
Nicole Kelly, Executive Director
(219) 322-5412
scherervillechamber.com
Email: scherervillechamberin@gmail.com
St. John-Dyer Chamber of Commerce
9495 Keilman St., St. John, IN 46373
Cindy Sues, Office Manager
(219) 365-4686
www.stjohndyerchamber.com
Email: office@stjohndyerchamber.com
Valparaiso Chamber of Commerce
162 W. Lincolnway, Valparaiso, IN 46383
(219) 462-1105
Rex Richards, President
www.valpochamber.org
Email: rex@valpochamber.org
Whiting-Robertsdale Chamber of Commerce
1417 119th St., Whiting, IN 46394
Jenn Gunter Peddycord, Chamber Manager
(219) 659-0292
www.wrchamber.com
Email: jpeddycord@wrchamber.com
This article was provided in collaboration with the 17 member organizations of the Northwest Indiana Chamber Executives.