More jobs, increased demand for services behind health care sector building boom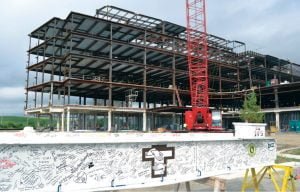 Consistent growth in the health care industry remains a bright spot in Northwest Indiana's economy.
Since the Great Recession, health care is one of two sectors of industry that has been performing well in the Region, said Micah Pollak, associate professor of economics in the school of business at Indiana University Northwest. The other is the lower-paying retail sector, including food service.
From 2015 to 2019, health care and social assistance was the fastest-growing sector in Northwest Indiana in terms of employment. It created 2,654 new jobs or about half of all new jobs added in the Region during that time, according to the Bureau of Labor Statistics.
"It is also a sector that pays really well," Pollak said. The average income for those jobs was $50,000, which is better pay than the retail and food service jobs created.
Within the health care sector, ambulatory services were the fastest-single-growing industry, creating about a quarter of all new jobs in Northwest Indiana during that four-year span. Ambulatory health care services include facilities such as labs, diagnostic centers, doctor and dentist offices, urgent care centers and other facilities that do not provide overnight stays.
Building boom
For many years, health care services meant a doctor's office visit or a trip to the hospital to obtain necessary services such as blood draws, diagnostics and procedures, Pollak said. The development of urgent care centers gives consumers the option to have minor issues treated without a visit to the emergency room. Urgent care centers also serve as doctor's offices when waits for immediate needs like a flu visit are days long or services are needed after hours.
According to the Northwest Indiana 2019 State of the Market Report compiled by the Bradley Co., which provides real estate market analysis, the health care industry continues to play a vital role in the Northwest Indiana office market.
Health systems such as Franciscan Alliance, Community Healthcare System, Methodist Hospitals and La Porte Health, among others, are behind the growth with renovations to existing facilities, new construction and specialty facilities. The construction of a 115,0000-square-foot specialized stroke and rehabilitation hospital in Crown Point, as well as an increase in assisted living and nursing facilities, will spur further growth in the sector.
The development will cause a ripple effect within other health care-related companies throughout the Region.
"In addition, expect to see medical office users compete for space proximal to these new developments," the Bradley report stated.
Construction throughout the Region reflects that growth. Urgent care centers and medical office centers have been popping up in communities throughout the Region, offering convenience and cost-effective care.
Franciscan Alliance has made urgent care inroads in many communities with facilities in Crown Point, Michigan City, Munster, Portage and Valparaiso. Its newest facilities opened last year in St. John and Hobart.
In July 2016, Methodist Hospitals opened the system's first urgent care facility, Methodist CareFirst in Crown Point, in the city's Sportsplex complex. The facility focuses on sports-related injuries but serves all urgent care needs.
Community Healthcare System opened Community Immediate Care Munster in January 2019. Community's first immediate care center opened in early 2002 at the St. John Outpatient Center on Wicker Avenue in St. John.

"The goal is to let patients have access to the care they need at the appropriate level," said Ashley Dickinson, CEO of La Porte and Starke hospitals.
A new primary care/urgent care facility is slated to open in May at NewPorte Landing in La Porte. A new medical office building attached to the new La Porte Hospital is scheduled to open mid-2021. In 2019, physician officers and an urgent care were added during renovations to LifeWorks in Michigan City.
Pollak, the economist, said new hospital construction also represents part of the building boom, but not necessarily an increase in jobs. Ambulatory centers are boosting the Region's job count. About 687 new jobs added in Lake County were attributed to hospitals. Residential care facilities added another 245 jobs since 2015. Ambulatory care centers represented 1,784 new jobs in the four-year span.
Several factors are driving the building booms. As baby boomers age, the need for facilities like doctor's offices and diagnostic centers increases. "We have a very older demographic," Pollak said.
The Region, due in part to its location just outside a major metropolitan area like Chicago, is stable and even growing a little bit, he said.
Hospitals for new era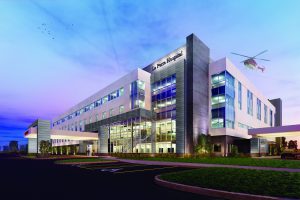 Dickinson said her system is on pace to complete construction of a new replacement hospital in La Porte later this year. The facility is two blocks west of the existing 50-year-old site, and will provide consumers and medical professionals with a state-of-the-art hospital. The construction reflects how health care has changed over the years.
"Really, when this hospital was built, it was very much built toward in-patient focus," Dickinson said. Today much more of health care is moving to an outpatient model, she said. Patients who in the past would be spending days in the hospital for a joint replacement procedure often now go home the same day.
"It's just how health care has evolved," Dickinson said. "We have designed the new facility to be very patient-centric."
Lab areas for blood draws and testing in the new hospital will be easily accessible from a central location near the entrances. The existing facility requires people to walk a maze of corridors to find the labs' tucked-away location.
The system has numerous projects in the pipeline to meet consumer demand and the changing face of health care. A long-range plan for the facility is in place.
"We have our sights set on some new markets," Dickinson said.
Dickinson said shifts in population, particularly with people moving into Northwest Indiana from other areas, is helping to fuel the system's growth plans. The system also wants to ensure it is prepared for the portions of the population that are aging and may need more care.
"I think it is going to be a more convenient system for them," she said. "It really goes back to the way we designed it."
Dickinson said her system wants patients to have improved access to medical services.
"Really our focus is to make it more convenient," Dickinson said.
Franciscan Alliance also has seen its stake in the Region's health care marketplace rise. Franciscan Health Michigan City hospital opened in January 2019.
In February, Franciscan Health dedicated the new location for the Franciscan Physician Network Crown Point Pediatric Health Center.
The $3 million replacement facility opened next to the Franciscan Health St. Clare Health Clinic Crown Point on Indiana Avenue. The new facility has 10,250 square feet with 18 exam rooms and child-friendly finishes. It is 3,750 square feet larger than the former location.
Work continues at the new Franciscan Beacon Hospital in La Porte, which is expected to open this year. The $21.6 million facility is the result of a 2018 partnership between Franciscan Health and Beacon Health. Work will increase the size of the existing facility from 900 square feet to 28,000 square feet. The hospital will feature a full-service 10-bed emergency department, eight inpatient beds, laboratory services, telehealth connectivity and state-of-the art imaging and diagnostic equipment.
Methodist Hospitals in 2017 completed a $12.1 million investment at the Northlake Campus in Gary that included the renovation of the emergency room and an existing intensive care unit to create a surgical/trauma ICU. The investment was part of $18 million in renovations to its facilities.
Community Healthcare System opened its new $40 million Stroke and Rehabilitation Center on Broadway Avenue in Crown Point in 2019. The four-story facility is a 129,000-square-foot multispecialty center that features inpatient rehabilitation treatment along with physician practices, outpatient services and immediate care for family health and wellness.
Daniel McCormick, Franciscan Health Crown Point CEO and president, said, as the system develops a plan for caring for patients, it is important to help them access the correct location for their care. A hospital setting will always be the place to go for hyperacute services. Retrofitting old hospitals to function efficiently in providing these serves is both costly and difficult.
"These harsh realities have brought us to the realization that South Lake County requires significant investment in the acute care infrastructure to reset itself for the care of patients into the future," McCormick said.
Franciscan Health is planning a new Crown Point campus for 2023 that will be built to maximize patient access and care delivery in a modern, technology-driven environment, McCormick said. The facility is planned for the southeast corner of Interstate 65 and U.S. 231 and will join the existing Franciscan Health Franciscan Point and University of St. Francis facilities. A groundbreaking has not yet been scheduled.
McCormick said the location will make the site a regional medical center better suited for south Lake County and nearby areas in Porter, Newton and Jasper counties. As part of the project, the USF campus will be doubled and Franciscan Point's ortho ambulatory surgery center will be expanded.
"Beyond a new campus, look for Franciscan to develop multiple sites for primary, urgent and specialty care connected through technology so we can best communicate to patients and each other," he said.
"This planned investment in Northwest Indiana is a testament to our confidence in the future growth of this area," McCormick said.
Click here to read more from the June-July 2020 issue of Northwest Indiana Business Magazine.
Editor's Note: This story has been updated from a previously published version. Community Healthcare System opened Community Immediate Care Munster in January 2019.