Experts say growth in renewable energy shows sustainable innovations no longer passing fad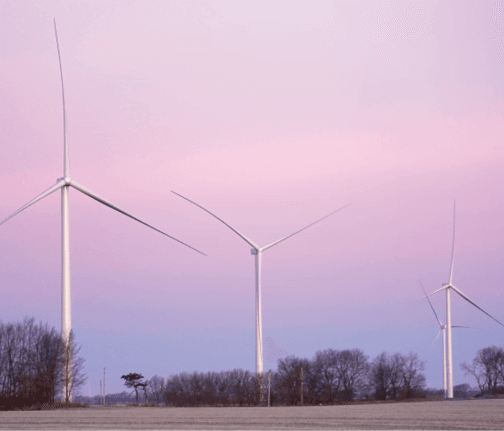 From solar panels to wind farms, the Region's energy sources are bursting with new options. Those solutions are aimed at creating the energy we use every day — from lighting warehouses to running factory machines — in a way that can be maintained for years to come.
Options such as solar and wind energy are praised for releasing low emissions while not depleting limited natural resources such as oil.
Wind- and solar-generated energy are the industry's fastest-growing renewable sources, with acres of windmills built on farm property and solar panels installed everywhere from businesses to residential homes. Even so, those two sectors contribute less than 5% of the total energy used in the U.S. Nearly 80% still comes from fossil fuels, according to the Center for Sustainable Systems at the University of Michigan.
As the renewable energy sector grows, opportunities for companies to be at the forefront of green initiatives will gain speed as well. For both today's incentives and tomorrow's planning, green alternatives are ripe with opportunity.
As relatively new technology, however, green solutions are more expensive than their traditional counterparts. That's why tax credits and renewable energy incentives are becoming more popular to encourage green solutions and help renewable energy become more cost effective.

"Most U.S. consumers would like to participate in a greener economy, but we have few practical options apart from solar panels and electric vehicles," said Terry Murphy, president and chief executive officer of battery industry supplier Hammond Group. "Unless these options attract government subsidies, they don't really offer cost savings."
For now, however, those subsidies have attracted the attention of some of the country's biggest corporations. Google, Microsoft and Walmart are all renewable energy consumers. Their models for green energy have set the stage for Northwest Indiana businesses to follow as well.
Industry growth
Fossil fuels such as oil, coal and natural gas have long been the most cost-effective and easiest ways to provide energy to the modern world.
They do, however, have significant downsides. To start, the Earth has a finite amount of each resource, and eventually they will be depleted. Also, mining and burning these resources can damage other parts of the Earth's ecosystem, including mountains, water sources and air supply.
That's where a push for renewable energy such as wind and solar comes in. At present, less than 10% of energy comes from renewable sources.
However, 74% of Indiana residents want to see that number increase, according to a recent survey by Audubon Great Lakes. Nearly 80% of voters in that poll identify climate change as a threat.
To that end, Northern Indiana Public Service Company has major efforts underway to transition toward renewable energy. The company has more than 821,000 natural gas customers and 468,000 electric customers across northern Indiana.
It is pushing for a mix of sources that will include a greater share of solar energy in the coming years.
"Our plan will result in generating cleaner, lower-cost energy," said Fred Gomos, NIPSCO's director of strategy and risk integration. "Our plan, in turn, makes Indiana more economically competitive from an energy affordability standpoint."

To that end, NIPSCO is constructing the Dunns Bridge Solar Project in Jasper County. The 5,000-acre site will host enough solar panels to generate up to 700 megawatts of energy.
"NIPSCO's electric generation transition is delivering, and will continue to deliver, significant economic benefits to the state," Gomos said, adding that the Dunns Bridge Project alone is generating $59 million in tax revenue and 300 construction jobs for Jasper County.
In fact, job demand for the project has been so great that IBEW Local 531 has added a "helper" classification. While journeymen and linemen shoulder the most skilled jobs at the Dunns Bridge site, helpers step in to handle smaller tasks while still gaining union benefits such as competitive wages and pensions. It's an ideal step into a trade career and apprenticeship.
"For us, this allowed us to further reach into our community with more career opportunities," said Jim Clarida, business manager of IBEW Local 531.
Even once the Dunns Bridge project is complete, Clarida anticipates new solar projects will keep his workers busy in the future. He also foresees a need for workers to do maintenance at these solar facilities, fixing panels damaged by weather or animals.
That's good news for union members, many of whom will lose maintenance jobs at electrical plants that will close as they are replaced by solar facilities.
"We're hoping as this project gets toward completion, we will be able to move more people to other projects," he said.
Benefits for business
Although green energy has been less affordable in the past, efforts by the government and incentives from energy suppliers are making it a better fiscal choice moving forward.
The U.S. Department of Energy is focused on reducing the price of solar energy by 50% by 2030. It is tackling that issue through research aimed at improving solar technology performance so that it can become a larger and more reliable part of the U.S. energy grid. Likewise, the untapped potential for wind energy is so great that federal tax benefits for wind farms were bolstered in 2020.
By 2050, the federal government is aiming to have solar energy meet 33% and wind energy meet 35% of U.S. energy demand.
Within the state, NIPSCO has developed a range of business-friendly incentives aimed at moving companies toward renewable resources while making the state a more attractive place to set up shop. It is one of about 850 utilities nationwide that offers the option to purchase renewable energy.
The company's Excess Distributed Generation Tariff began Jan. 1, and allows businesses to use their own solar, wind, hydro or biomass system to offset their individual use.

"If the customer generates more than what they need, they will receive a dollar credit that is able to be carried over to the following month," said Kevin Kirkham, manager of new business.
Not every business has the capital to make a renewable energy investment of that size, however. Those companies can enroll in NIPSCO's Green Power Program. About 1,500 NIPSCO customers pay an upcharge to participate in that program. It allows them to market their goods as produced with renewable energy resources.
"Customers may designate a portion or all of their monthly electric usage to come from power generated by renewable energy resources, such as solar and wind," Kirkham explained.
The Prescriptive Incentive Program offers incentives to business customers who make energy-efficient improvements.
"The program rewards customers when they replace costly, less efficient systems with high efficiency equipment on a one-for-one basis — this can include lighting products, space heating systems and controls, steam trap repair, replacement and boiler burner controls," said Ryan Tedeschi, manager of demand side management programs.
Steel industry leader Cleveland-Cliffs has spent the better part of the past decade researching ways to capture energy that comes from their regular production processes. Companywide, Cleveland-Cliffs intends to reduce carbon emissions from its plants by 25% from 2017 to 2030.
Having purchased two local factories in 2020 — Burns Harbor and Indiana Harbor — the company is working to implement energy improvements at those sites as well.
"We have some pretty aggressive initiatives underway," said Traci Forrester, the company's executive vice president of environment and sustainability. "Cleveland-Cliffs has a long history of respecting our environment and the communities we serve. We took over these steel mills, and we want to do it better."

At Burns Harbor, the company is implementing a project that will capture byproduct gases coming from their blast furnace and coke oven processes. They will turn them back into reusable fuel for steam and energy used at the plant.
The goal is to eventually meet a full 75% of the plant's electricity needs in this way.
It also will reduce the company's carbon footprint and help in the fight against climate change.
"It's a recycling and repurposing of our energy," Forrester said. "We can capture byproduct fuels before their final emission."
Obstacles to overcome
With the advent of a new generation of green energy, companies are closing their older coal mines and the environmental damages that come along with them.
So, could fossil fuels soon be a thing of the past?
Not so fast, energy experts say. NIPSCO sees energy source diversification as a critical component moving forward. In addition to its major solar investment, the provider intends to continue use of its natural gas generation station, Sugar Creek, with improved production.
"Because most of the nation's energy grid is interconnected, energy providers have the flexibility to draw on power from outside our service area, even other nearby states, to serve customers when needed," NIPSCO's Gomos said. "There is ample power available, leveraging our robust and interconnected transmission system."
For all its benefits, however, renewable energy still faces a significant obstacle: storage.
The sun doesn't shine at night, so how can a factory run its third shift solely on solar power? What does a wind-powered laboratory do for power on a calm day?
"Meaningful cost savings from green energy will depend on our ability to store energy from intermittent wind and solar power, and capturing any otherwise wasted baseload energy," said Hammond Group's Murphy.
The answer, of course, is battery storage. That's where Hammond Group steps in. A Northwest Indiana chemical company that serves the battery industry, Hammond Group sees reusable lead batteries as a key step toward economical and accessible renewable energy.
"One-hundred percent recyclable lead batteries could provide economic and sustainable grid-level energy storage, and contribute the single biggest way to reduce CO2 emissions," Murphy explained.
At Hammond Group, "we don't make lead batteries. We make them better by increasing performance and extending useful life through our proprietary products."
Murphy said his company sees a bright future for batteries of all types, sizes and chemistries.
Murphy warns against the solar and wind industries growing too quickly for its storage technology, a scenario he sees costing consumers more in the long run.
"Without adequate storage, the grid could become unstable and inflict outages and exorbitant price increases," he said. "While we don't necessarily need more energy options, we do need energy storage. Large scale, long duration energy storage will be critical for consumers."
Click here to read more from the April-May 2022 issue of Northwest Indiana Business Magazine.

Latest posts by Elizabeth Davies
(see all)