Region's businesses gain access to world's marketplace with help from Northwest Indiana resources
But the thought of going international was intimidating to bNutty business partners Carol Podolak and Joy Thompkins.
"We were nervous about it," Podolak said. "Exporting is a lot to figure out."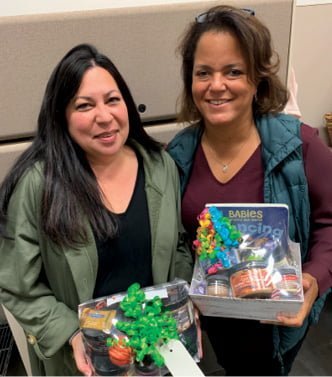 The duo found help through the state's Export Indiana Accelerator Program, one of many services available to Northwest Indiana businesses interested in exporting and global sales. After completing the program's 12-week training, Podolak feels better prepared to sell globally.
"Prepare to move, because when they get ready to work with you, they actually work," she said. "It's very results-oriented."
Lorri Feldt, regional director of the Northwest Indiana Small Business Development Center, whose office houses the Region's branch of the program, is optimistic for bNutty and wants other locally made products to reach similar world markets.
"That drives me crazy when people say nothing's made in Northwest Indiana anymore," Feldt said.
Assistance available
Purdue University Northwest Chancellor Thomas Keon has taken on the cause of world trade.
The Northwest Indiana World Trade Alliance, like many groups in Northwest Indiana, was moving along without a lot of support and without a lot of direction, he said. Some PNW staff have been added to the board, and the group is considering a new name focusing on global trade as opposed to world trade.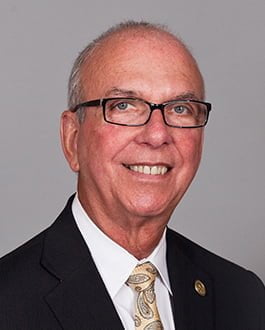 Keon is excited about the reboot of the organization.
"Although I think a number of our major companies are well aware and are already exporting around the world, many of the others who have companies and businesses around Northwest Indiana may have little knowledge or experience in working with international markets," Keon said.
"I think we really need to be focusing more on the future and getting information to businesses in Northwest Indiana," he said.
Colleen Hickman teaches international business at Indiana University Northwest and is involved with the alliance.
"Ninety-five percent of the world's population lives outside the United States and obviously outside Northwest Indiana," she said.
For many business leaders, the decision to export comes when they find it increasingly challenging to grow domestic sales. Exporting could offer a revenue-boosting solution.
Podolak credits the Export Indiana Accelerator Program with giving them the confidence and know-how to sell internationally.
"We weren't prepared for the amount of help we got," she said. "Their intentions are to have you walk away comfortable with exporting your product."
Andrew Reink, who runs the program, does weekly calls and assigns homework to businesses he helps.
Podolak said the program, which is free, was intense, but in the end, the result was she and her partner were more comfortable about exporting. The program assisted with research on price points, shipping, export paperwork and more.
"They make it seem so easy," she said, even though laws and rules differ in every country.
International inquiries
E-commerce opened the global marketplace to most businesses with products and services to sell. Small businesses should not overlook global opportunities, experts said.
"There are still those people out there in other countries that want something from the United States," Hickman said. "They like the idea of what we do here and why we do it."
bNutty has that advantage going for them. Overseas distributors are intrigued by bNutty's offerings, Podolak said. "They've never heard of a pretzel chocolate peanut butter before."
For many worldwide, America represents independence and that kind of innovation, Hickman said.
"You've got (people) that are creating plants and horticulture products or seeds that can be used around the globe," she said.
Artwork and prints are easily sold worldwide, Hickman said. Essences from herbs are popular, too.
Keon doesn't believe people today are as concerned about the origins of a product or service.
For example, he said, efficiencies can be made in the simplest of solutions, such as which time zone work is done. Ten years ago, Keon worked closely with accounting firms in Florida whose clients sent data by a certain time. That data then was sent to Indiana — a different time zone, of course. Accountants here would work on it during their regular hours and return a finished product in time for the next morning in Florida.
The big difference in time zones made a big difference in terms of expediency.
Point A to point B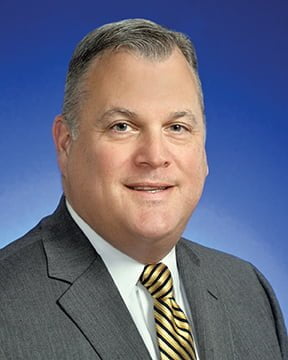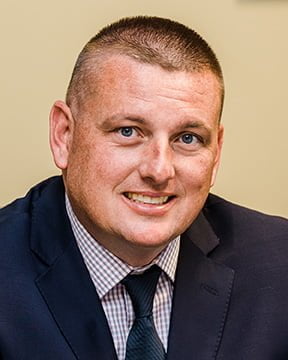 When it comes time to shipping products overseas, Northwest Indiana has two major intermodal shipping facilities ready to help — the international Port of Indiana-Burns Harbor in Portage and Gary/Chicago International Airport.
"Indiana's ports offer a unique value proposition for steel companies because of their transportation connections, proximity to the country's largest steel-producing region and access to ocean shipments in the U.S. Midwest," Ports of Indiana CEO Vanta Coda said.
Of the 30 companies at the Portage port, more than half are members of the steel industry's supply chain. But there are valuable assets ready to serve other industries as well.
"Our primary cargo is steel or steel manufacturing, agriculture, grain and energy," Coda said. "Customers use our value-added services on site, and then most products are sold within a certain geographical area."
The Port of Indiana-Burns Harbor boasts the capability of unloading cargo of any shape, size and weight, 365 days a year. The 600-acre facility is capable of loading and unloading trucks, rail cars, barges and ships.
With ocean access to two of the largest inland waterways, transcontinental interstate access, a robust railway system and modern maritime infrastructure, the port aims to give companies a strong competitive advantage.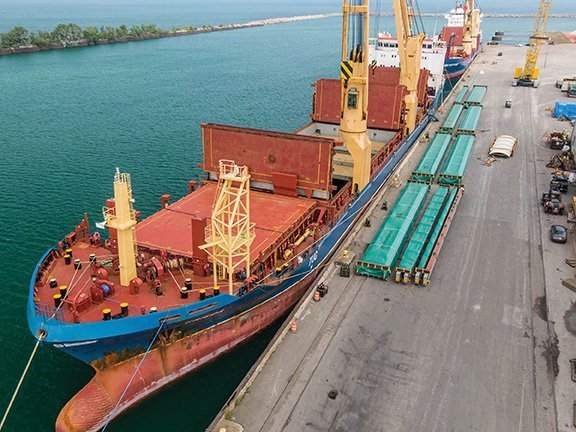 "In 2020 alone, Ports of Indiana-Burns Harbor handled 2,265,785 tons of cargo," Port Director Ryan McCoy said. "Project cargo accounted for 58,267 tons (about 2,500 units) and more than half a million cubic meters of wind components and heavy-lift project cargoes, (so) it was a good year, and we anticipate 2021 to be even better."
The port's annual cargo traffic is typically 450 barges, 75 ships, 325,000 trucks and 10,000 rail cars. There is room to grow at the Burns Harbor port with more than 100 acres of land ready to develop.
"The largest parcel is a 57-acre greenfield site with 1,000 feet of dock wall and beach frontage on Lake Michigan," McCoy said. "A key advantage to developing at our ports is that infrastructure is already in place with land prepped and ready for investment."
Like its counterparts on the Ohio River, the Port of Indiana-Burns Harbor is foreign trade zone certified. Companies can use special procedures to reduce, delay or eliminate duty payments on foreign merchandise.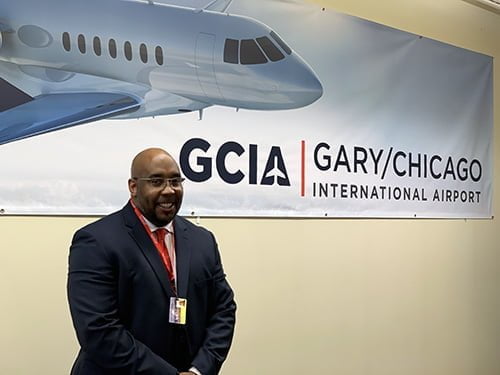 The port has handled some unusual cargo, including two giant rubber-tire gantry cranes for the CSX Intermodal Terminals facility in Chicago, wind turbine blades 74-meters long and parts as large as 600,000 pounds and 100 feet long for the Indeck Niles Energy Center in Michigan. Parts for the $1 billion power plant were among the largest shipments in the port's 50-year history.
Gary/Chicago International Airport also can assist exporters.
"I think Gary/Chicago International Airport has the best partners to be competitive post-COVID," said Charles Sweet, airport manager.
Duane Hayden, executive director of the Gary airport said, "We do a lot more cargo than people know." The airport's main runway is longer than the longest runway at Midway International Airport, strengthening the claim to being Chicago's third major airport. Corporate and general aviation traffic has long been a strength for the airport, but air cargo has become more robust.
A U.S. Customs and Border Protection facility opened at the airport in 2018, and UPS signed a long-term lease at the airport in 2020, Hayden said.

For all the talk about attracting regularly scheduled passenger service to the airport, Gary remains a busy place.
"You don't need an airline to be a key economic engine," Hayden said. Factor in support jobs, tenants' staffs, contractors, vendors and service providers, and the airport is a major job creator.
"We're targeting air cargo and ground logistics" in the airport's master plan, he said. That brings economic staying power to the airport.
"For logistics, we were a huge staging point for the pandemic," Hayden said. Products continued to ship to meet customer demands.
"We're constantly doing outreach and workforce development for logistics," he said.
A 60-acre air cargo complex is in the airport's master plan for future development, and Hayden is hoping for some important announcements before the end of the year.
The airport also is working on its ability to handle larger planes.
"Bigger planes are starting to land here" because of the runway expansion. "We're constantly upgrading the infrastructure," Hayden said.
Hayden is eager to assist companies with global trade, including offering the benefits of a foreign trade zone. "That opportunity for international freight is huge," he said.
Expert sources
For companies looking to export goods or services globally, Keon hopes the evolution of the Northwest Indiana World Trade Alliance will be helpful.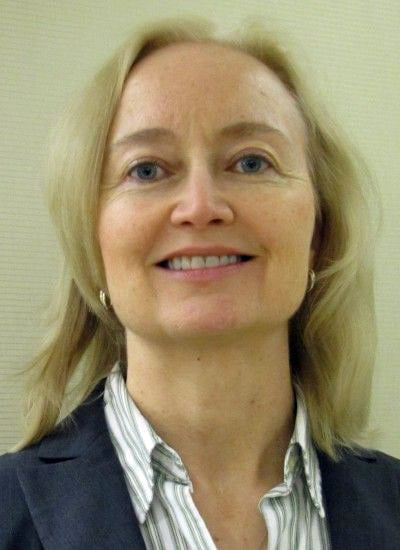 "There's actually a tremendous amount of data available as well as expertise available," he said.
Feldt said the Export-Import Bank of the United States can be useful in protecting companies that need additional security as they begin serving the global marketplace.
"Very small businesses are doing this," she said. Some have lost money when conducting business overseas, but expert advice can steer companies accordingly.
Feldt suggested getting some experts on your side, from your bank to the Department of Commerce and others. "There are some resources available," she said.
Hickman said shippers also can be helpful.
"UPS, FedEx, DHL, all of these logistics firms have exporting toolkits that really detail what is needed (and) how they can help," she said.
Click here to read more from the August-September 2021 issue of Northwest Indiana Business Magazine.