Chesterton's Circles in the Wind serves as outlet for Indiana Amish hand-built creations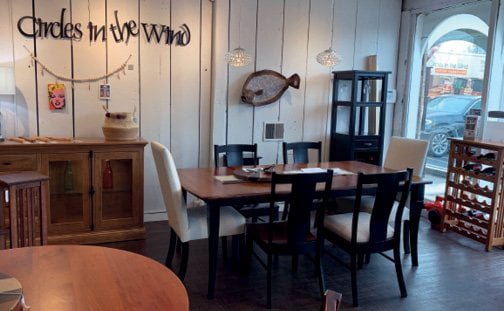 Going from the electronics business to working with Amish craftsmen is quite a switch, but it has worked out well for Steve Beigle, who owns Circles in the Wind.
The furniture store sells made-to-order furniture produced by Amish carpenters in northern Indiana.
Beigle said he was the Midwest sales and marketing director for a Fortune 500 company and needed to jump off the fast lane.
In 2016, his file cabinet fell apart, so he sought a replacement. He found what he was looking for and more.

"Let's buy the store," his wife said.
On Jan. 3, 2017, he opened Circles in the Wind at 206D Calumet Road, Chesterton, to sell furniture that is expected to last for generations.
When customers walk into the store, they're greeted by a dog wagging its tail as well as a human's friendly "hello." Beigle said he won't pressure shoppers; he just answers any questions they might have.
"We don't sell anybody anything," he said. "We help them find pieces that make their house what they want it to be."
The store ships furniture around the U.S.
"Our business grew 40% last year because of COVID-19," Beigle said. "Dining room tables and chairs are selling like hotcakes.
People who are choosing not to venture out want a nice home to stay in, he said.
"We have so many people working from home now," of course, so sturdy, efficient desks and comfortable chairs are in demand, he said.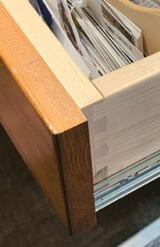 Beigle recently talked about Amish craftsmanship with a customer. He pulled out a desk drawer, described how it was balanced well and easily glided in and out and pointed to the sides of the drawer, noting they were an inch thick.
At Circles in the Wind, customers choose their favorite style or design, the type of wood they want and a custom stain for their furniture. The furniture is generally ready in six to eight weeks.
Heirloom-quality furniture made especially for a customer can take longer.
Reaching the Amish shop can take time, too.
"Sometimes it takes me three or four days to get ahold of them," Beigle said.
He picks up orders himself, chatting with his suppliers and often being invited to stay for supper.
LaVern Beechy, of L.A.M.B. Woodworking in Shipshewana, describes Beigle as a good customer. "He's good to deal with."
"He does whatever it takes to please the customer," Beechy said.
Beechy's shop specializes in office furniture and occasional tables.
"We use all hardwood, solid wood, except maybe a back panel on a bookcase," Beechy said. "It's done by hand. We pay attention to detail."
It is furniture that will be around for the next generation, he said.
Circles in the Wind customer Sandy Oseguera of Portage knows that to be true.
"My daughter's already put in dibs on (a) chair (I bought from the store)," she said.
But Oseguera is in no hurry to part with it.
"It's my favorite chair. I sit in it probably five, six hours a day," she said.
Her introduction to Circles in the Wind began when she and her husband were doing extensive remodeling.
"We totally remodeled our house in Crown Point, and we were looking for a specific table and chairs," she said.
After visiting several stores, she was frustrated. "Then I thought I could just have one custom made."
She saw a roadside ad on Indiana State Road 49 for Circles in the Wind.
"Just for grins and giggles, we went over there, walked in, and bought a table and five chairs."
It was a perfect fit for their remodeled kitchen.
When Oseguera and her husband moved to Portage, a desk was broken in the process. Circles in the Wind and one of its Amish craftsmen solved that problem.
Some stores sell furniture that is covered with laminate or low-quality veneer, she said. That is not the case at Circles in the Wind.
"You have to wait for custom-made furniture, but so be it," she said. "It's well worth the wait."
Click here to read more from the April / May 2021 issue of Northwest Indiana Business Magazine.