Region entrepreneurs find niche entertaining youths and adults
It's a noisy path to Patricia Sidener's office at the back of her Griffith gastropub.
Bells and buzzers beep in the background while loudly playing music fills in any potential void in the cacophony as you walk past the rows of video games and pinball machines that line the walls and open spaces in Twincade.
It is a nontraditional office for a nontraditional business where adults and children alike come and play the various arcade games, grab a bite to eat and a beverage. The all-ages gastropub turns 21 and older at 9 p.m., and the arcade games, once viewed as a youthful outlet, draw young and old alike, which keeps Sidener and her staff busy.
"I wanted to create an atmosphere," she said. It was important the venue was some place she was comfortable and that would be inviting to people of all ages. She was hoping to replicate the vibe of similar businesses in Chicago and New York.
Visitors from youngsters to 80-year-olds have made their way to Twincade since it opened two years ago. Sidener is still surprised that she is running a business that caters to people playing.
Sidener is among a growing sector of entrepreneurs who are cashing in on parents' desire to find fun activities for their kids that they can enjoy as well—possibly fuel that grown-up desire to recapture a piece of childhood. Meanwhile, they get to participate in more interactive opportunities to make the most of their entertainment dollars.
People regardless of age like to play for many reasons, according to a recent Washington Post report, where Lynn Barnett, a professor of recreation, sports and tourism at the University of Illinois at Urbana-Champaign, said one theory is people play because play is therapeutic. In studies, including one conducted by Barnett, play at work has been shown to have the benefit of improving employee performance and job satisfaction, while play at home can enhance bonding and communication, she said.
A different career path
Laura Bayne, manager of Edge Adventures-Deep River Park in Crown Point, says she never really expected her business management degree would lead to working outdoors making a living helping people of all ages play.
"In most management positions, you are working inside. This is different," Bayne said.
The park's busy nature and the company's quick growth bode well for the future of the business. Deep River is the third Edge Adventures park in Indiana. Between 50 and 100 people a day come through the park during the summer season when it is open every day. It takes between 16 and 20 employees to staff the park at its peak. It opens in spring and fall for weekend adventures. There are five different courses for visitors to try. The courses are open to the public and for group and business events.
Bayne said it is the unique nature of the business and the bonding it creates between the people who tackle the different obstacle courses that keep people coming to the park.
"It's a challenge. It's something you normally don't do," Bayne said.
It is also a great bonding experience, she said, especially for businesses who bring their staffs to the park. Helping one another successfully navigate the obstacles is part of what makes the experience one visitors do not soon forget.
"I enjoy enriching people's lives. It is something you're not normally used to doing out there: walking across logs and wooden bridges 20 feet off the ground, and then going back and doing another course because they enjoy it so much," Bayne said.
Finding a niche
Whether people are realizing the therapeutic value of play or they just want to have fun, the business model that started with companies like ShowBiz Pizza Place Inc., in 1977, which changed its name to Chuck E. Cheese in 1998, continues to evolve to offer activities for teens and adults, as well as children. Chuck E. Cheese now operates a system of more than 580 stores in 47 states and 12 foreign countries or territories, according to its website.
Dave & Busters, a restaurant and video game chain catering to adults, followed in its predecessors' footsteps and opened its first location in 1982, according to the company website. Today the company has 118 locations in the U.S. with three more slated to open soon.
Entertainment-based businesses continue to evolve to encompass a growing range of activities. Paintball, go-carts, trampolines and zip-lines are just some of the adventures eager consumers can tap for a good time. Destinations, including the Mascot Hall of Fame in Whiting, take on fun on a larger scale.
Keith Perez is one of those entrepreneurs counting on fun to make a profit. He says he was always into paintball growing up. His enjoyment of the sport continued into adulthood.
The 31-year-old full-time police officer said he always envisioned himself owning a paintball facility one day—his own facility designed with field structures and battle areas where he could turn his hobby into a business for like-minded enthusiasts.
"When I was looking at how costly it was, I realized it was just a pipe dream," Perez said.
That didn't stop him from finding a way to make work out of play. Instead of opening a physical location, Perez has managed to hang on to his full-time job while turning his hobby into a part-time business. Perez said the popularity of the sport was on the upswing with paintball facilities popping up across the country when he stepped into the market in 2012. When he learned about hybrid paintball equipment modified for laser tag, he knew he was on to something.
"You still get the air recoil, you just don't experience the pain and the mess that paintball makes," Perez said. Laser Ball became his niche.
Instead of opening a physical location, Perez said he made his business portable to cater to the growing number of people who want activity-based entertainment and relish convenience.
Growing demand fed a new industry, which created a proliferation of companies offering bounce houses, portable inflatable water slides and other equipment for rent. Once reserved for festivals and public events, equipment was made small enough to be set up in an average-sized residential backyard.
Perez capitalized on the trend. Making his business mobile gives him flexibility to bring the fun to his customers.
"Most people want you to bring the entertainment to them," Perez said. "I would say I am right in the beginning of that new phase, that new era."
Entertainment is business
Speros Batistatos, president and CEO of the South Shore Convention and Visitors Authority, said entertainment-based businesses have a positive impact on lengthening guest stays in the Region and increasing their spending. Whether people come to Northwest Indiana to visit friends and relatives, as leisure travelers or for amateur sporting events, having things to do other than the primary motivation for travel encourages additional spending and overnight stays.
"The Mascot Hall of Fame will be a destination," Batistatos said. Venues like Edge Adventures, Twincade, Jak's Warehouse, Deep River Waterpark, Zao Island and myriad other entertainment-based businesses throughout Northwest Indiana might not be primary destinations, but they play an important role in filling the blanks that round out the South Shore destination for travelers.
"They help us keep that visitor we have longer," Batistatos said. "That's just as important as getting the visitor here."
The proof is in the technology, which has created a travel-savvy consumer, who today, with a little planning, aims to get a bigger bang for his or her traveling dollar. More and more visitors use online resources to plan their trips, look for bargains, tap loyalty programs and make sure their itineraries are packed with activities outside their main reason for visiting the Region, Batistatos said.
Travelers using the South Shore CVA online travel planner "UTrip" round out plans for their stay in the Region. Users find and schedule different activities such as the waterpark, an arcade or zip-lining experience. Visitors to Northwest Indiana have multiple things to do when coming to the South Shore and that helps make a compelling argument on the CVA's website for people to stay those extra days and spend that extra money, he said.
Ancillary businesses that create opportunities to entertain visitors play a vital role in how the CVA sells the Region to certain demographics.
"These are very important small business additions to our portfolio as a destination," Batistatos said.
The popularity of these venues can be seen when amateur sporting events bring in visitors from outside the Region.
"The places are just jammed," he said. "They are an important way for us to extract more visitor spending and help small businesses create additional paychecks and more profit."
Click here to read more from the Dec-Jan-2019 issue of Northwest Indiana Business Magazine.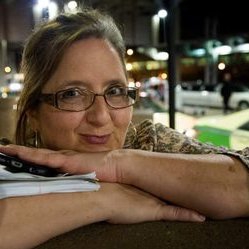 Latest posts by Carrie Napoleon
(see all)