Restaurant owners find unique ways to keep menus fresh, while others just want quality food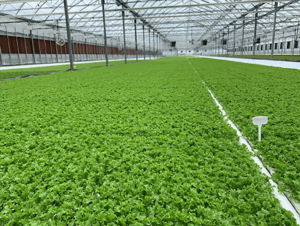 More restaurants across the country are adding farm-to-table dishes to their menus. But some restaurants in the Region are more than ahead of the curve, having embraced the concept for years.
"Twenty years ago, farm-to-table wasn't a term you heard much about," said Chris Bardol of Stop 50 Wood Fired Pizzeria in Michiana Shores. "For us it was about finding fresh and local food. Knowing the area and some farmers helped us to do that without the label."
The concept of farm to table is becoming more mainstream, but it means different things to different people.
"The farm-to-table concept wasn't necessarily where we started," Bardol said.
Chris and Kristy Bardol founded the restaurant in 2006. They own a 22-acre farm where they grow many of the ingredients they use at Stop 50. The couple cultivates tomatoes, asparagus, herbs and fruit, including mulberries for gelato. They make maple syrup and raise chickens to produce eggs for their meatballs. They harvest the oak, applewood and cherry wood on their property to fire their pizza oven.
"We use the land," he said. "Farm-to-table isn't something we do for a living. It's not a label, it's our lifestyle."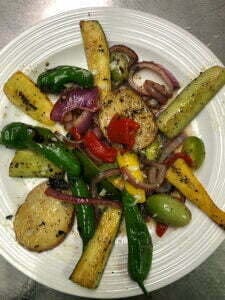 Chef Carlos Rivero, owner of don Quijote Restaurante in Valparaiso, also uses homegrown ingredients. He follows the seasons, planting peas in the spring and tomatoes and squash later on. He raises quail for their eggs and uses their waste as fertilizer. All the vegetables served at the restaurant during the summer come from his farm.
"I was born on a farm and then went into the restaurant business," Rivero said. "Both of those things grew up at the same time into one."
Bardol's and Rivero's farms are minutes from their restaurants. They purchase the ingredients they don't grow, such as walnuts and goat cheese, from local farmers. Their restaurants are the definition of farm to table. There is no middleman.
Anne Massie is the executive board president and grants manager of the Northwest Indiana Food Council in Crown Point. The organization promotes local food security and sustainability. To Massie, farm to table means food is locally sourced.
"It involves farmers who are committed to and embedded in the community. There is transparency in the food that is grown and eaten," she said. "It all comes back to the story about where the food comes from."
Taking root in Indiana
The state of Indiana has long been synonymous with farming. Indiana has 56,649 farms and is one of the largest agricultural exporters in the nation, according to the Indiana State Department of Agriculture.
"Even though we're the 10th-largest farming state in the nation, we're not eating what we grow," Massie said. "98% of the fruits and vegetables Hoosiers eat is imported to the state of Indiana."
To the NWI Food Council, that's a problem — especially when a pandemic hits and the supply chain collapses.
"Local farmers and local food chains picked up the slack," she said. "They were able to fill in, be super nimble and adapt to feed our communities."
As people start to rely more on local food sources, the Region has plenty to offer local communities and larger markets such as Chicago and Indianapolis.
"Indiana has access to some of the best resources," Massie said. "Farm to table offers an incredible opportunity and benefit to urban and rural communities that rely on each other and exist together."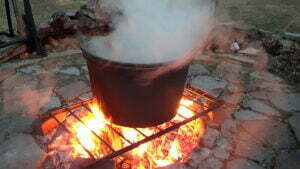 Both Bardol and Rivero have established relationships with nearby farmers to obtain ingredients for their restaurants. Others are trying to help build those types of connections.
In 2021, the NWI Food Council founded Region Roots, a virtual farm store that connects buyers with local farms and producers who roast coffee, bottle artisan sodas and blend herbs for teas. The council picks up the products and delivers them within 24 hours.
Trevor Putt, general manager of Eden Valley Farms in Francisville, participates in the Region Roots program.
"A customer gets food that's been harvested in the morning, picked up in the afternoon and can eat fresh food within 24 hours," Putt said.
A fourth-generation farmer in the county, Putt describes himself as "home grown." His hydroponic farm sells lettuce and herbs to local restaurants and stores across the Midwest. Last year it sold about 500,000 pounds of lettuce and 1.5 million potted herbs.
But much of the Region's produce is trucked in from California and Arizona. By the time it hits the shelves at grocery stores in rural areas, it has a shelf life of about three days.
"Right now, our lettuce is cheaper. It's closer. It lasts longer," Putt said. "It's a no brainer."
According to Chris Bardol, using locally grown food offers big advantages.
"One of the benefits, hands down, is the quality of the product, the quality of what you and I and the customers who come into the restaurant can eat. People taste that difference," he said. "Without even saying what we're doing, the quality aspect speaks."
Seasonal challenges
Running a farm-to-table restaurant presents some difficulties.
"It is a challenge seasonally — literally and figuratively — with the weather and the business," Bardol said.
To obtain fresh ingredients, chefs go farther to get their produce and need to be flexible with their menu offerings. Stop 50 closes for the winter. Rivero imports some ingredients from Spain. Others go with the flow.
"We switch with the seasons, incorporating different items on the menu," said Summer Holman, director of sales and interim marketing manager at Fair Oaks Farm in Fair Oaks.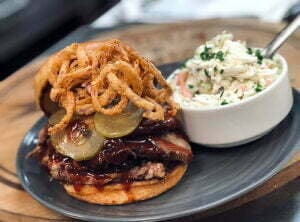 At the Farmhouse Restaurant, they serve dishes that incorporate ingredients from their farm and local farms.
"We work with farmers to see what they have," Holman said. "People are becoming aware this is something you can do in the cold months."
Not having ingredients year round has been a learning curve for customers.
"The hard part was, at the beginning, trying to explain to someone that we don't have tomatoes for a caprese salad in November," Bardol said. "People thought we were idiots because we didn't have tomatoes."
Bardol explained he doesn't buy tomatoes then because they're not good.
"Everyone is so used to getting what we want, wherever and whenever we want it. As much as the missing it is hard, there's the joy we have when it comes back into season," he said. "Absence makes the heart grow fonder."
An evolving industry
Farmers in Indiana are looking beyond traditional farming methods. They're using hydroponics and aeroponics to put fresh food on the table year round. At a hydroponic farm like Eden Valley Farms, Putt skips the soil and grows crops directly in nutrient-rich water.
"It's cost-effective, doesn't require pesticides and is safer because we can control the environment and keep pests out," Putt said. "It's definitely the way of the future."
A vertical farm uses aeroponics. Crops are grown in stacked layers, creating 20-foot-tall columns of plants. The roots of the plants are suspended in the air and irrigated with a nutrient-dense mist.
Both methods are considered Controlled Environment Agriculture (CEA). Conditions such as temperature and humidity are monitored and managed indoors. LED lights deliver the UV rays plants need for photosynthesis.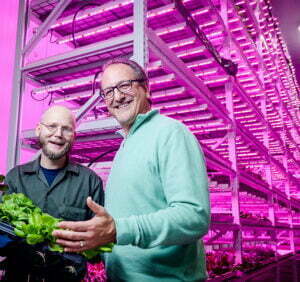 "We think about how we can mimic the natural environment to minimize touch points, and conserve water and energy when designing a controlled indoor environment," said Robert Colangelo, founder of CEA Technology Inc.
Colangelo owned and operated one of the first indoor vertical farms in the country.
"Vertical farming is about 15 years old," he said. "It's the new kid on the block."
Colangelo's company produces the Smart Farm, a hybrid between a greenhouse and vertical farm that is modular, scalable and can produce a high density of crop in a small footprint.
A 320-square-foot vertical farm can produce the equivalent of 2 to 3 acres of crops a year and uses 98% less water, according to Otho Farrow, founder of Metropolis Greens in South Bend. Farrow's vertical farm produces herbs and leafy greens.
Farrow discovered vertical farming when he was living in New York City and working in marketing.
"I was on the J train going from store to store, and I saw these trailers. I got off the train and walked past one of them," Farrow said. "I saw this pink, fuchsia light coming from inside. I thought it was a pop-up party. A woman came out and said it was a farm. I thought this is the most amazing thing in the world, having grown up in farm country."
When Farrow moved back to the Region to be closer to family, he purchased two shipping containers that had been converted into high-tech vertical farms by the company Freight Farms.
He was on to something. Hydroponics and aeroponics allow growers to produce food anywhere in the world, at any time of the year. Both methods are well suited for growing herbs and the greens you'd find in a salad bowl.
The U.S. Department of Agriculture is researching their use to grow other fruits and vegetables.
"The Western states are in a long-term drought," Colangelo said. "This is unsustainable. We need to leverage science and technology to grow local."
Community benefits
The farm-to-table movement in the Region has benefited communities in unexpected ways.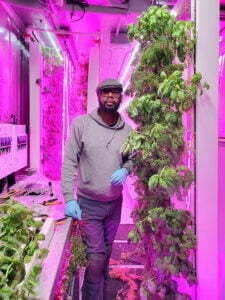 Farrow recently partnered with Navarre Junior High in South Bend. Students will eat, grow and sell the produce they grow. They will learn about the latest agricultural technology.
"I can control the temperature, air flow and humidity of the farm from my phone — and the kids are learning this," Farrow said.
Putt sees his farm as an investment in his community's future.
"One of the reasons we wanted to build the farm is that we are a small rural community, and our population is declining," he said. "We wanted to create better-paying jobs, so when people go away to school, they have the opportunity to come back."
The Bardols' restaurant is in a neighborhood grocery store that closed in the 1980s. Chris Bardol biked there as a child to buy candy.
"Every time we'd come back, we'd say someone should do something with that building," he said. "We grew up in the area, knew the voids, and were always looking for good, fresh food."
For restaurant owners, farm to table starts with the goal of putting the finest food possible on their customers' plates.
"One of my favorite benefits is bringing something fresh that I cultivated and using it to create something special for someone," Rivero said. "I enjoy what I do and how I do it."
Click here to read more from the February-March 2023 issue of Northwest Indiana Business Magazine.